From a classic Murphy bed to a high tech loft bed. Here are ten great beds for the space-challenged.
The Lori Wall Bed Queen Size ($1399). Invest in quality and enhance the appeal of your home with The Lori Wall Bed. This affordable murphy bed features 100% real wood precision-cut from cabinet-grade Baltic birch ply. It seamlessly blends in as a storage unit during the day but becomes a comfortable and practical guest bed at night. Whether you're living in a small home or apartment, this murphy bed is bound to fit right in. UPDATE: Lori Wall Beds are now offering a $100 discount to Living in a Shoebox readers for a limited time only. Use the promo code Livinginashoebox when checking out. Learn more here.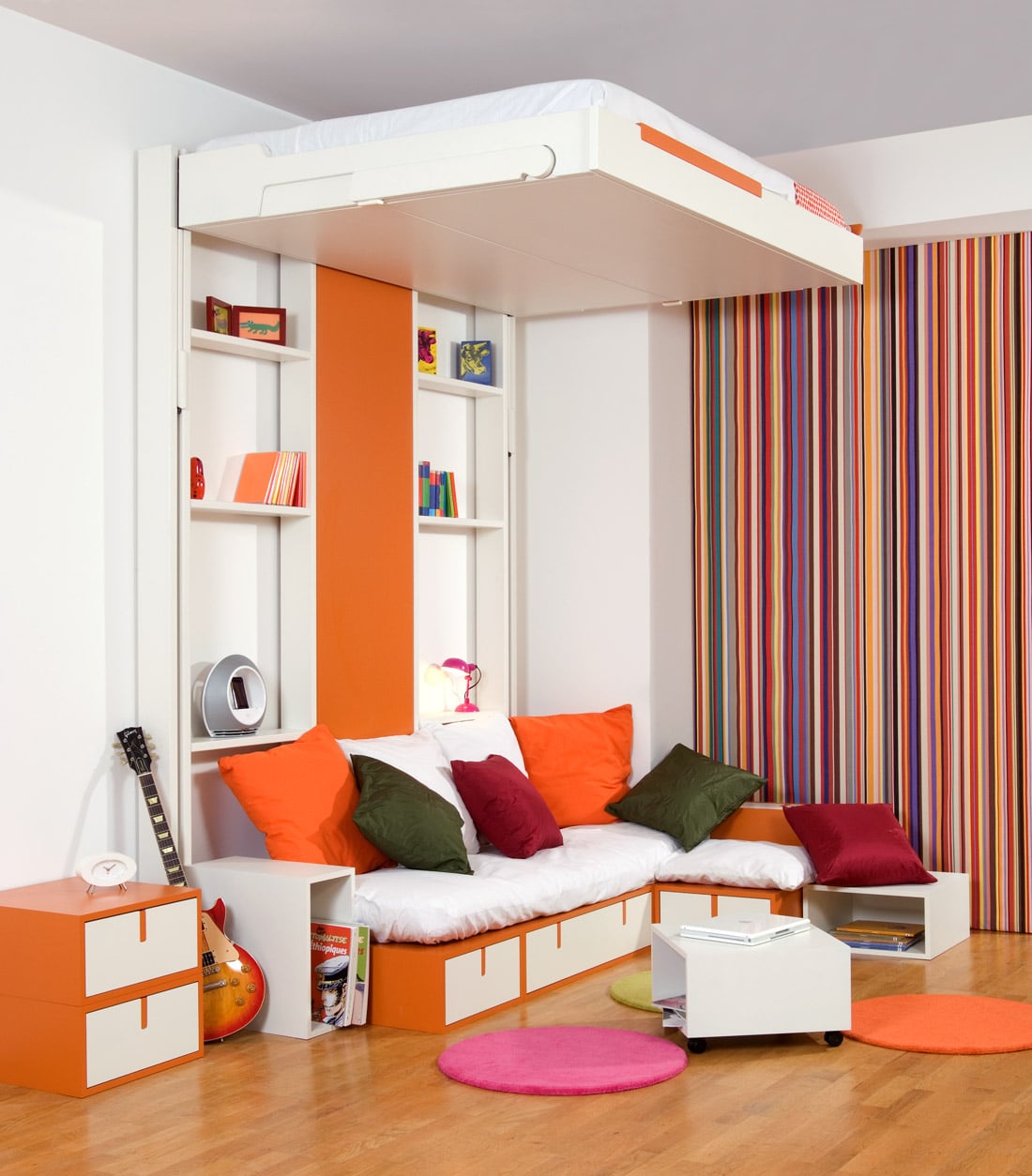 The loft bed "Pop and Roll" from the French company
Espace Loggia
can be pulled down at night without moving any furniture.
The Evolution Ottoman TV bed's
slim foot end contains a quiet lift mechanism and either a 32″ LG LED TV or a 32″ LG SMART LED TV which rise with the touch of a button. The Evolution can also store your DVD player, as well as your game consoles in its under-bed storage slot. The Evolution Ottoman also comes with a side opening storage compartment, perfect to keep clothes, shoes or extra bedding.
The Poppi Desk by is a space saving wall bed that features a fold down desk. Find it at
Ressource Furniture.
Upholstered platform bed with a powerful hydraulic mechanism that raises up your mattress giving you easy access to storage underneath. From Amazon. Find it here
Stylish loft bed from the Swedish company Compact-living
The Spot High Sleeper Super Storage Bed by Vox is an unique bunk bed with storage. The bed comes with built-in shelves and drawers, as well as a walk-in closet.
Jefferson Library Bed from More Space Place has ample storage for books or collectibles. The bookcase doors glide open on sturdy tracks.
This cabinet bed from Night & Day is a truly instant guest bed. Convert it from handsome cabinet to comfy bed in less than a minute. When all closed up it just takes 10 square feet of floor space. Find it on Amazon