There are hundreds of thousands of motel and hotel rooms around the globe that scream contemporary elegance. Many are within the confines of a concrete jungle, and some don't offer that "great escape" that so many of us desire.
However, a shepherd's hut is often an excellent way to get back to humble beginnings and explore a more straightforward way of life. A shepherd's hut was used by shepherds between the 15th and 20th century as a shelter during the lambing and sheep raising season.
Those who have found themselves in possession of such a hut are now capitalizing on them, allowing others to step back in time and enjoy what their predecessors experienced in everyday life. Enjoy the British countryside and escape from the hustle and bustle of city life with these 15 dreamy shepherd's huts below.
Withywood Shepherd's Hut in West Sussex, England
PinWhether you want a romantic weekend away or a family trip, then this shepherd's hut in West Sussex, England, will deliver. Located in Sussex Weald by River Adur, it's well-appointed to two villages – Partridge Green and Ashurst.
PinThere are many reasons why you would want to call this shepherd's hut home for a while. It has a double bed, two singles, and room for a travel cot. The hosts even allow pets for an additional fee. There are a kitchen and bathroom with a flushing toilet in a separate cabin, a wood-burning fire, and a campfire area complete with marshmallows.
PinWhile the games and books will entertain you for a time, you can also watch cows being milked and receive a tour of the farm. Otherwise, you can bunker down and enjoy the beautiful natural surroundings and gorgeous shepherd's hut just 30 minutes from Brighton. Learn more here
The Shepherd's Hut Walton in Hampshire, England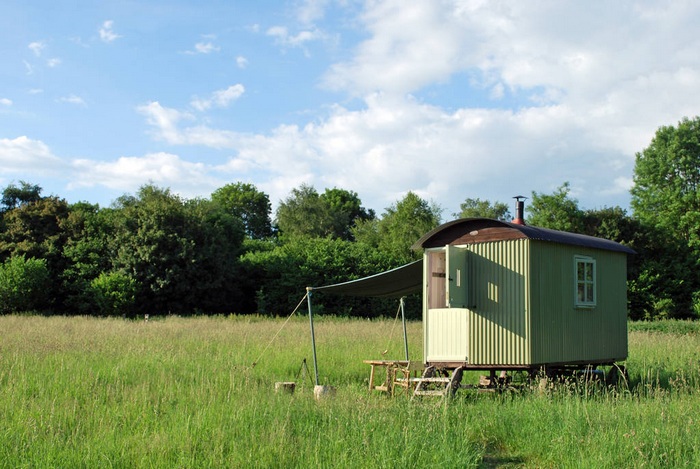 PinTo look at this shepherd's hut in Hampshire, England, you would hardly believe it's a mere two hours from London. It's like stepping back in time – and you'll love every minute.
PinThis shepherd's hut boasts a fish theme which was inspired by the book called The Complete Angler. It's filled with green and pink décor and has been crafted with a coastal-style theme in mind. From the apple crates to the storm lanterns; no stone has been left unturned in creating a hut you'll never want to leave.
PinThis hut is also entirely off the grid and has a wood burner for both heat and cooking. The bathroom facilities are shared with five other cabins in the same meadow. Once you wander outside the hut, you'll be dazzled by your surroundings. You can walk through acres of bluebell woodlands or join a vineyard tour just a short walk from your doorstep. As part of the Wriggly Tin shepherd's hut group, this hut is one you'll enjoy every minute of. Learn more here
The Usk Hut in the Brecon Beacons, Wales
PinAn authentic shepherd's hut experience awaits at the Usk Hut in Wales. From the rolling countryside, natural attractions, and proximity to outdoor activities, to the traditional beauty of the shepherd's hut; there's a lot to love when you book this accommodation.
PinThis shepherd's hut comes with a wood-burning stove, plenty of places to sit, hot water, and a fully-equipped kitchen so that you can cook up a storm. Even though it's off the beaten track, it also has a shower room complete with a shower.
PinThis traditional hut looks and feels classic, but its contemporary conveniences are the icing on the cake. When you venture outside, you'll be as impressed with the surroundings as much as the hut. There's a fire pit, enclosed garden, natural pond, and spectacular views. You can even upload your favourite photos to your social media, as mobile signal is available too. Learn more here
The Shepherd's Hut Delight Crewkerne in Somerset, England
PinWith a beautiful backdrop of south Somerset, this shepherd's hut is a lovely place to visit if you want a break away from the hustle and bustle of city life. It's nestled amid lush green fields, overlooks a pond, and is an excellent vantage point to view the village's wildlife. Ducks, badgers, and deer all call the area home.
PinThe location is a significant drawcard, but the wooden shepherd's hut is as well. This hut is private, entirely secluded, and spacious with two rooms. The main area boasts a luxurious double bed, solid wood floors, and vintage chic styling. There is also a bathroom that carries on this same stunning theme.
PinVisitors to this shepherd's hut can also enjoy a contemporary kitchen and an open-pit fire that's ready and waiting for marshmallow roasting to begin. Learn more here
Hunting Hall, the Shepherd's Hut in Northumberland, England
PinIf you've always dreamed of staying somewhere that looks just like the fairytales, then Hunting Hall, a shepherd's hut in Northumberland, England, could be the answer. From the wild flower-sown orchard to the sheep meadow and grade II stone cottage; there's a lot to love. What's more, this shepherd's hut is located on a beautiful wildlife-friendly farm.
PinUpon entering the hut, you'll be blown away by your surroundings. Exposed beams and an open fire welcome you before your eyes are drawn to the gorgeous bed with feather duvet and organic cotton sheets. The hand-stitched quilts are also a nice touch.
PinThere's electric heating, an en suite shower room, and eco-friendly materials and paint throughout. Even the kitchen is something special with cottage touches and everything you need to cook up a storm. Learn more here
Sika, the Shepherd's Hut in Dorset, England
PinIf you're after a genuine shepherd's hut experience, then look no further than Sika, the shepherd's hut in Dorset, England.
PinAn award-winning hut maker built this delightful little hut and it shows in the details. There are a luxury bathroom hut, picnic gear, and everything you need for an adventure into the woodlands.
PinFrom the white-washed walls and quaint dining booth to the wood theme and log burner; what's not to love? You can then venture out onto the many walking tracks and out to Ringstead Bay and Lulworth Cove. Learn more here
Harpstone Hut in Dorset, England
PinIf the time has come for a romantic getaway, then make Harpstone Hut in Dorset, England, your accommodation of choice. This expansive shepherd's hut is located on a working farm three miles from the village of Corfe Castle.
PinIt has a quaint kitchen with an induction hob, a pull-out table for dinner, and a log burner to keep you warm through the night. The bathroom will surprise you as well, as it has a shower, sink, and toilet that contrasts against the traditional appeal of the hut.
PinOnce you step outside, a whole new world awaits. You can relax in the garden, use the barbecue, and watch the cows come in for milking with views over the valley.
PinAs a bonus, you also get a welcome hamper and the option to purchase fresh eggs to start the day. Learn more here
The Douglas and Birch Hut in Pembrokeshire, Wales
PinIf you like to try something new, but still enjoy the comforts of home, then this shepherd's hut in Pembrokeshire, Wales, could be for you.
Pin Even though it looks every bit as traditional as a shepherd's hut, it's full of contemporary conveniences and luxury from top to toe. The solid wood looks stunning, the windows open out to the great outdoors, and the furniture is both rustic but modern.
PinThere is also a tiled shower room, wood-burner, and comfortable bed to retire to at night. Once you step outside, you're then in your element with the nearby Pembrokeshire coast, rugged cliffs, and proximate villages. Go for a hike, check out the local surf beach, or try an artisan brew in the heart of the town. This shepherd's hut truly has something for everyone. Learn more here
Cosy Shepherd's Hut in Stirling, Scotland
PinWhether you fancy a weekend away from the kids, or you want to bring them along, then make sure you book in at this cosy shepherd's hut in Stirling, Scotland. Not only is the countryside beautiful, but the cabin is as well.
PinThis charming shepherd's hut boasts a well-equipped kitchen to cook up a storm, a wood-burning stove to keep you warm and a convenient bathroom with everything you would expect in a luxury hotel.
PinThe hosts have thought of everything – from all the crockery and cutlery you could ever need, to soft linen and warm bedding for a peaceful night's slumber. There is also a double bed and twin bunks for the kids.
PinIf you fancy making the most of your time in the area, take a walk toward Gargunnock Hills. Spot wild deer grazing, red squirrels frolicking about, and birds singing in the trees. There are also plenty of things to do in the general area, such as golf, cycling, and walking. Learn more here
A Unique Shepherd's Hut on the Black Isle, Scotland
PinIt's not all that easy to come across a traditional shepherd's hut, but this one on Black Isle in Scotland is a standout for that very reason. Commissioned by Black Isle Brewing Co Ltd, it's genuine in every sense of the word.
PinThis hut is a handcrafted bolthole that overlooks organic fields laden with cows, sheep, and horses. It's cosy, ideal for two people, and feels isolated. However, it's still only ten minutes from Inverness and 20 from the airport.
PinEnjoy a freshly brewed beer on the verandah, admire the organic vegetable garden, or take a trip to many of the tourist attractions in the area, such as Plodda Falls and Urquhart Castle. You can then return, snuggle up in bed, and brew tea on the stove. Learn more here
Cedar and Birch Hut in Pembrokeshire, Wales
PinEnjoy your own little slice of paradise in this cedar and birch shepherd's hut in Pembrokeshire, Wales. The hosts have created this hut to fit in with its natural surroundings while also incorporating contemporary conveniences.
Pin The skylight is ideal for stargazing, while the picture window offers beautiful views to the natural paradise beyond. There is also a gas hob, en suite bathroom, and stunning hints of wood throughout. The icing on the cake is the beautiful welcome hamper with homemade bread and local produce.
PinWhen the time comes to venture outside, you'll be pleased you did. There's a private firepit in the garden and many stunning natural attractions nearby. Go hiking, surfing, kayaking, or paddle boarding; the world's your oyster. This shepherd's hut offers a change of pace without going to the ends of the earth. Learn more here
Butser, the Shepherd's Hut in Hampshire, England
PinA genuine cottage experience awaits at Butser, a gorgeous shepherd's hut in South Downs National Park. This hut has been painstakingly turned into a vintage chic accommodation that takes you back in time.
PinIt's homely, boasts soft linens, and is entirely off the grid. It even has enamel and copper kitchenware to make you feel as if a shepherd did all those years ago.
PinThis two-person hut also comes with a private wood-fired tub, a fire pit, cast iron skillet, and everything you need for traditional campfire cooking. While you will need to share the bathroom facilities with the other huts on the property; you won't mind in the slightest. Learn more here
Boundary, the Shepherd's Hut in Hampshire, England
PinLiving off the grid can be an exciting experience, and that's exactly what this shepherd's hut in Hampshire, England is offering.
PinIt has double doors you can open up on one side, a bright and sunny interior, and a spacious living area for the whole family to gather.
PinWhat's more, this shepherd's hut can cater for a romantic couple or a lively family of five. There is a double bed, bunk beds, and two single beds tucked away out of sight.
PinThis shepherd's hut is also nestled away in the privacy of its own paddock on the edge of a shared meadow. Its west-facing position means it's a beautiful place to spend a summer's evening as you watch the sun go down.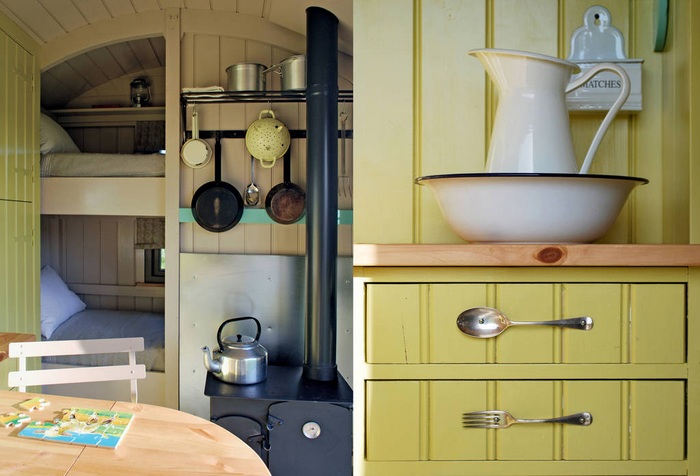 PinStay warm and eat well courtesy of the wood-burning range, and make use of the shared shower hut in the meadow's centre. This shepherd's hut is also proximate to the quaint village of Hambledon, home of the original rules of cricket. Learn more here
Abberton Shepherd's Hut in Worcestershire, England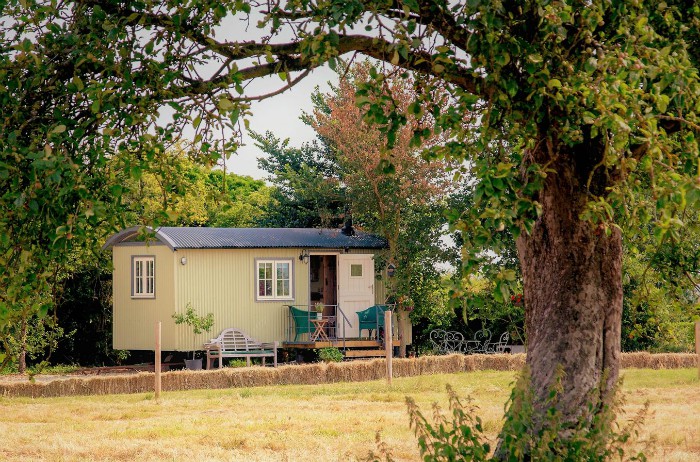 PinIf a family holiday has been on the cards for some time, then let it be in Worcestershire, England. This shepherd's hut, crafted from a single ash tree on the farm it resides, is a breath of fresh air for a busy family.
PinIt's set on an orchard on 260 acres of land and boasts beautiful views over Bredon Hill. It's also a private shepherd's hut with an eclectic mix of rustic charm and contemporary conveniences.
PinEnjoy the fully-equipped kitchen, shower and toilet, and luxurious bed with a memory foam mattress.
PinWhen the night draws in, light the log burner and flick on the TV. As the sun goes down, you can then rest on the south balcony or even make use of the fire pit. Learn more here
Shepherd's Hut in Thropton, England
PinClose enough to all life's conveniences but far enough away to feel completely isolated; this shepherd's hut in Thropton, England offers it all. The cabin sits on a family's farm which overlooks the Simonside Hills. The area is alive with the sound of wildlife, and the hut is a beautiful addition to the property that you can call home during your stay.
PinThis hut has everything you need to live comfortably. There's mains water, electricity, a kitchen, and a wood-burning stove. Upon arrival, you are greeted with enough wood for at least one evening, dressing gowns, and towels for your shower.
PinWhile you're in the area, you can also enjoy the offerings in Thropton Village and plenty of castles dotted around the area. If the time has come for a trip away, consider Thropton as your next stop. Learn more here