Side and accent tables are versatile work horses that can be put into good use in just about any room. Place them next to the sofa and use them for storing magazines or displaying décor or use them as tiny coffee tables if space is scarce. They also make excellent night stands and can be used as an extra table in the dining room. I've curated 20 beautiful side tables that add storage as well as style to your home.
Round wood side table ($276.94). This modern table features a solid wood tabletop and yellow metal legs. Find it here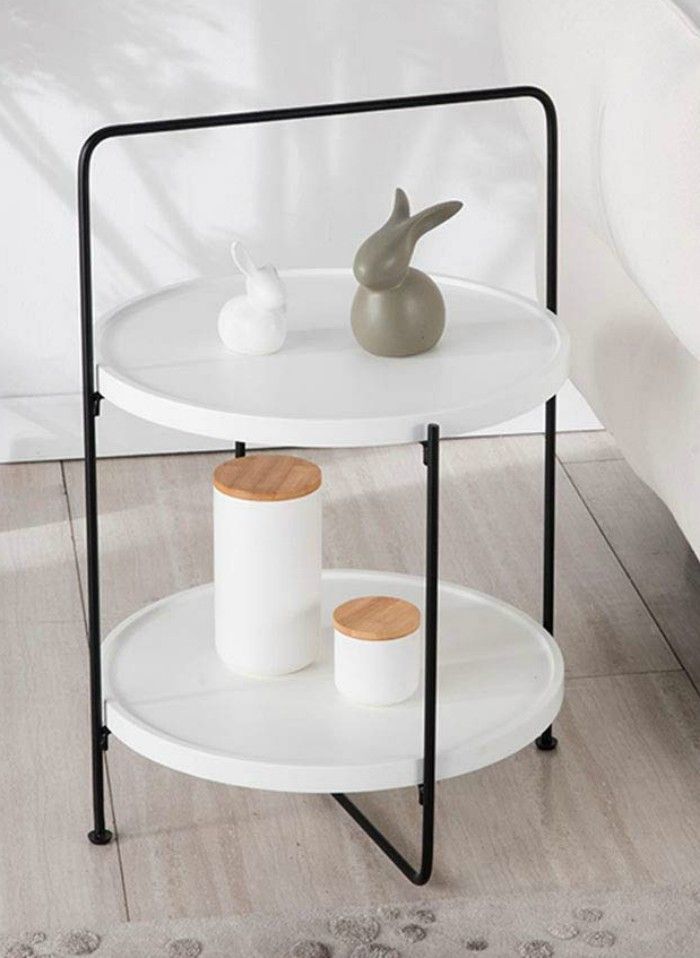 Minimalist end table ($182.10). Black and white multi-purpose table. The desktop and detachable middle shelf provide plenty of space for books, magazines, coffee cups and other knick-knacks. Find it here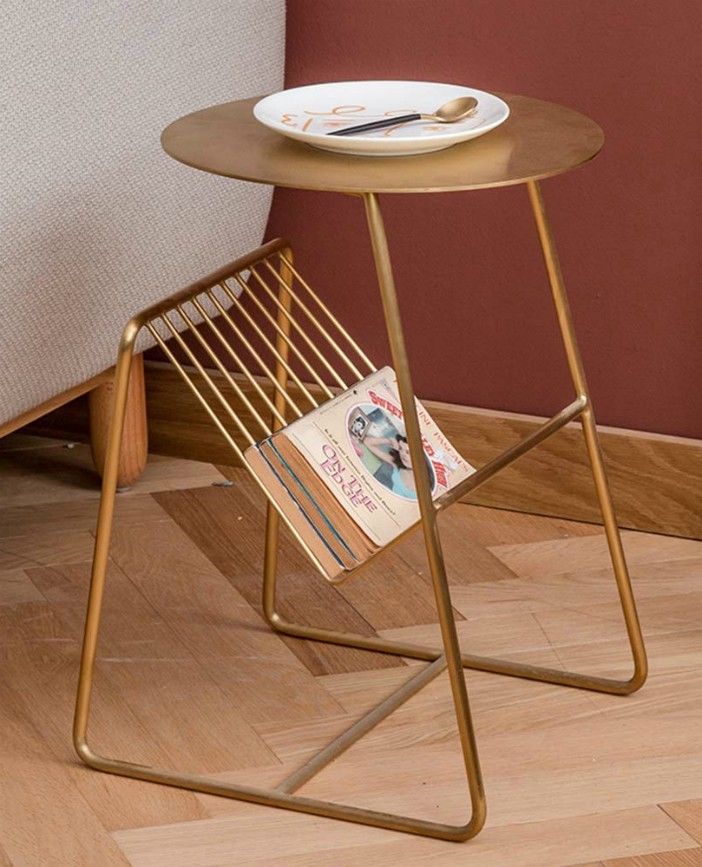 Gold side table ($398.93). Glamorous table that features a practical newspaper rack. Convenient for placing laptops, books, magazines, coffee, etc. Find it here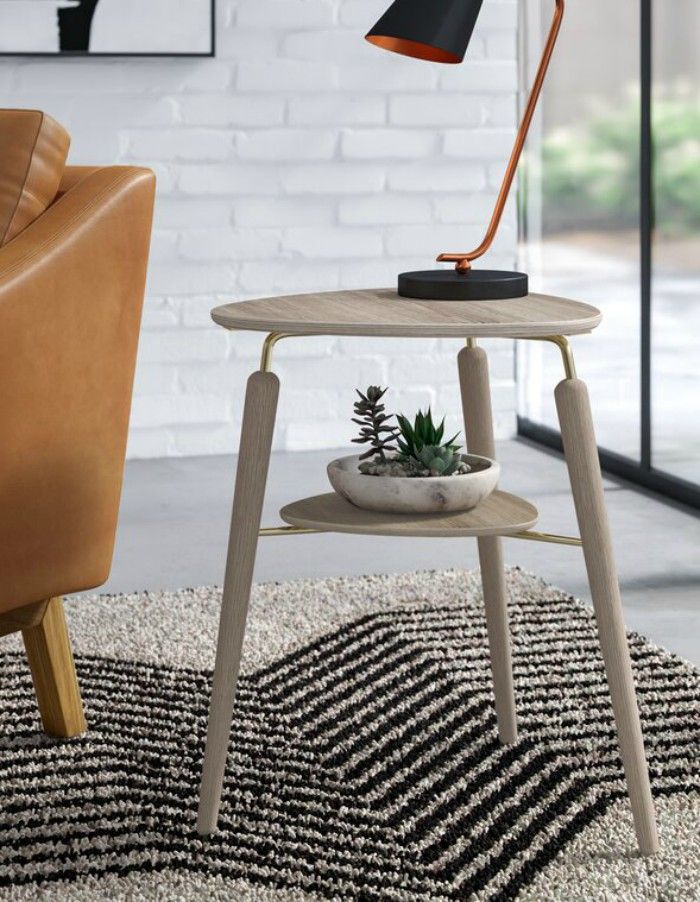 Hennig end table ($269.99). This solid wood table features a lower shelf that provides a place to display trinkets. Find it here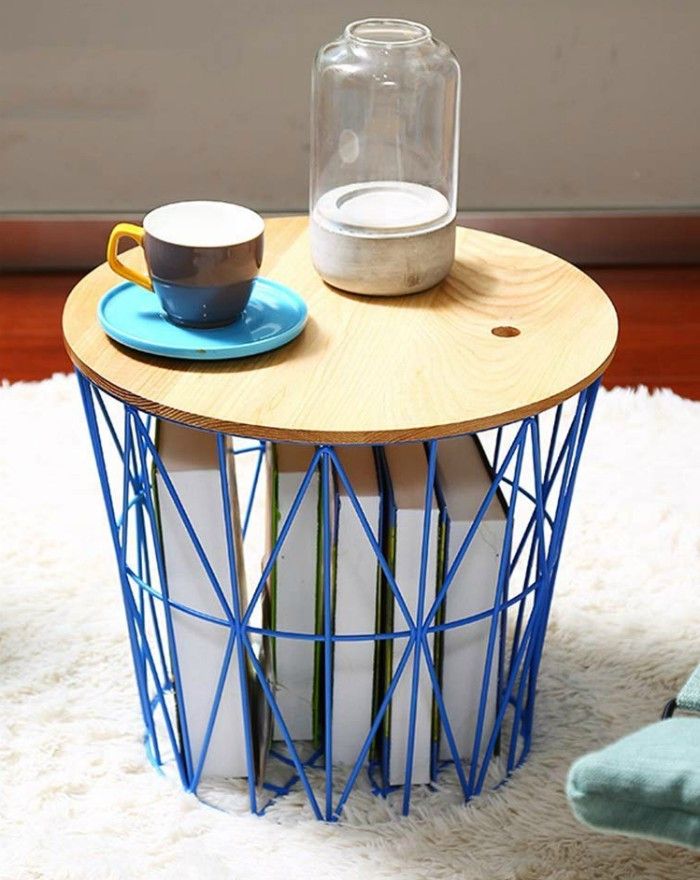 Side table with wooden top and wire basket storage ($221.33). Versatile table that also doubles as a handy storage basket, great for those small spaces where every bit of storage counts! Find it here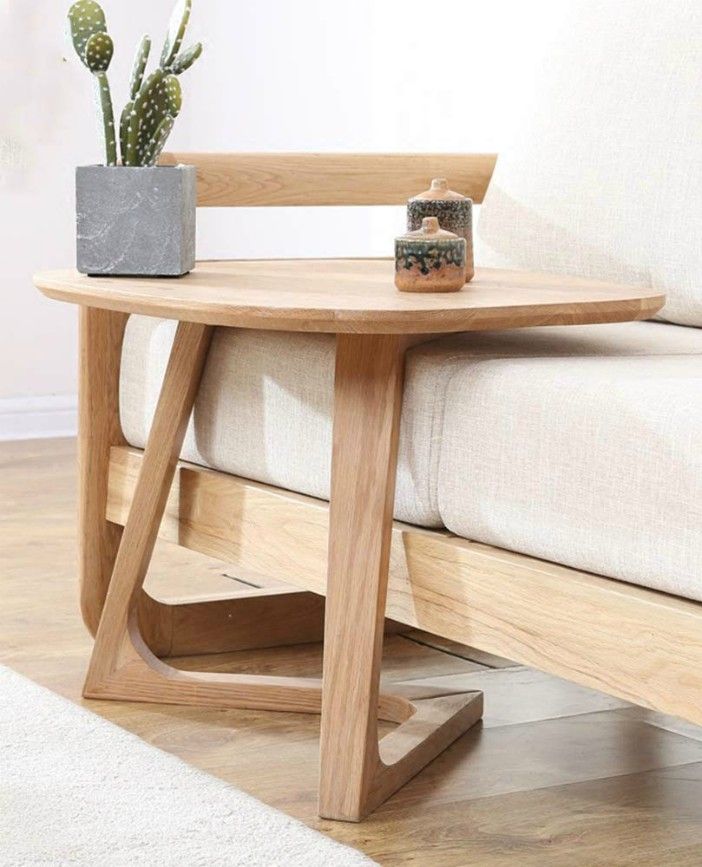 Solid wood side table ($268.22). This space-saving side table features a minimalistic design that will go with most styles of homes. Find it here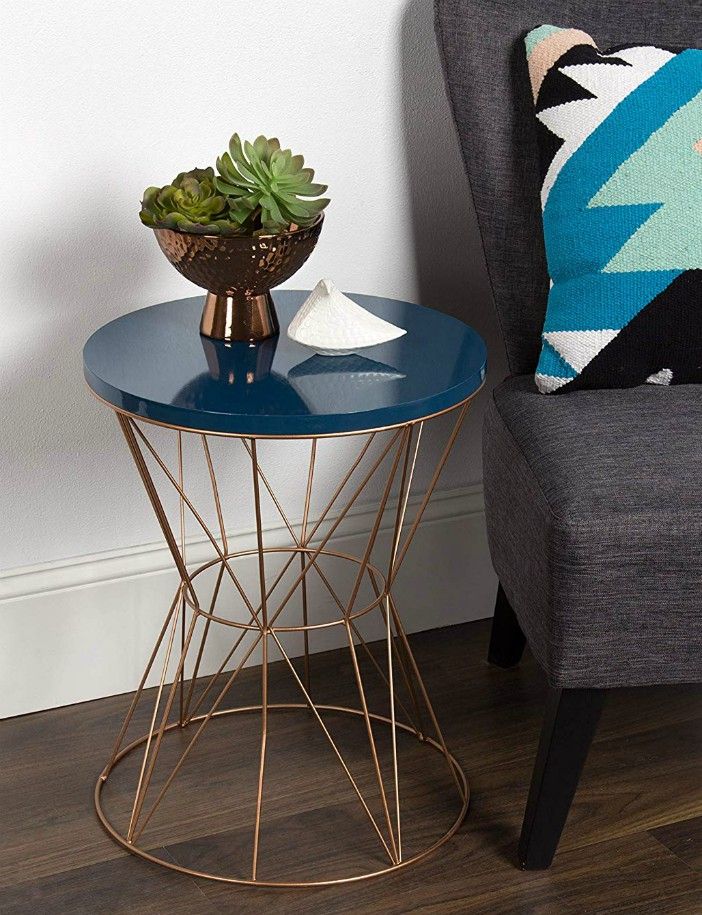 Kate and Laurel accent table ($92.74). This end table has a lovely polished rose gold metal cage base with a glossy wood top. It's perfect for use as a side table next to your chair or sofa, as a pedestal table when you walk in the door and need to set down your keys, or even as a nightstand in a bedroom. This table also makes a great plant stand with its base reminiscent of tomato cages. Find it here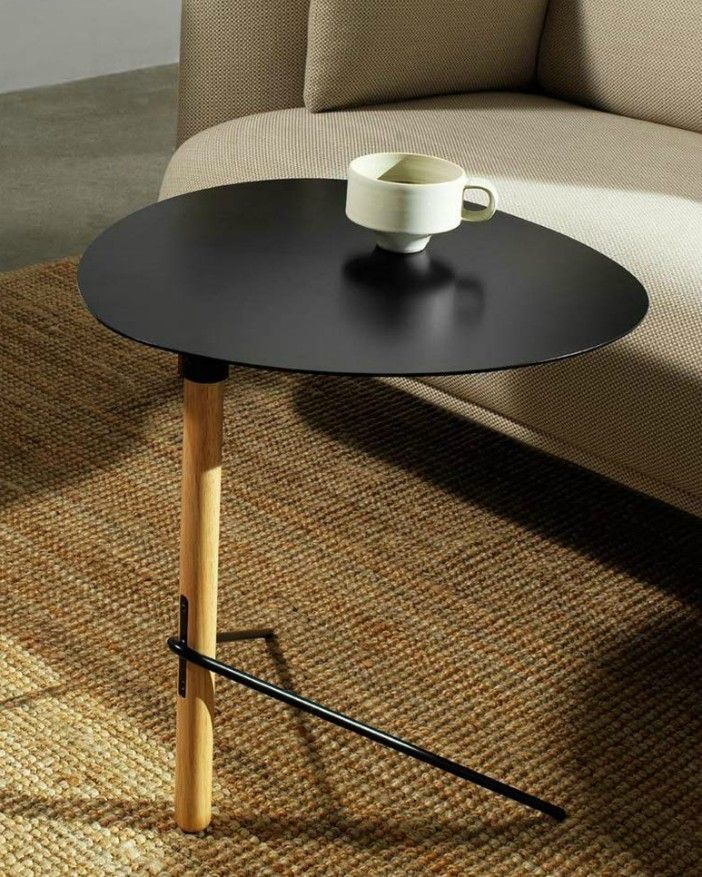 Modern metal and wood side table ($217.47). This table boasts a black metal top and a solid wood leg. Can be used as an end table, lamp table, display tVisit the tiny house experts' own charming home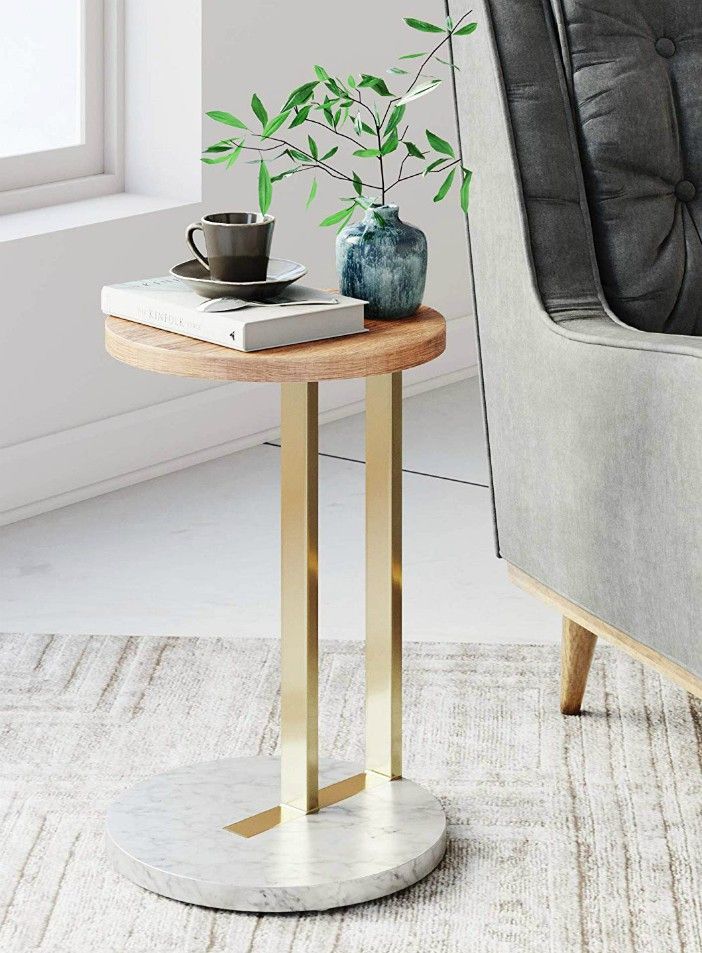 Nathan James side table ($53.15). This classy table has a smooth faux marble rounded corner base and a nice natural oak tabletop supported by its gold/brass finished metal support. Find it here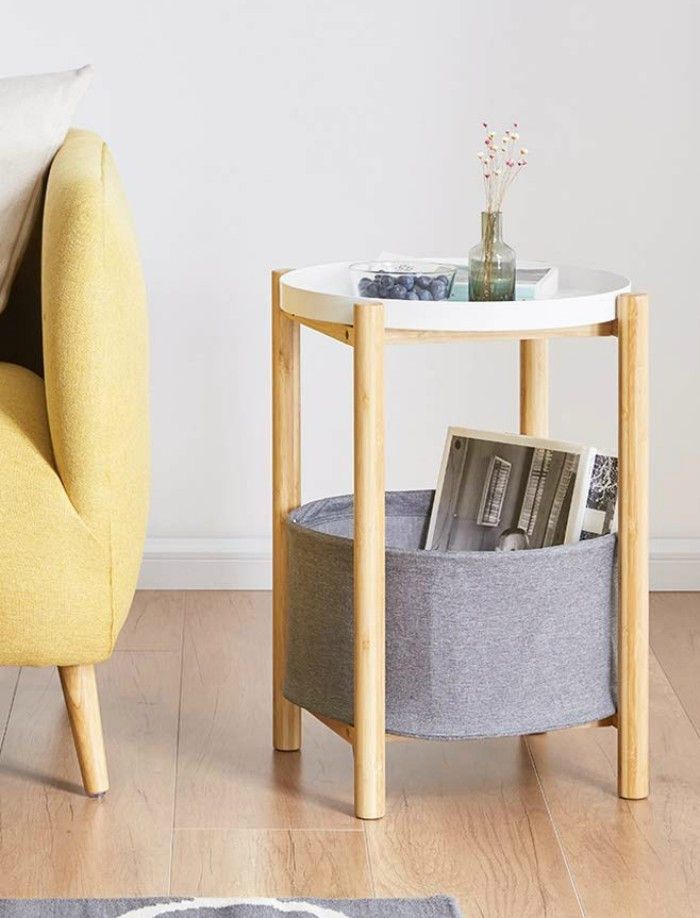 Bamboo side table ($99.90). This practical table boasts a removable serving tray and a foldable basket that offers plenty of storage. Find it here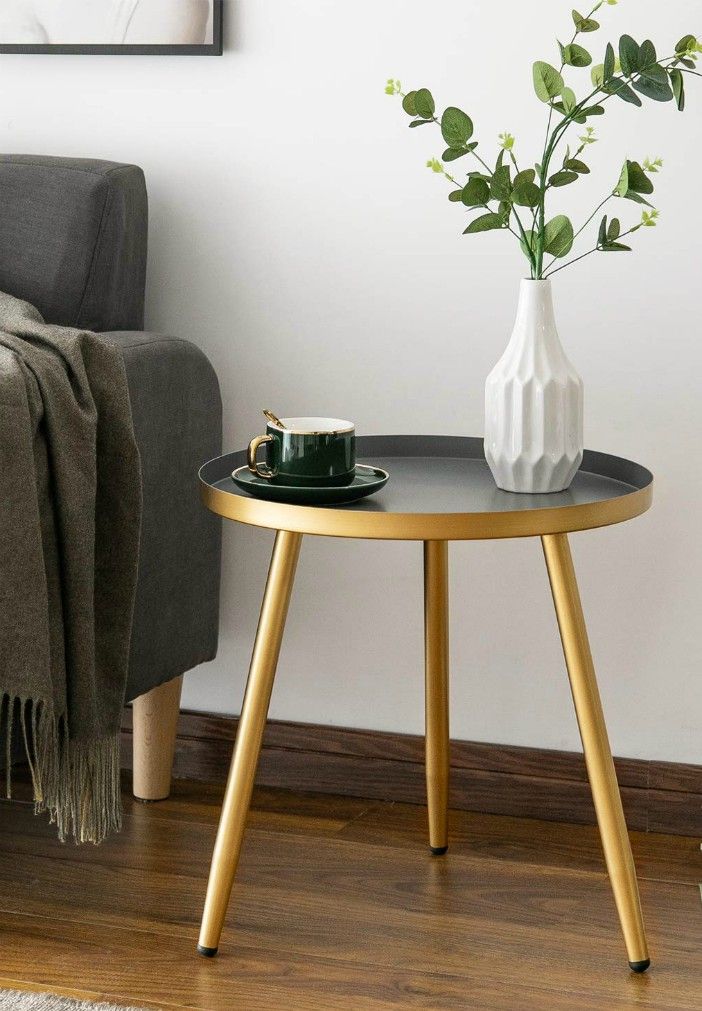 Round gold and grey side table ($44.99). This classy metal table can be used as a night stand, end table, plant stand or accent table. The possibilities are endless. Find it here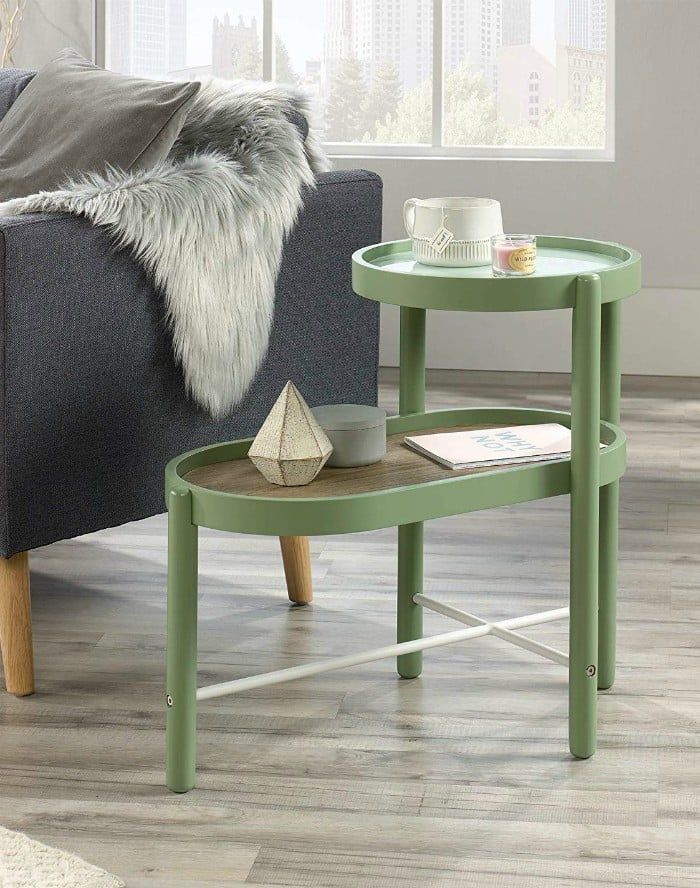 Anda Norr sage green side table ($119.99). This unique end table features tiered shelving with one large shelf and one smaller shelf. The small top shelf features back-painted, mint green, safety-tempered glass for one-of-a-kind detail that is sure to stand out. The large lower shelf features a reversible bottom of either grey felt or a Sky Oak woodgrain finish so you can style it how you like! Find it here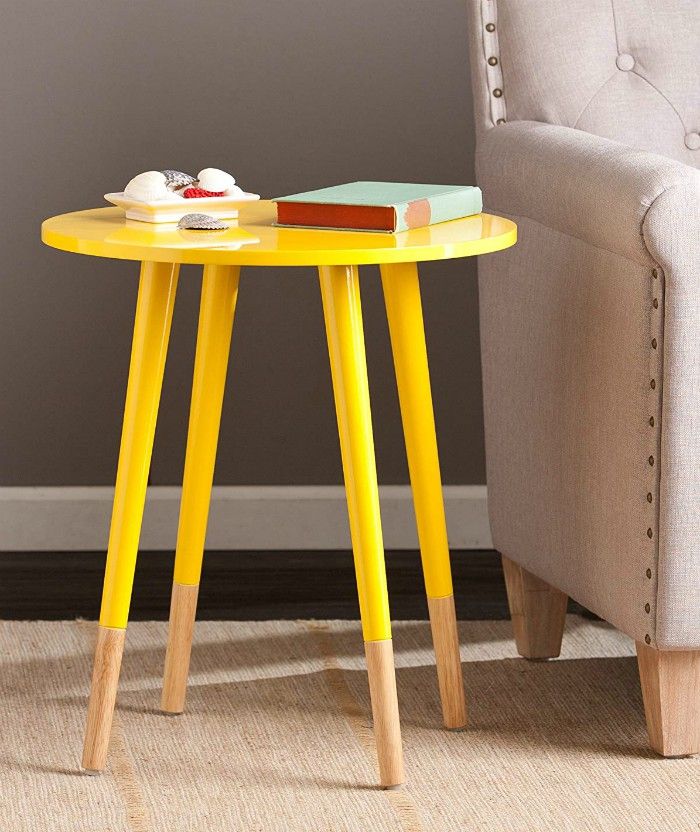 Laney round table ($68.99). This midcentury-style table adds an eclectic touch to any living room or home office. The glossy yellow finish and dipped paint effect combines for a bold statement. Find it here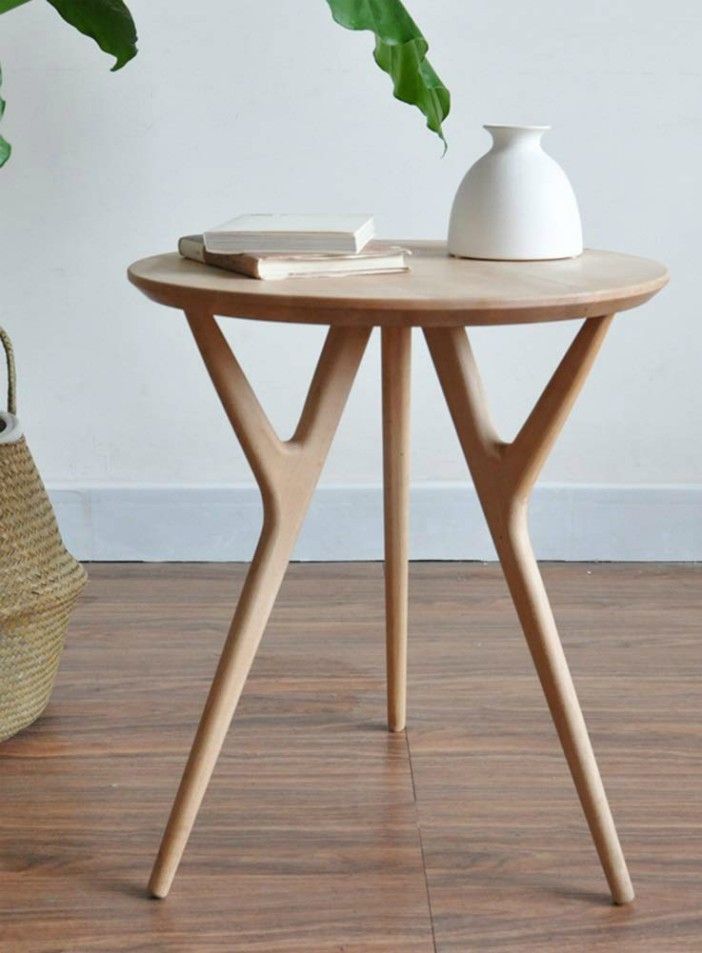 Scandi-style end table ($237.90). This classic wood table offers a clean-lined silhouette that will suit most decor. Find it here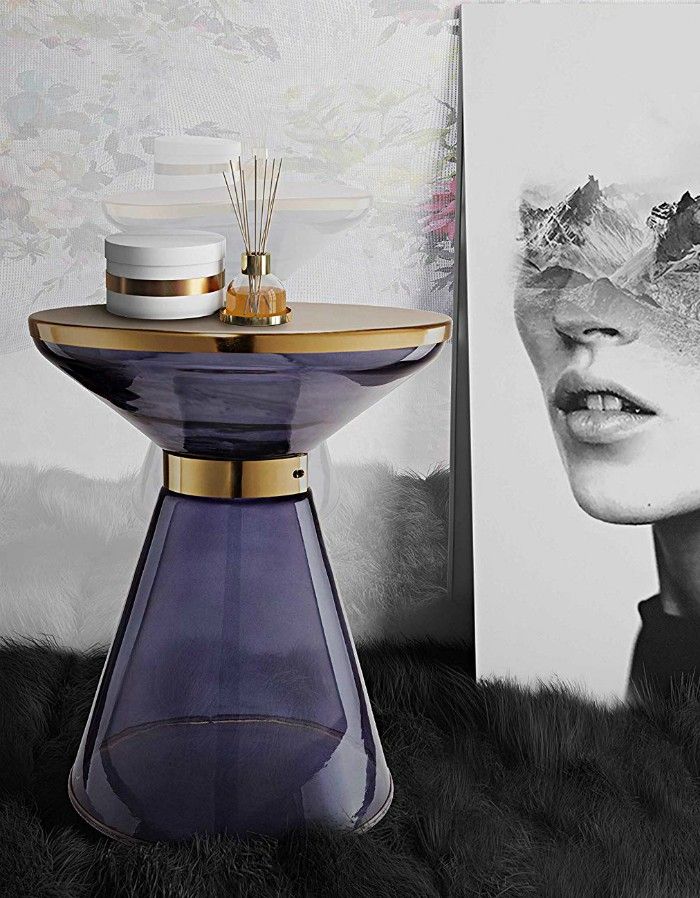 Blue and gold glass side table ($150.00). A fashionable piece featuring a highly polished metal top with a lustrous gold finish and a unique glass base. The gold side table features an hourglass-sculpted blue glass base with a gold band decor that adds glamour. Find it here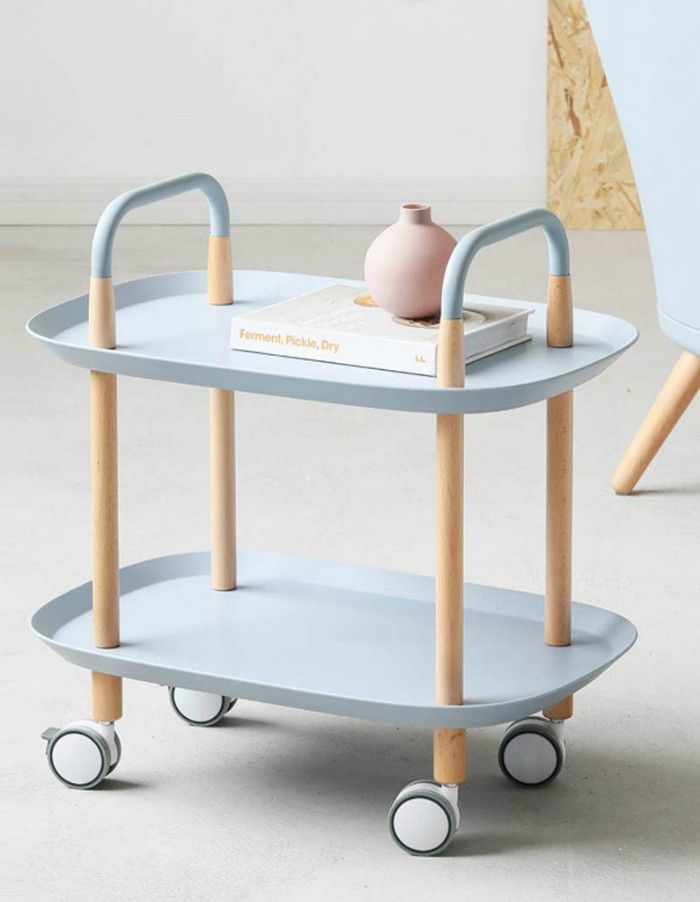 Nordic style rolling cart ($182.82). This elegant and versatile rolling cart can be used as a side table or coffee table and offers plenty of storage. Find it here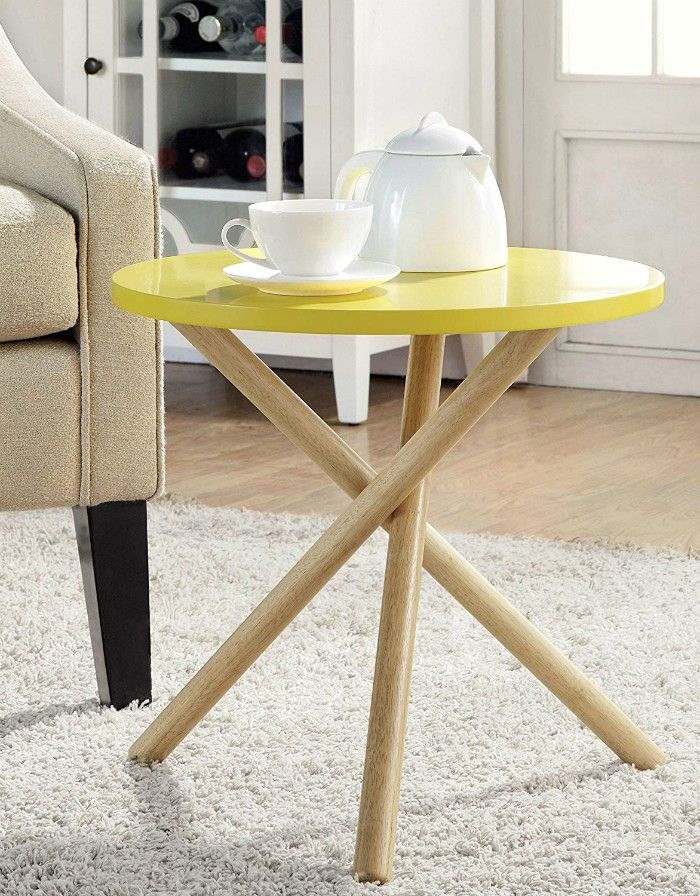 Lanica round end table ($48.68). This cheerful tripod table boasts a yellow top and wood legs. Find it here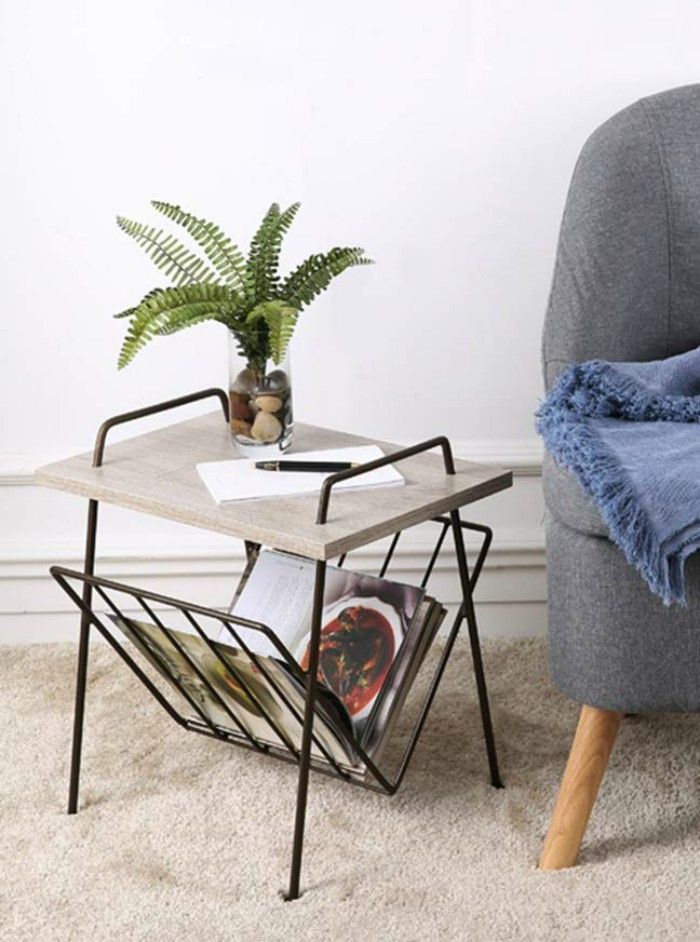 Black metal and wood side table with magazine rack ($223.39). Stylish side table with wood effect top. The perfect place for storing magazines and newspapers and displaying trinkets. Find it here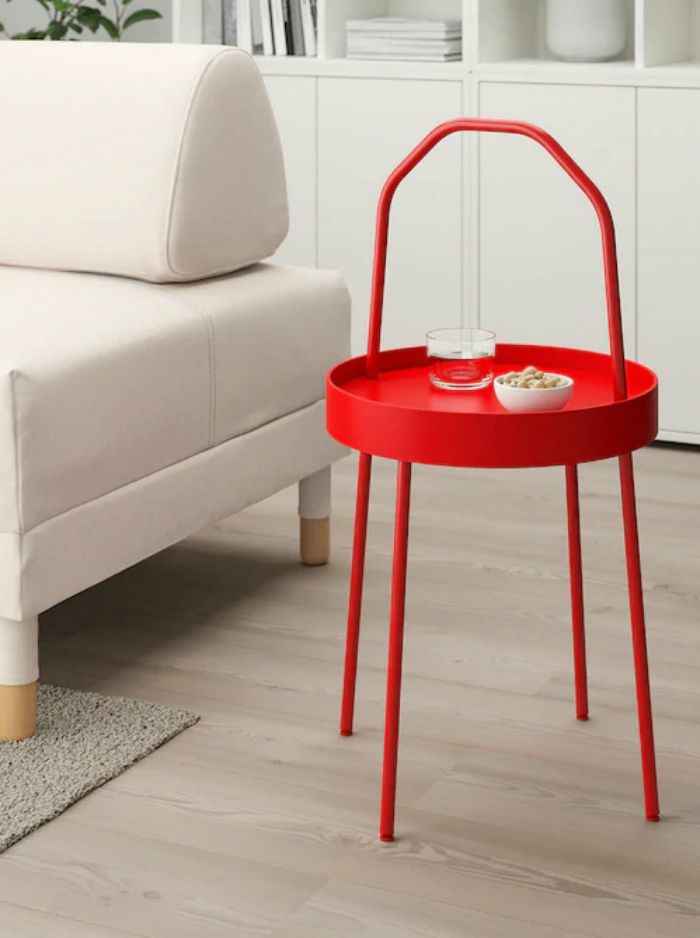 BURVIK side table ($49.99). The side table is light and small enough to lift with one hand, and the handle makes it easy to carry around the home. Find it here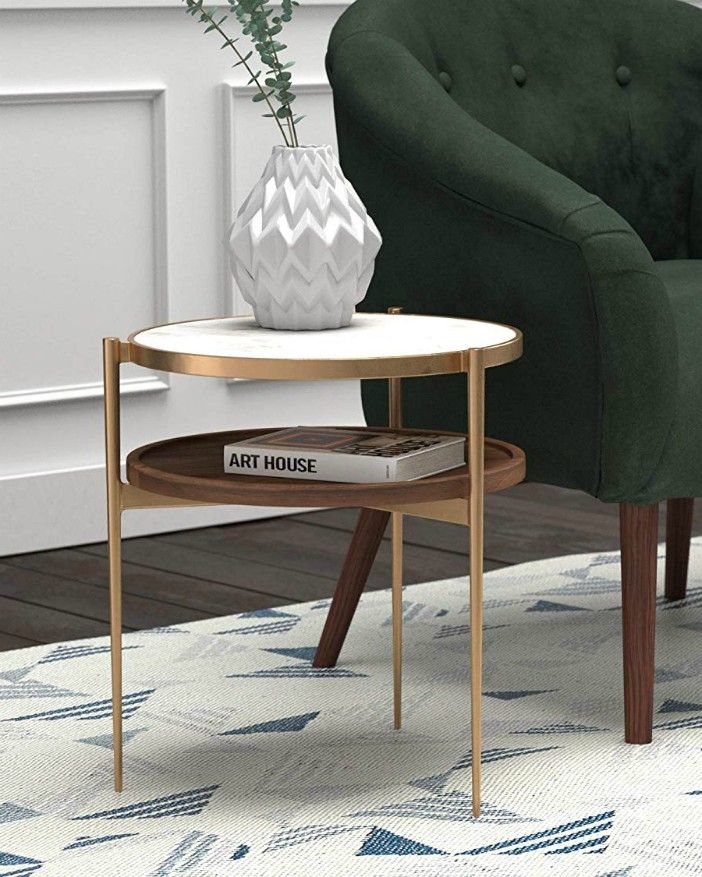 White marble and wood end table ($199.00). Marble, wood and brass-finished metal come together to add a touch of glam to this striking modern side table. Display your favorite photos alongside a lamp on the elegant top. The shelf underneath is a handy place to stash your phone and remote. Find it here
Please note, some links on this page are affiliate links. If you make a purchase through an affiliate link, I may receive a commission at no additional cost to you.