Homes are only getting smaller, but meal preparation space requirements and dining needs have remained the same. How are you supposed to make sure you can enjoy a meal in a small space without allowing your dining table to take up most of your functional room? The following dining table ideas may be worth your consideration.
PinFloating desk with hutch. Work station by day, dining table by night – that's what you get with this floating desk with hutch. In small spaces, this floating desk with generous amounts of storage is bound to be a winner. It comes with two adjustable shelves, a corkboard, two fixed shelves, and a wall-mounting design. It also comes with easy-care manufactured wood and a sleek white colour scheme to pair with almost any chair. CHECK PRICE
Pin5-Piece dining set with storage ottomans. Don't let a small home put you off dining with your loved ones. This reclaimed grey five-piece dining set is all about space-saving and functionality. The four seats sit perfectly underneath the table and also function as storage ottomans. Add them to your kitchen, dining room, or open plan living space. CHECK PRICE
PinMid-century extendable dining table. Welcome classic styling to your home with this mid-century extendable dining table. You can use it as a small table or extend the leaves to make it large enough for family and friends. CHECK PRICE
PinExpandable dining table with cabinet and drawers. Both large and small homes can comfortably cater to this expandable dining table with a cabinet and drawers from CozyCasa. With a stretch design for optimal versatility, it can surely prove useful in a variety of homes. It features a multi-purpose white gloss dining table, folding arms, and a movable cabinet and drawer underneath. CHECK PRICE
PinDrop leaf acacia dining table. If you only use your dining table when guests visit, then don't look past this beautiful drop leaf acacia dining table. It fits into narrow spaces perfectly but expands out at a moment's notice. It's also an attractive option for contemporary and classic abodes alike, with a lovely warm brown tabletop and gunmetal legs. CHECK PRICE
PinYellow metal dining table. Brighten up your home with this lovely metal dining table with a gorgeous bistro styling. The 31.5-inch tabletop comfortably fits into small dining spaces, while the stabilising brace offers complete stability and ample legroom. You can also pair this dining table with up to four chairs, which means it's suitable for couples and families alike. CHECK PRICE
PinAcacia wood stowaway dining set. Who knew a dining set could be so customizable? When you purchase this acacia wood stow-away dining set from Leigh Country, that's what you get. It comes with four chairs and a table with all manner of customization options. Use it inside, outside, fold it down, and store the chairs inside the table when it's not in use. CHECK PRICE
PinGrey dining table with shelving unit. When you've got a small floor plan, having multi-purpose furniture can be incredibly important. That's why this dining table with shelving unit is so popular. It offers sleek shelving and storage space and a generous surface area for two people to dine. It's available in grey sand or pure white color schemes with a laminate finish. CHECK PRICE
PinFlory dining table. When you have a conservative floorplan, having furniture you can stow away at a moment's notice can be crucial. Though, it still helps if it looks permanent. Let this Flory dining table be the answer. It can function as a dining table, desk, or workstation and you can pair it with up to four chairs. CHECK PRICE
PinOrigami drop leaf dining table. Turn your console table into a drop-leaf dining table with ease when you purchase this Origami table. It's as pretty as a picture with acacia wood and light walnut, yet it's strong courtesy of the tubular steel legs and black powder-coated finish. There's a lot to love about this table, including its ability to suit small spaces, leveling feet, and the clear lacquer top for easy care. It seats up to six people as a table but looks the part in any entranceway without chairs. CHECK PRICE
PinKaya counter height pub table. Solid, dramatic, and made to last – those are three things you may be looking for in a new dining table. You will likely get that with this counter-height pub table. It features a solid wood top, a geometric wood base, and a stunning high-sheen white finish. Though, you may also be able to choose a base finish option of gloss black or modern walnut brown. Pair it with your favourite bar stools and enjoy the style and functionality of this table. CHECK PRICE
PinBlack pedestal dining table. Homeowners looking for contemporary, simple, yet elegant dining tables will surely see the value in this black pedestal dining table. It's an easy-care, lightweight manufactured wood table that suits small spaces perfectly. Move it anywhere in your home, pair it with up to four dining chairs, and enjoy a meal with loved ones. CHECK PRICE
PinConcrete dining table. Flimsy furniture can be a thing of the past when you introduce this robust concrete dining table into your home. It brings a gorgeous retro vibe to your home while also using high-quality materials like metal and concrete. Homes, both contemporary and classic, can see this table fit right in. CHECK PRICE
PinSpace-saving dining table. Most of the folding tables you find for sale are rectangular, which is not always what you imagined for your home. That's why this space-saving dining table is a game-changer. It's circular yet still folds down for effortless storage. When it's up, it offers a generous 43-inch usable surface for work, meals, play, or something else. CHECK PRICE
PinManila 5-piece dining table set. Don't let a conservative floorplan stop you from enjoying a family dinner. This five-piece dining set is all about working with your small space. It comes with an MDF tabletop with a walnut PVC finish, along with metal legs for strength. You also receive four chairs that tuck under the tabletop to keep them out of the way. CHECK PRICE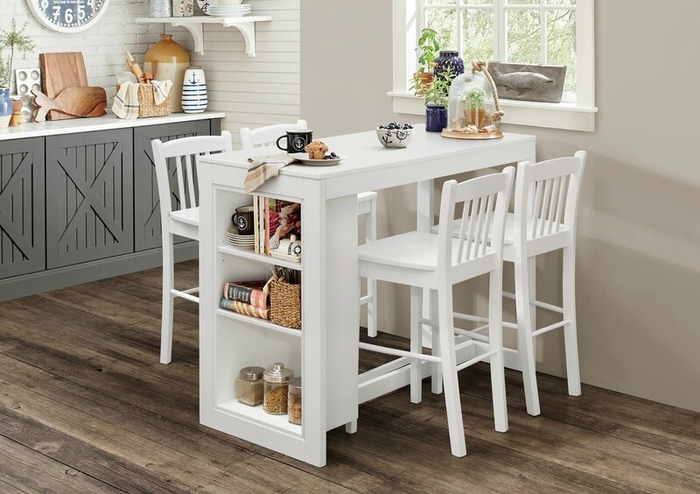 PinWhite counter height dining table. The options are endless for how you choose to utilize this counter-height dining table from Wayfair. With solid and MDF wood materials, it's a lightweight yet robust piece of furniture that can work well in almost any kitchen and dining area. Use it as a bar, or add stools and use it as a pleasant dining space. It even has storage at the end for all your dining accessories. CHECK PRICE
PinIndustrial dining table. With conservative dimensions of 31.5 x 29.53 x 31.5 inches, there's every reason to believe this industrial dining table can fit into a small home or apartment. It will then give your living space the 'spice' it needs. It features a stunning solid elm wood top with a natural brown finish, along with steel hairpin legs with a matte black finish. CHECK PRICE
PinMid-century style dining table. Welcome the mid-century look into your home with this stunning MDF and solid wood table. With a circular top in walnut or charcoal grey, along with a walnut finished base and solid wood legs, it's hard not to fall in love with its design. It even has beautiful brass-capped legs for that added touch of style. Pair it with up to four chairs in your home. CHECK PRICE
PinCounter height drop leaf dining table. Customization and flexibility are to the fore with this counter-height drop leaf dining table. It's available in a stunning two-tone design with built-in drawers and a regular base. You can also extend the table with the drop leaves to use it as either a desk or a dining table. CHECK PRICE
PinCounter-height dining set. Casual home dining with your loved ones has just been made that much more exciting with the addition of this counter height dining set from. You can use it as your main dining table or make use of the chairs anywhere in your home. It also features a lovely wood finish and a compact size to suit small and large families alike. CHECK PRICE
PinWren bistro table. Carve out a dining nook in even the smallest of spaces with this bistro table. Topped with durable laminate for easy cleanup, this Scandi-inspired table is sized just right for parties of two. CHECK PRICE
PinExtendable dining table. A dining table can be more than just a place to eat. It can also be where you prepare meals, do homework, study, carry out arts and crafts, and more. Ticking all those boxes is this extendable dining table from Wayfair. Flip the table, fold it, and position it how you please. CHECK PRICE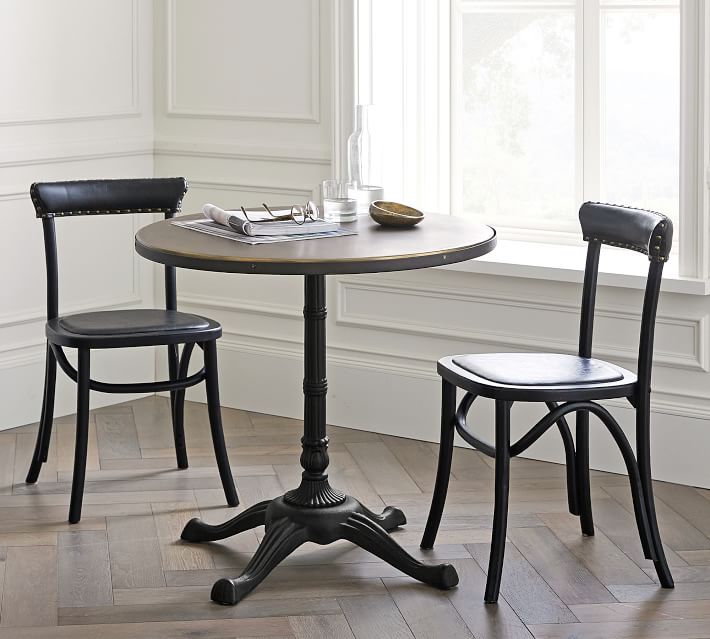 PinRound bistro table. Imagine you're sitting in a Parisian café enjoying a croissant, with the help of this round bistro table. It boasts a beautiful decorative metal base, MDF top, distressed black finish, brass accents, and Parisian design any traveler can appreciate. What's more, you can pair it with up to four chairs while still being able to use it in a small space. CHECK PRICE
PinAcacia extendable solid wood dining table. If you'd prefer solid wood over MDF materials, this acacia solid wood dining table can be the answer. It's an extendable table with folding legs that can prove suitable for small and large homes alike. What's more, it can function as a place of study or for dining. Once you're finished with it, fold down the leaves and enjoy a more functional space. CHECK PRICE
PinConvertible solid wood console table. Dine, work, do some arts and crafts – the sky's the limit with this convertible solid wood console table. It can convert from a desk to a console table with a few minor changes, bringing in both coastal and farmhouse styling with its washed brown oak and crisp white coloring. CHECK PRICE
PinCompact 3-piece table and chair set. For an individual or couple in a small home, this three-piece table and chair set might tick all the boxes. It features robust metal tube and MDF materials. Most importantly, the table and two chairs take up minimal space. Thanks to the innovative design, the chairs sit perfectly underneath the table when they are no longer needed. CHECK PRICE
PinExtendable dining table for 6 to 8 persons. Imagine being able to make your dining table as large or small as you liked to suit the number of guests you have? This extendable wood dining table has three colored boards in the middle that you can remove or add as you see fit. It can comfortably cater for up to eight people at a time, or as few as one or two. CHECK PRICE
Please note, some links on this page are affiliate links. If you make a purchase through an affiliate link, I may receive a commission at no additional cost to you.