A storage bed is an excellent solution if you need to maximize space in your bedroom. Whether you you're looking for a place to store your books or your clothes, there's a bed that does just that, and the ten storage beds, we have picked, all offer great style as well as functionality.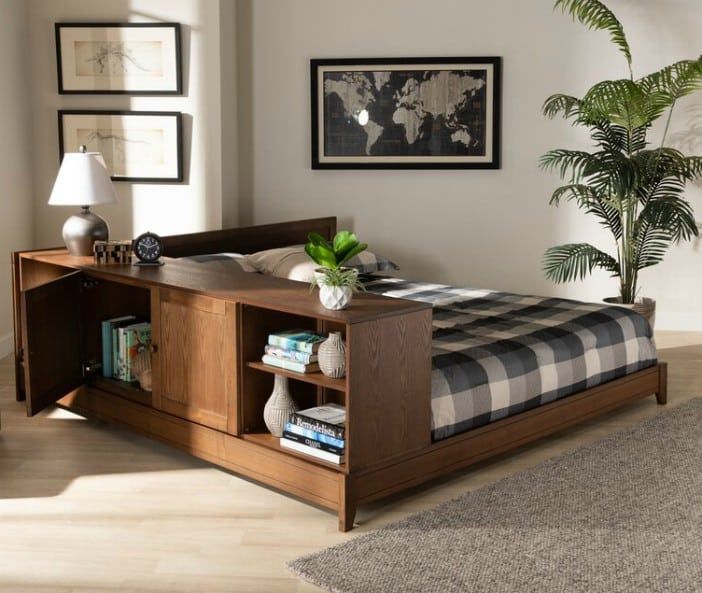 Evelin queen platform bed ($599.99). This wooden bed is fitted with a spacious storage unit that can be assembled on either the right or left side of the platform. Inset paneling lends a classic touch, while a low platform provides a more contemporary feel. A walnut brown finish on the wood gives the bed warmth that creates a cozy ambiance in the bedroom. Find it here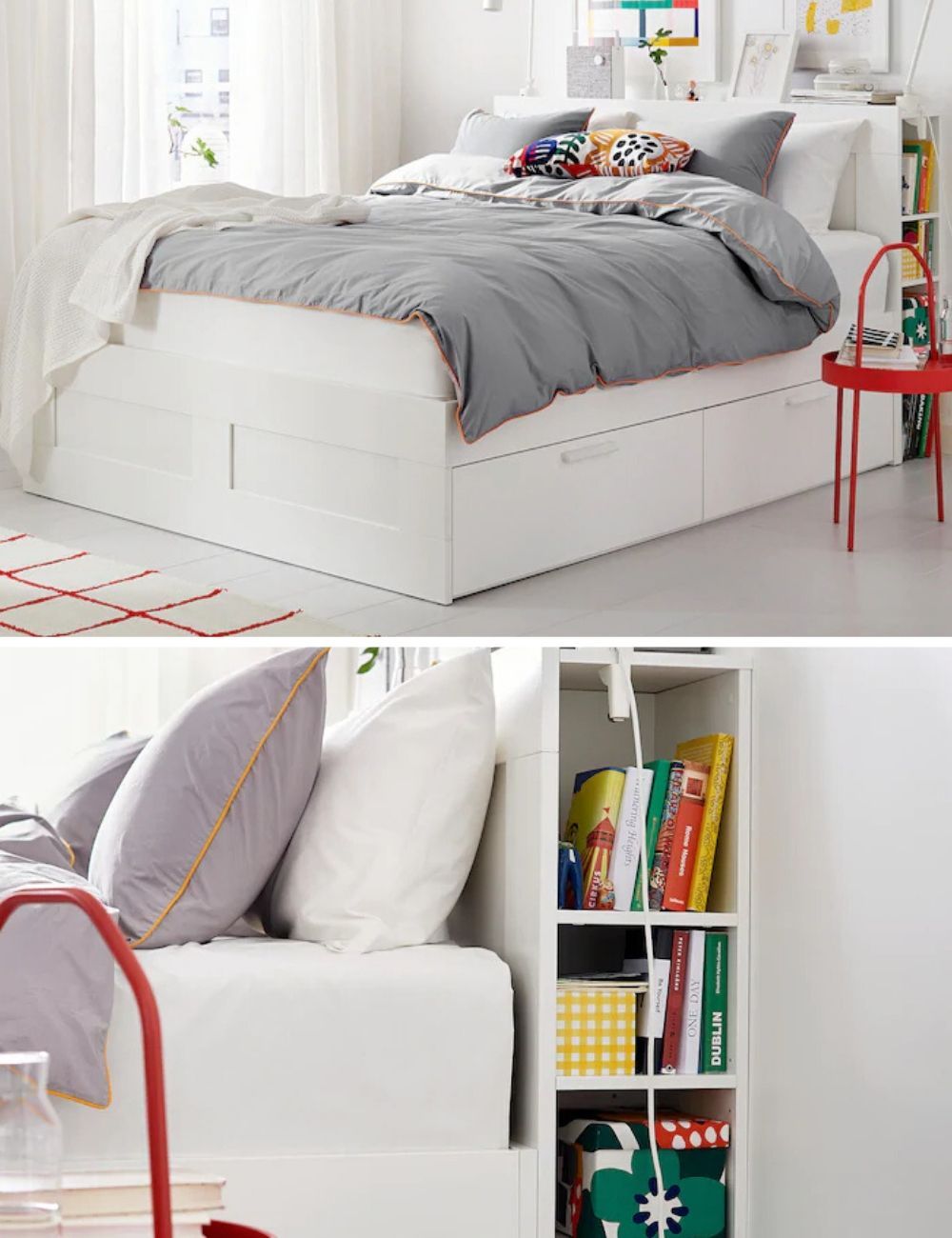 BRIMNES Bed frame with storage and headboard ($469.00). Everything is kept close at hand with integrated storage in the headboard. Ample storage space is hidden neatly under the bed in 4 large drawers. Perfect for storing quilts, pillows and bed linen. The drawers are easy to roll out and in thanks to the casters on the base. Hide cables for lamps and chargers by feeding them through the holes on the top of the headboard. Find it here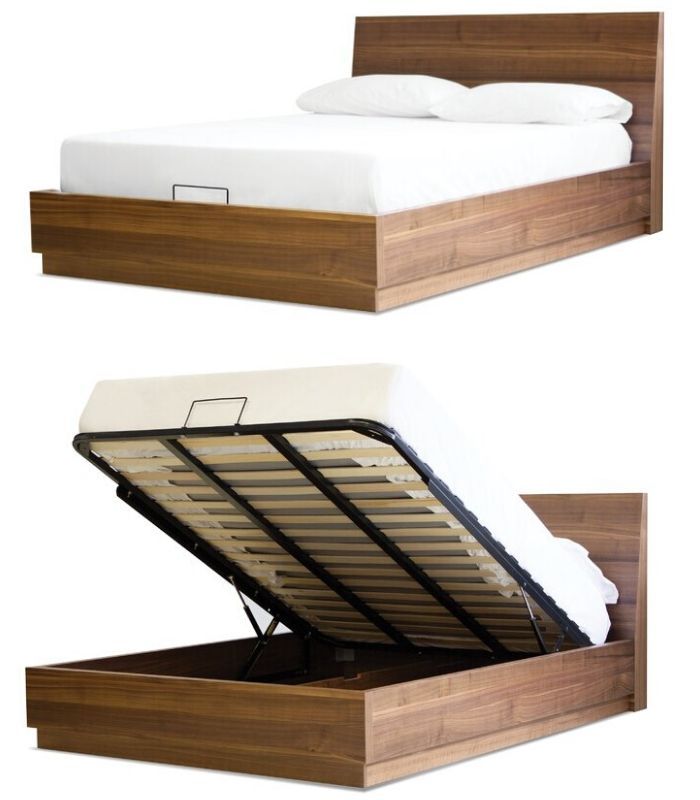 Panama bed storage platform ($2,269.99). Solidly crafted with its own hydraulic storage lift mechanism, this bed is built like a tank. Extra strong rated TVAC pistons allow you to lift your mattress up. The bed boasts a beautiful book-matched Walnut wood headboard detail. Find it here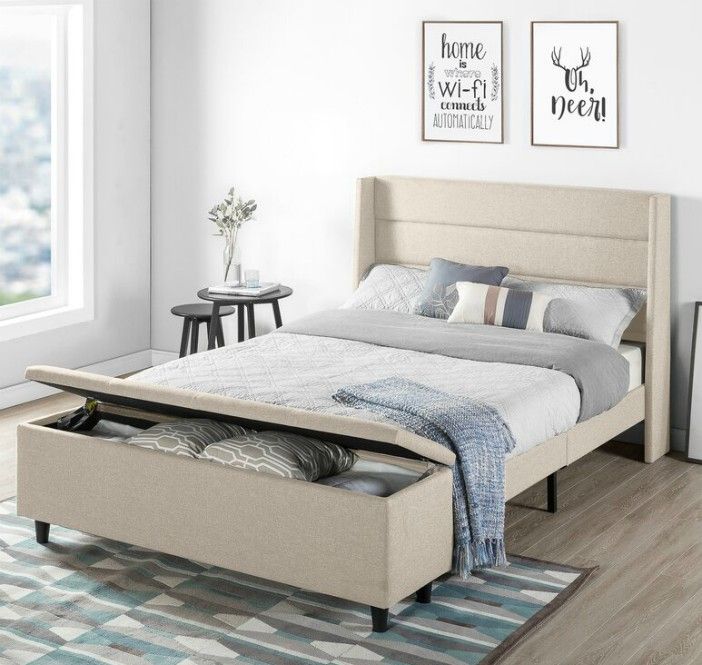 Minatare upholstered storage queen bed ($408.99). The practical upholstered platform bed features an elegant wing back headboard and a bedside ottoman bench for accessible and convenient storage. Find it here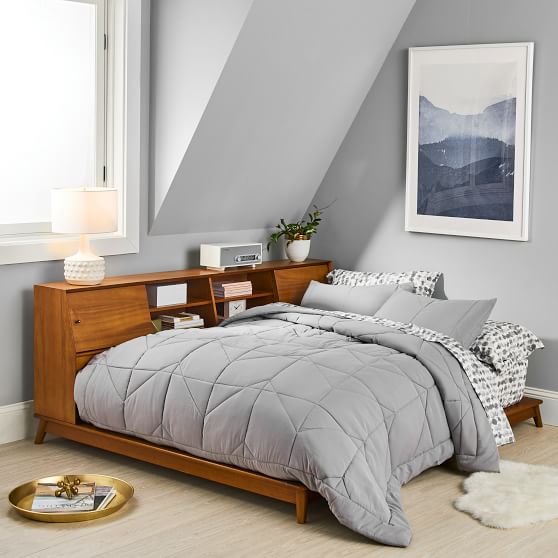 Mid-century side storage platform bed ($1,199). Inspired by modern American design, this functional Mid-Century Headboard Storage Platform bed borrows its playfully angled legs and clean lines from iconic '50s and '60s furniture silhouettes. Featuring sliding doors, wire management, fixed shelves and open cubbies, this stylish space-saving piece lets you keep your bedside essentials stored away and close at hand. Find it here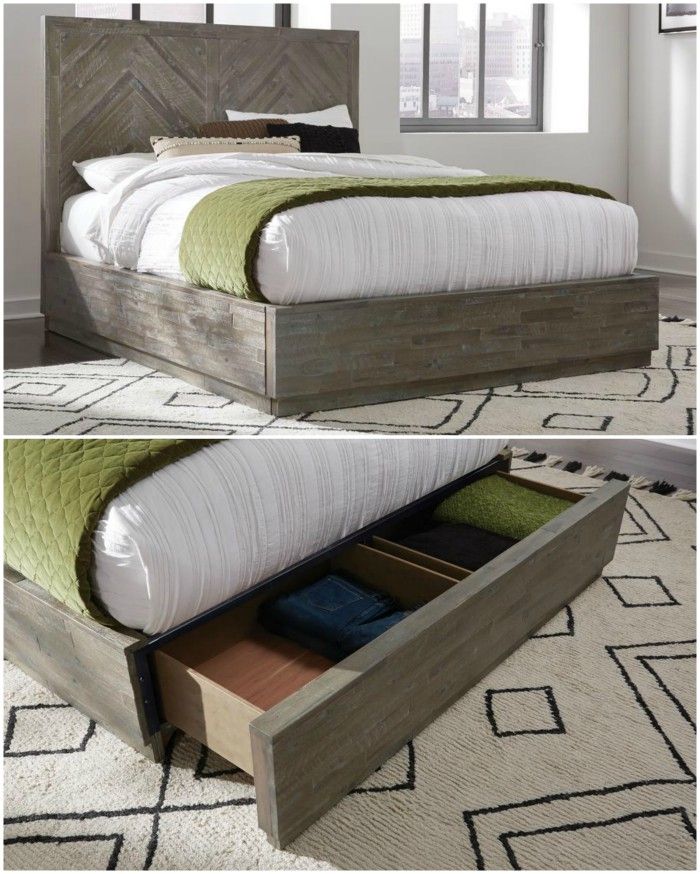 Herringbone storage platform bed ($979.99). Hand-selected planks of solid wood are carefully sanded, stained and whitewashed for a driftwood appearance that accentuates the active grain and draws out natural knots and markings from the milling process. They are then inlaid over plywood to create a handsome herringbone pattern. Features a large storage drawer. Find it here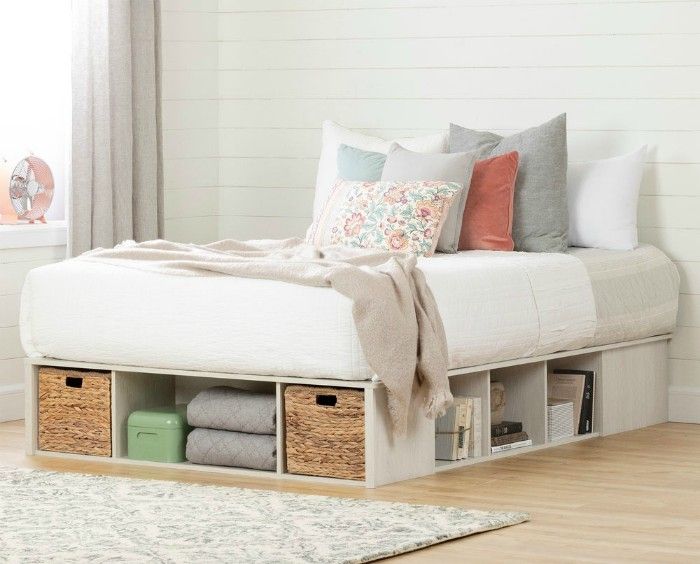 Lilak queen storage bed ($476.99). Here's an unusual, ingenious piece: a bed with multiple storage spaces! You get a total of nine open spaces: three apiece on three sides. The space under the bed is as large as a bookcase – you can use it for books, warm sheets, and accessories. To help you organize your things and give you some closed storage space, the bed comes with wicker baskets. They're designed to fit perfectly in the open spaces, so you can play with various configurations. Find it here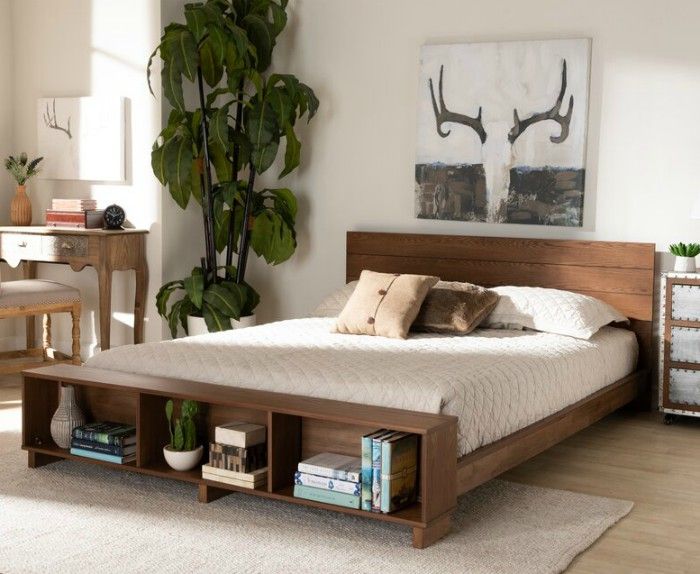 Ariadne storage platform bed ($539.99). Fitted with three spacious shelves at the footboard, the bed adds convenience to tight spaces. This wood bed is made in Malaysia and includes a paneled headboard, giving the piece a fantastic rustic charm. Find it here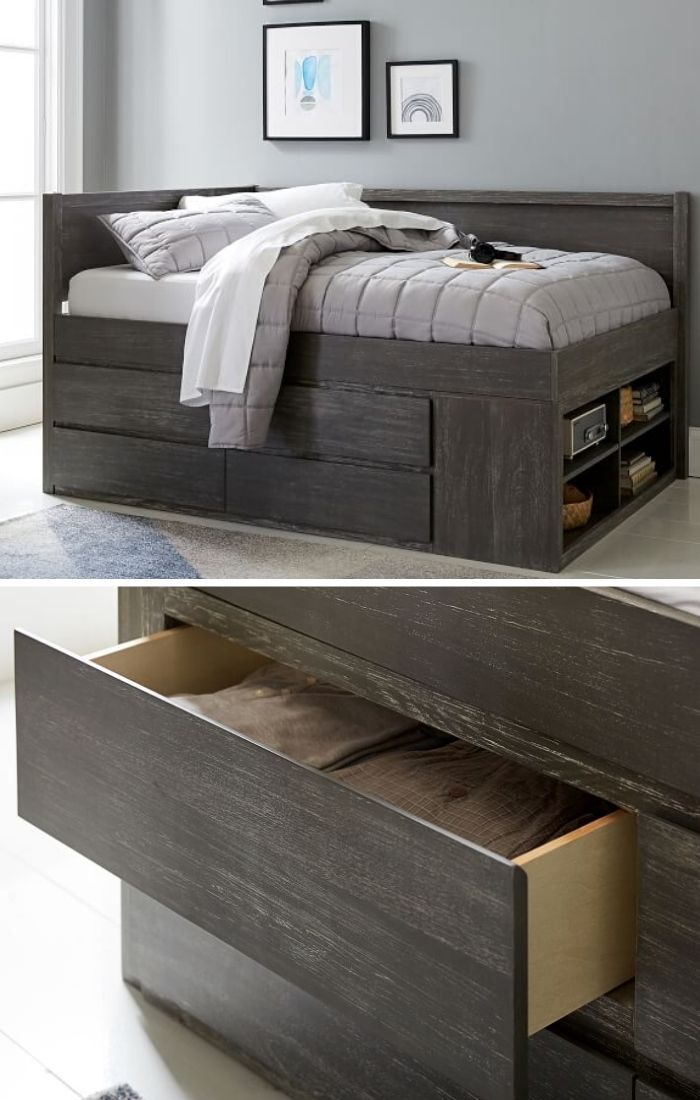 Costa captain's corner bed ($2,199 – $2,299). Complete with four spacious drawers and shelving at the end, this bed has plenty of storage options to keep your space neat, tidy and, of course, super chic. Its water-based finish is hand-applied in multiple steps so that it's a lasting and stylish addition to your space. Find it here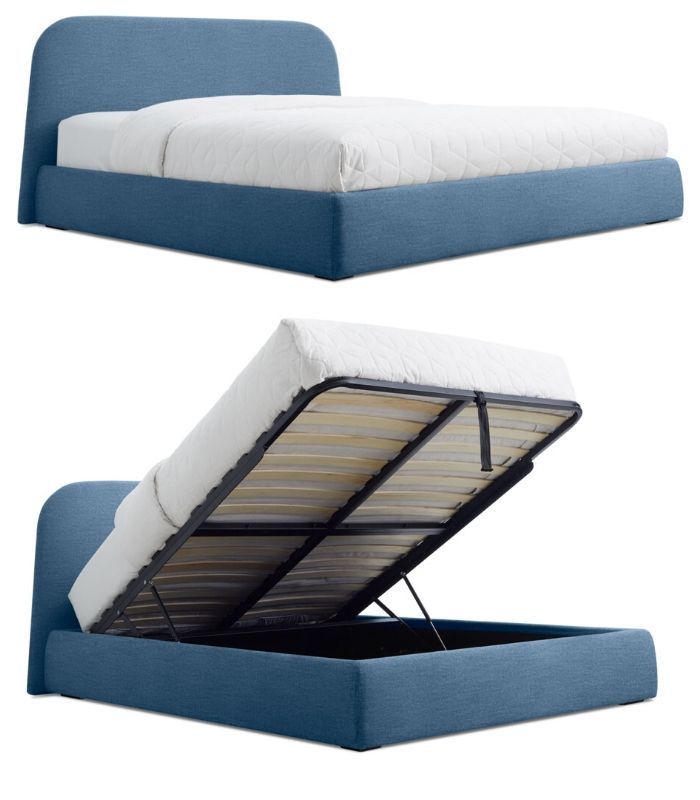 Lid queen blue storage bed ($2,399.00). With a piston driven mechanism that lifts the entire mattress, this storage bed provides an inconspicuous spot for whatever needs to be stashed below. A storage compartment is lined to minimized dust and keep items off of floor surfaces. Find it here
Please note, some links on this page are affiliate links. If you make a purchase through an affiliate link, I may receive a commission at no additional cost to you.