As necessary as dining tables are for family meals and activities, they can take up a considerable amount of space in the average home. Small space dwellers may not even have the luxury of fitting a traditional dining table in their homes.
Fortunately, you can have your cake and eat it too – space and a dining table. Here are a dozen dining tables that are excellent solutions for small spaces.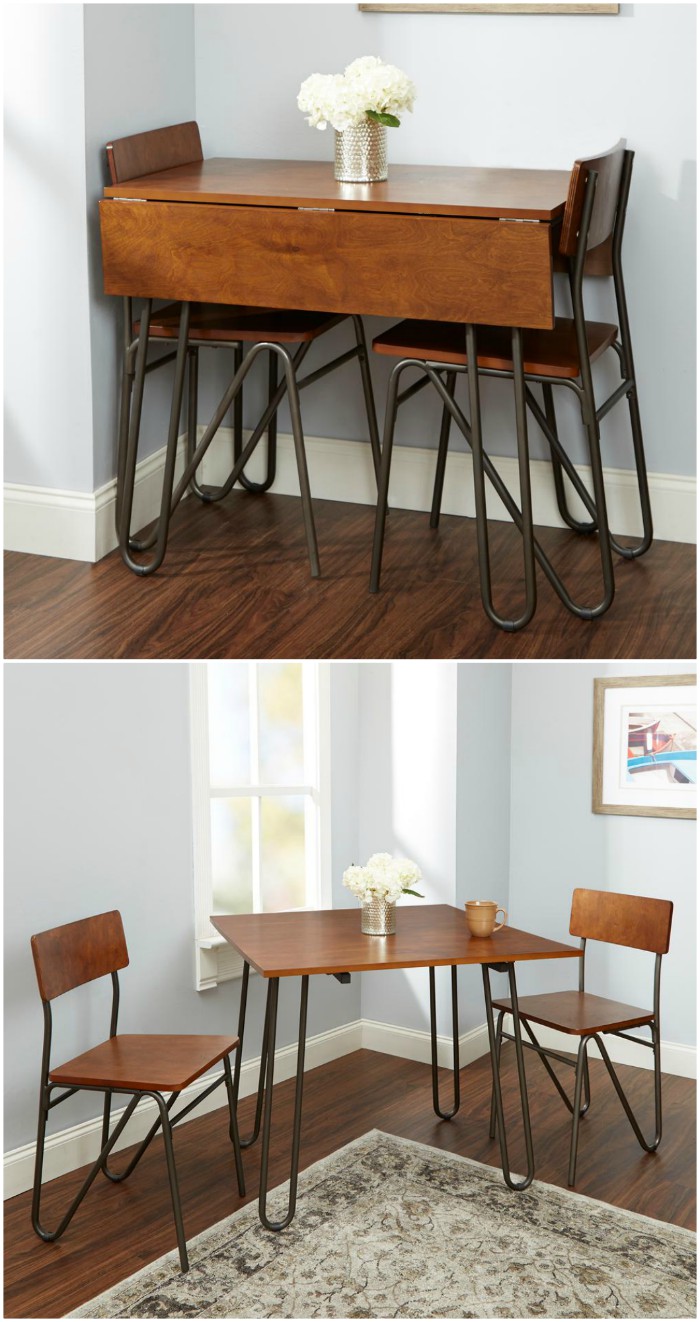 Henry drop leaf table with hairpin legs. This drop-leaf table is the epitome of a modern and mid-century hybrid. Its metal hairpin legs allow it to blend into any contemporary abode, while the gorgeous and sturdy wood enable it to suit classic homes, too. With two hinged sections, it can become a large or small table for two people within seconds. CHECK PRICE
KALLHÄLL Table. Versatility is the aim of the game with this sleek, white, multi-functional KALLHÄLL table from IKEA. It can be a table for two or four and boasts a large storage compartment featuring grey fabric positioned within a sturdy metal frame. Take advantage of the hook and loop fasteners for cables, and enjoy the compatibility with two folding chairs from the same manufacturer. This table is suitable for small houses, apartments, dorms, and more. CHECK PRICE
Rosaline Counter Height Drop Leaf Dining Table. Small homes need functional, multi-use furniture, and that's exactly what this counter-height drop-leaf dining table is. Not only is it a stunning 40-inch round wood table for two with two leaves, but it's a functional storage facility with three shelves. This table also comes with matching saddle-cut seats for your convenience. CHECK PRICE
Round drop-leaf table with storage. If you don't have space for a side table, a dining table, and a desk, then this round drop-leaf table with storage might stand out for all the right reasons. While it's an entirely functional and stylish white and wood dining table, it can also become a side table and desk. Fold the leaves down and slot it next to your sofa, or drop just one leaf to turn it into a desk. This table for small spaces is a smart solution you may not have known you needed. CHECK PRICE
Vatta Floating Desk. This wall-mounted desk is any student or space-poor homeowner's best friend. It's a table for two with storage while you dine or partake in arts and crafts, then it quickly becomes a piece of wall art that's out of sight and out of mind. This floating desk folds up and down with ease and has seven shelves positioned on the wall-mounted hutch. CHECK PRICE
Holly & Martin drop-leaf console to dining table. Every home needs a statement piece, and this drop-leaf console and dining table might be the one that grabs your attention. It's a two-in-one table with a gate-leg design that allows you to convert it from a table for four into an attractive console table for your home. It's easy to downsize and tuck away, yet its gorgeous sleek frame and wood grain make it stand out no matter its size. CHECK PRICE
Solid oak extendable table. The hardest part about living in a small home is knowing that you want large, traditional furniture but not having the space for it. This solid oak extendable table attempts to solve that problem. Its space-saving square design means you can tuck it away in a corner with room for up to two people, but you can then extend it for up to four or more. It's easy to adjust and suits both contemporary and classic homes. CHECK PRICE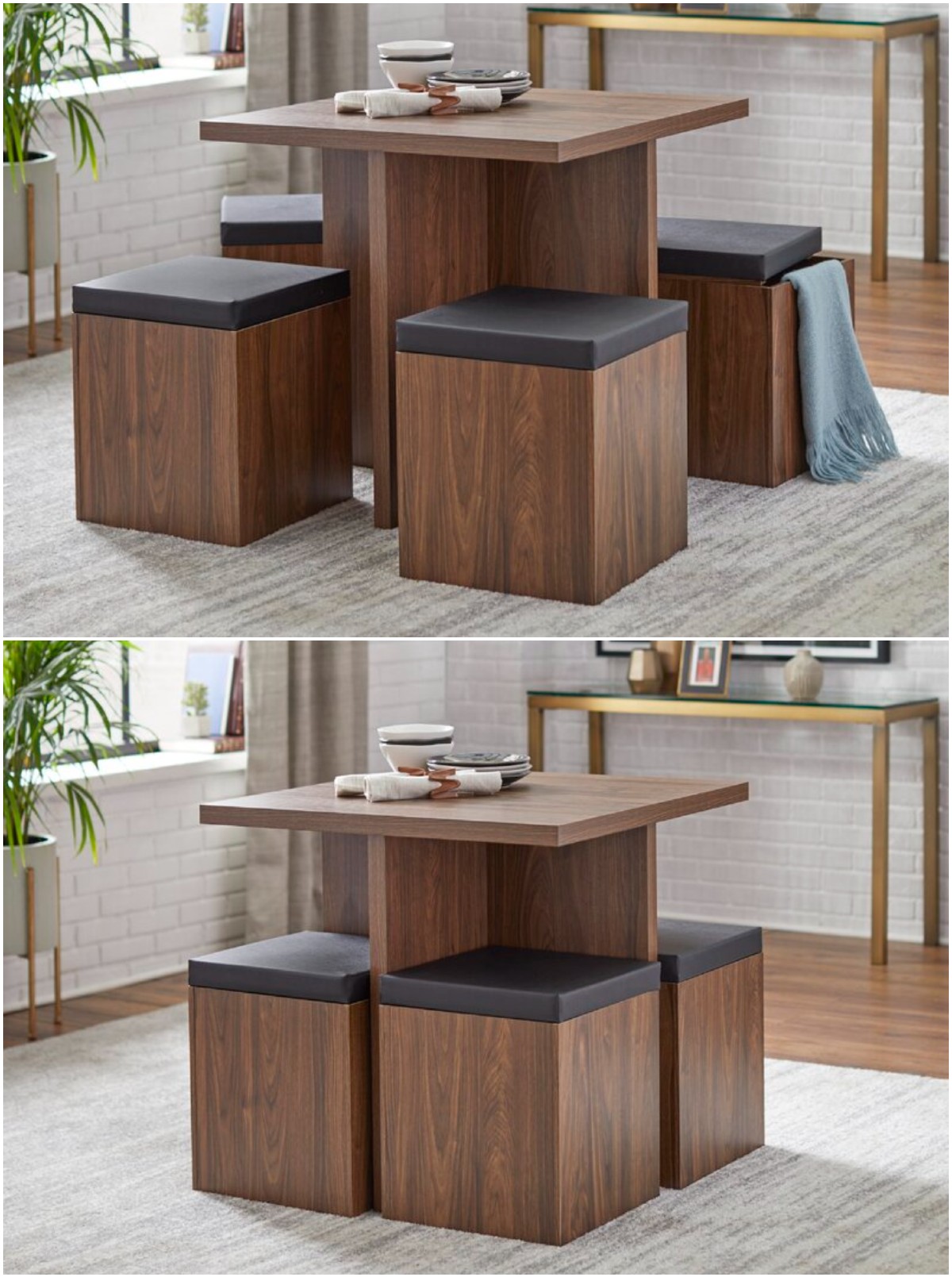 Badillo 4-Person Dining Set. Sitting down for dinner as a family can seem like a far-off reality in a small home, but this 5-piece dining set is proof that it can happen. It's a gorgeous set with a square trestle-base table and four square stools with built-in storage you can tuck underneath. CHECK PRICE
Folding Dining Table. Who knew a dining table could be so practical? There is more to this modern dining table than meets the eye. It comes with two storage racks, two wheels, and complete versatility. Use it as a dining table, an office, a side table, a card table, or a simple storage facility. The wheels even allow you to move it around your home. Fold it up or keep it expanded; the choice is yours. CHECK PRICE
Sitka Round Dining Table. When you want your dining table to be both small and stunning, don't look past this 36-inch round dining table crafted from 100% solid Moso bamboo and finished in amber. Its Danish mid-century design makes it stand out from the crowd, while the tapered legs allow for both strength and elegance. CHECK PRICE
4-Piece Counter Dining Table with 3 Stools. Any apartment dweller or homeowner would be proud to add this four-piece counter dining table set with three stools to their home. The manufacturers have thought of everything, such as a high-quality steel frame, contrasting wood finish on the stools and bench, and a generous amount of space for three people. You can even tuck the stools underneath to save space. CHECK PRICE
Stakmore expanding table and cabinet. Whether you have a modern or classic home, you'll be drawn to this Stakmore expanding table and cabinet that's possibly unlike anything you've seen before. At first glance, it's a basic wood hutch containing five leaves, but it quickly becomes so much more. Pull these out from underneath the false drawers and create a table that expands to 89 inches. There is even a hidden leg for support. CHECK PRICE
Updated February 2022
Please note, some links on this page are affiliate links. If you make a purchase through an affiliate link, I may receive a commission at no additional cost to you.