A metal wheel, a magnetic board or a macramé net. There are so many stylish ways to showcase your photos. I've picked some of the best solutions right now, so go on and get inspired.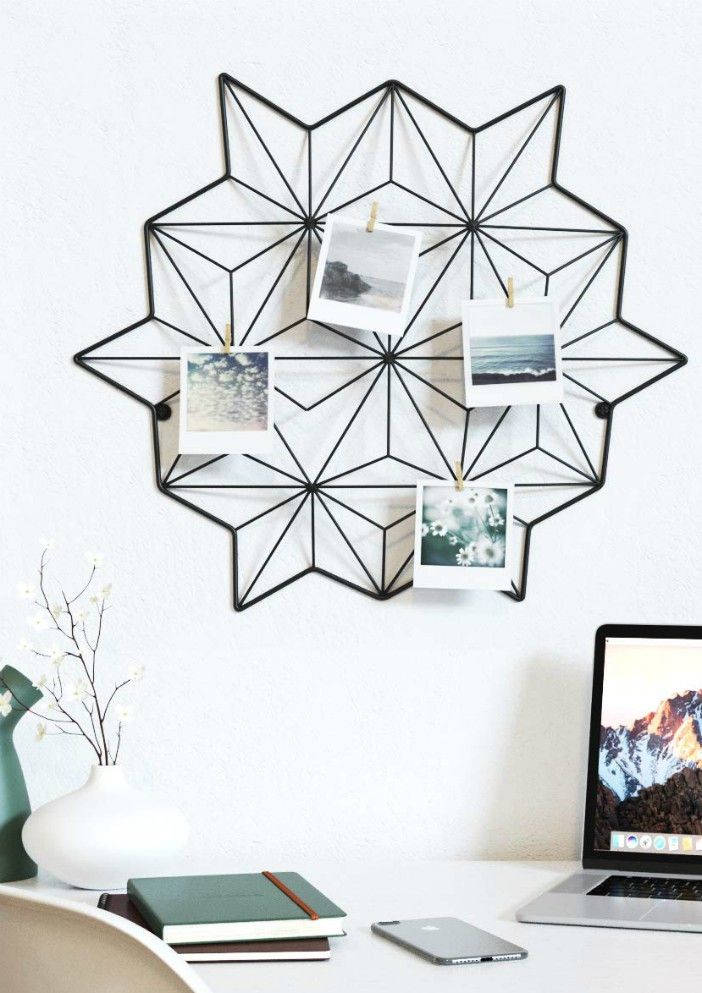 Wall-mounted metal grid panel ($25.97). The industrial design inspired rack will add an edgy, and fearless style to your space. It is brilliant for displaying photos, postcards and greeting cards. Find it here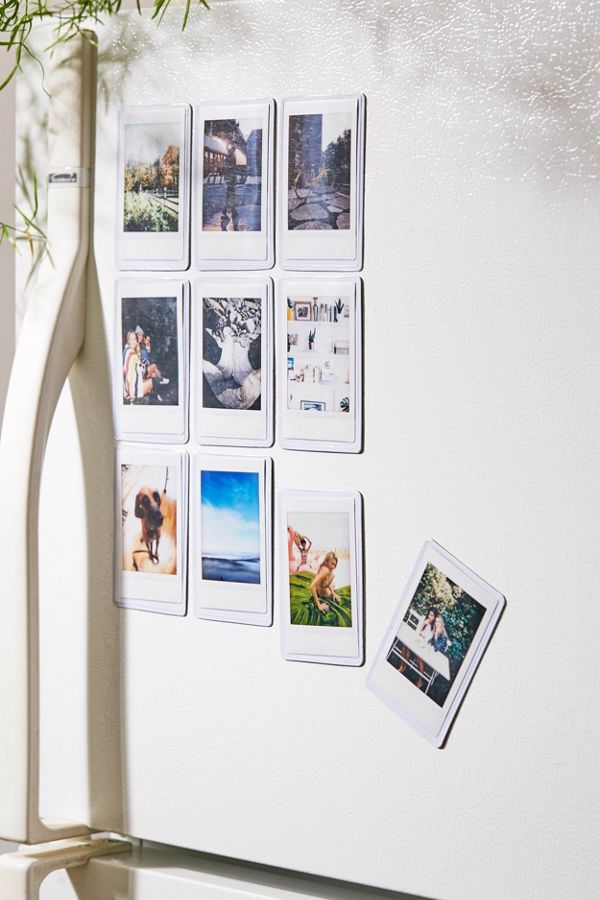 Mini picture sleeve magnets ($15.00). Keep your favorite memories right where you'll always see them with this set of 10 magnetic transparent picture sleeves, perfect for displaying mini pictures right on your fridge! Find it here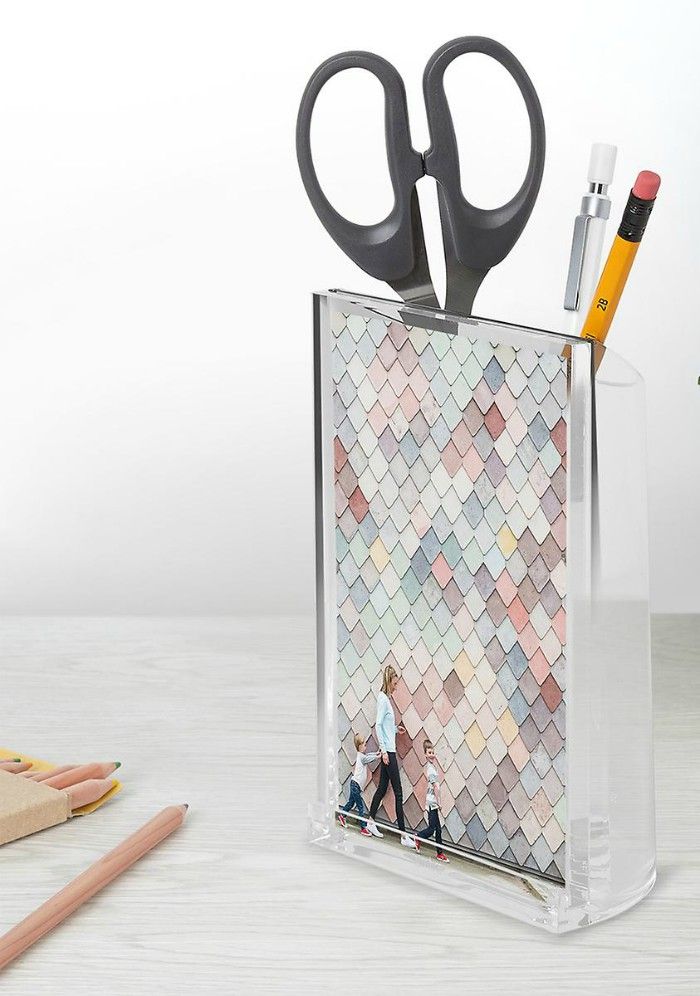 Photo display pencil cup ($19.99). This pencil cup adds a small creative touch to desktops and bookshelves. Use the front frame for a favorite photo, memento, card or artwork. The front part of the frame has an easily adjustable and removable plate to change out photos, momentos and more. A storage container on the opposite end can serve a functional pencil cup or flower vase. Find it here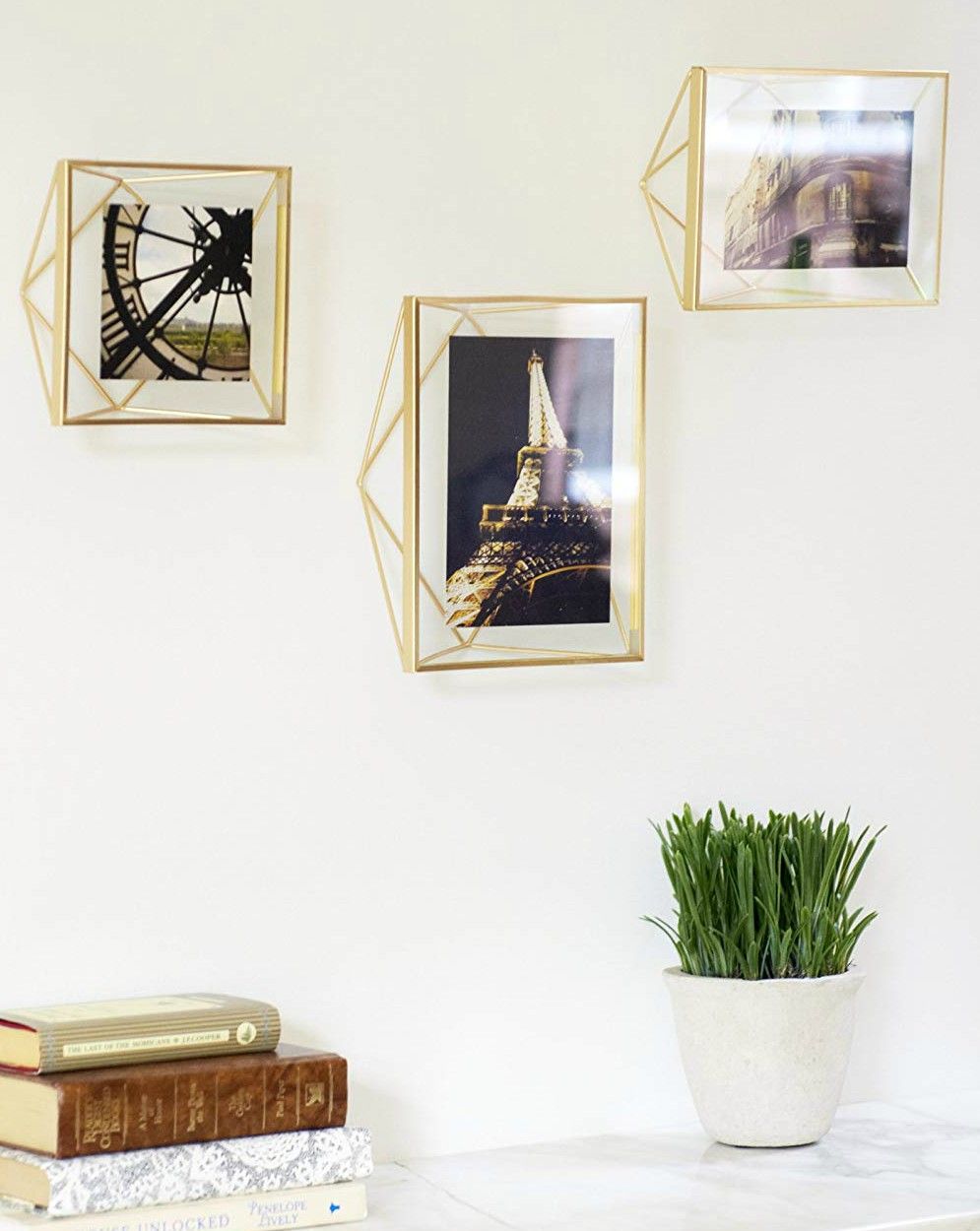 Brass Prisma picture frame ($12.00). The innovative design floats your photo between two panes of glass, while allowing the geometric frame to show through. The frame can be placed on a tabletop or mounted to your wall. Find it here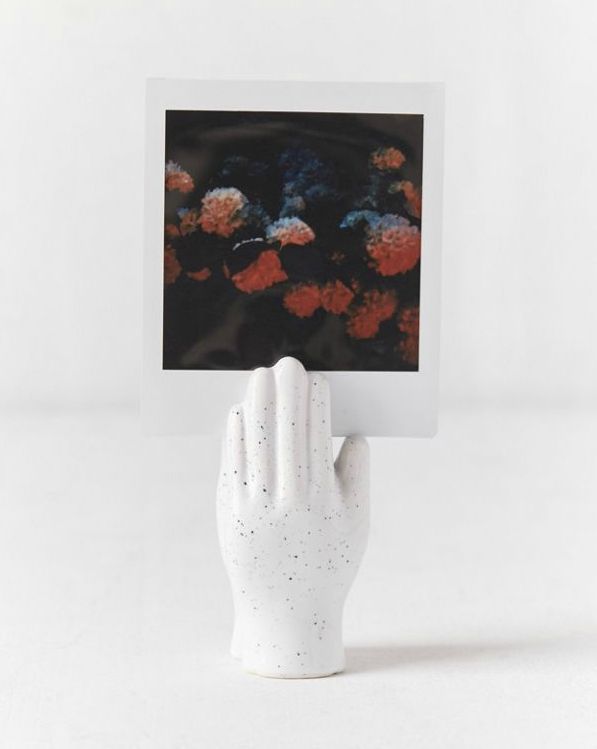 Hand Photo Clip ($10.00). Hold your favorite memories in gentle hands with this photo clip made from speckled stoneware. Find it here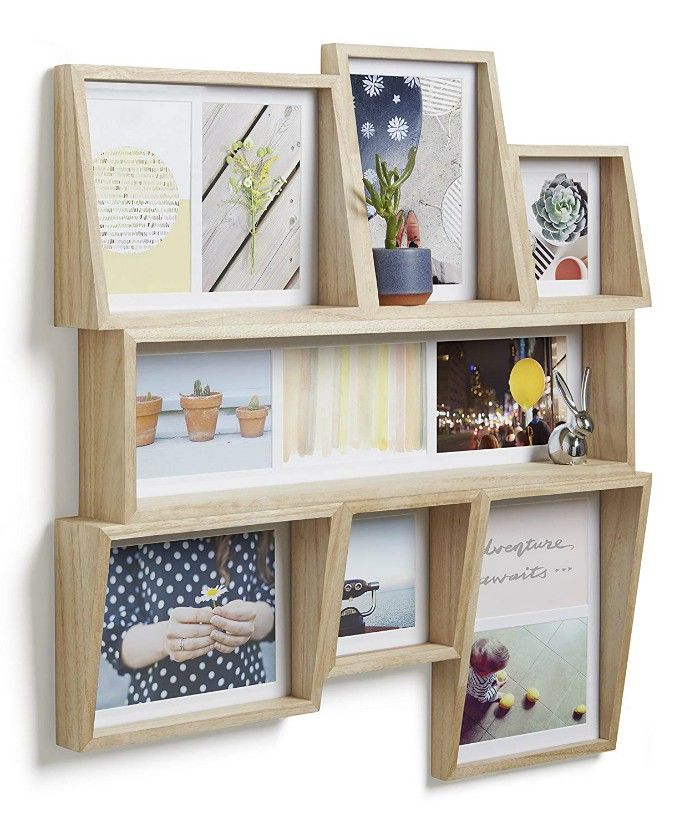 Wooden collage picture frame ($58.96). Display your photos in style with this unexpected twist on the typical desk frame. Find it here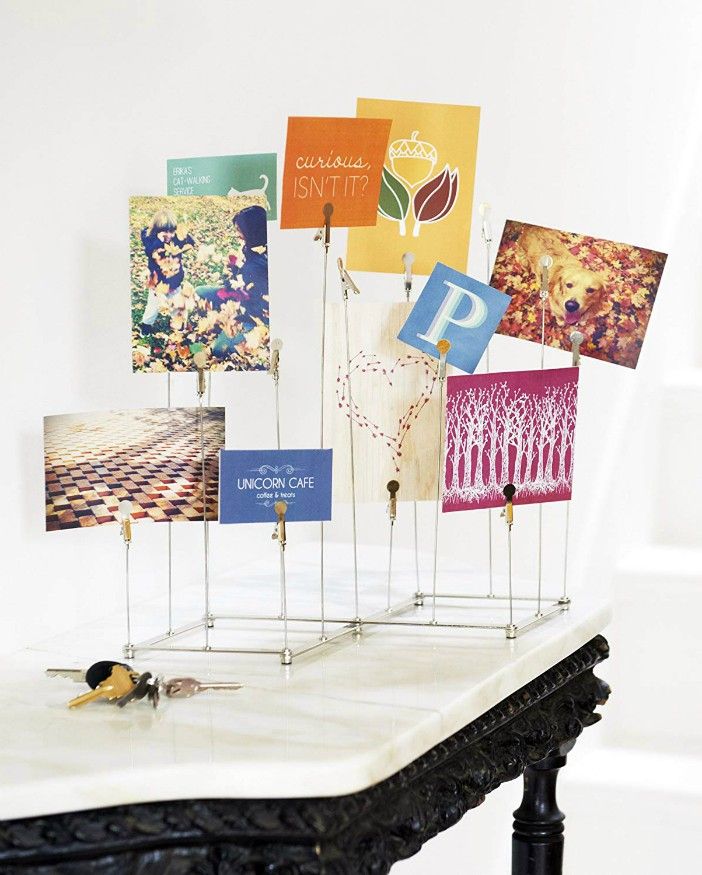 Crowd photo display ($25.00). This photo display holds 15 photos on clips of various sizes. They're attached to a base that expands and contracts in size, giving you the ability to customize photos to your liking. The 15 clips, which hold your photos and memos gently but in place, allow for you to change up your collection with ease. Find it here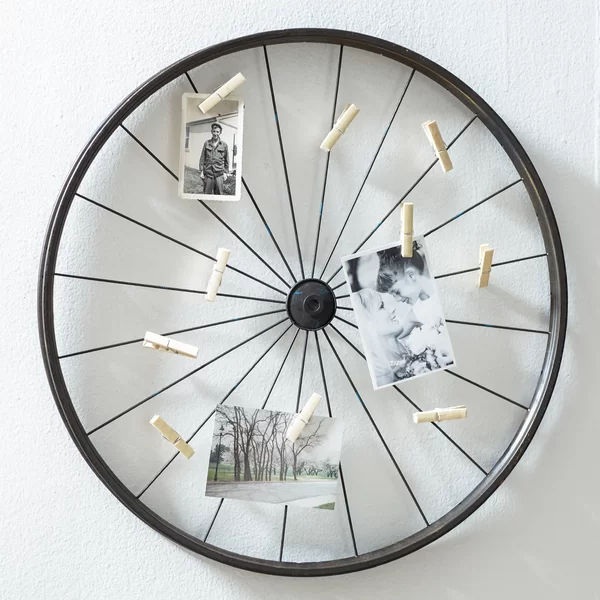 Metal wheel photo holder ($38.99). This bike-wheel inspired piece can hold up to seven of your favorite photos all while adding an industrial touch to any room. Find it here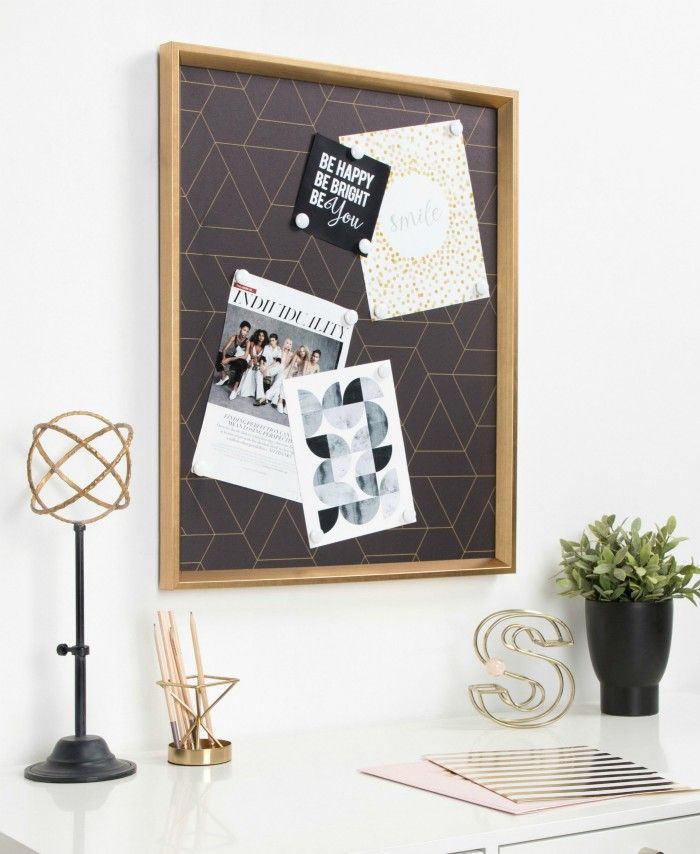 Wall-mounted magnetic board ($66.99). This wall organization board has a beautiful geometric patterned magnetic surface for displaying your photos. Find it here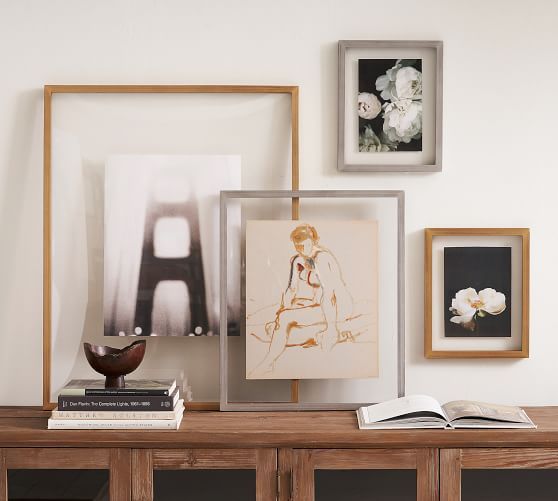 Floating gallery frame ($14.99). Placed between the two clear panes of this floating gallery frame, photos take on a dramatic effect. The clean, contemporary silhouette layers especially well set against a colored wall and blends in easily with other styles. Find it here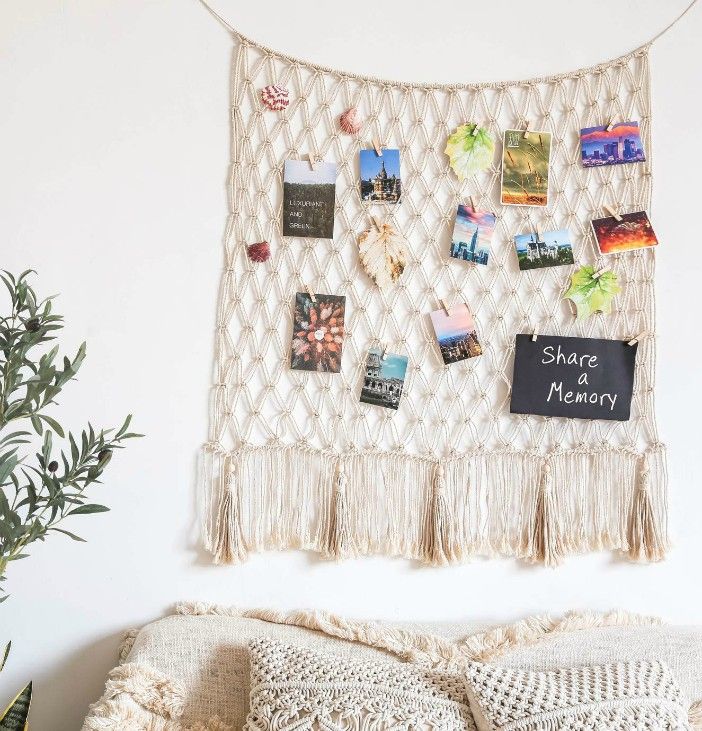 Macramé hanging photo display ($15.99). This macramé fish net is not just a great way to showcase your pictures, postcards, memos or artwork; it is also an unique wall decoration. Find it here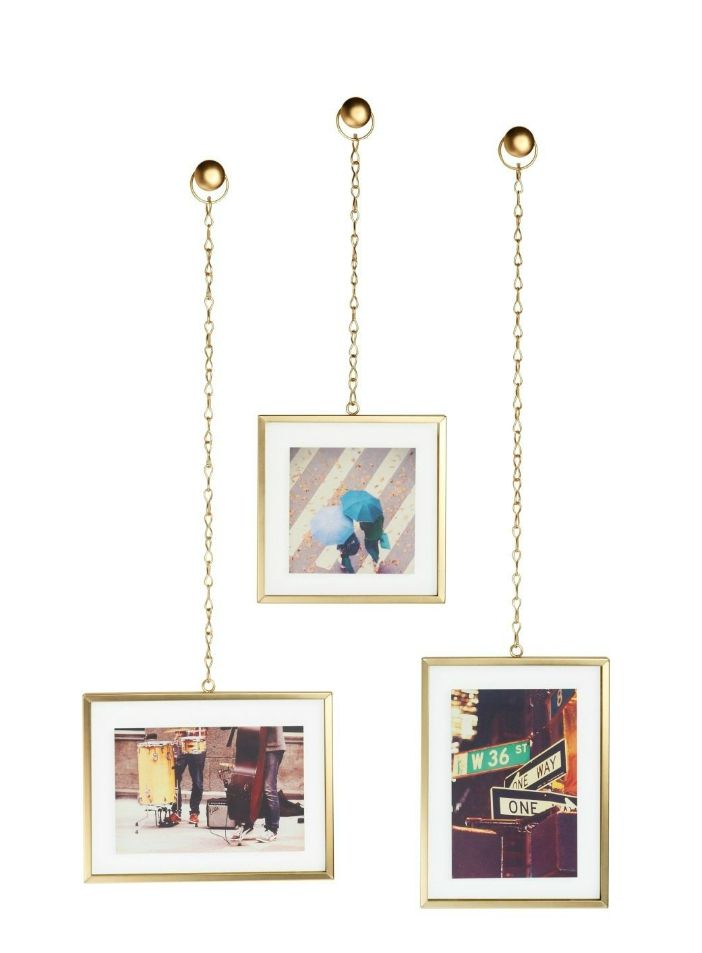 Set of 3 Fotochain Photo display ($25.14). Fotochain features three gallery-style hanging frames (1 square and two rectangular), each suspended from a sturdy metal chain that attaches to a matching wall-mounted knob. Find them here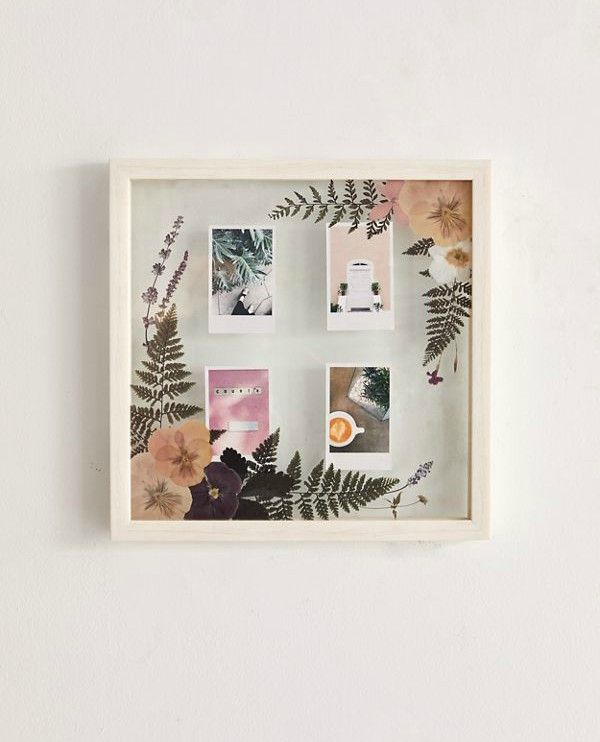 Pressed floral picture frame ($24.00). Showcase your treasured memories in this vintage-inspired square frame decorated with dried flowers at opposite corners. Find it here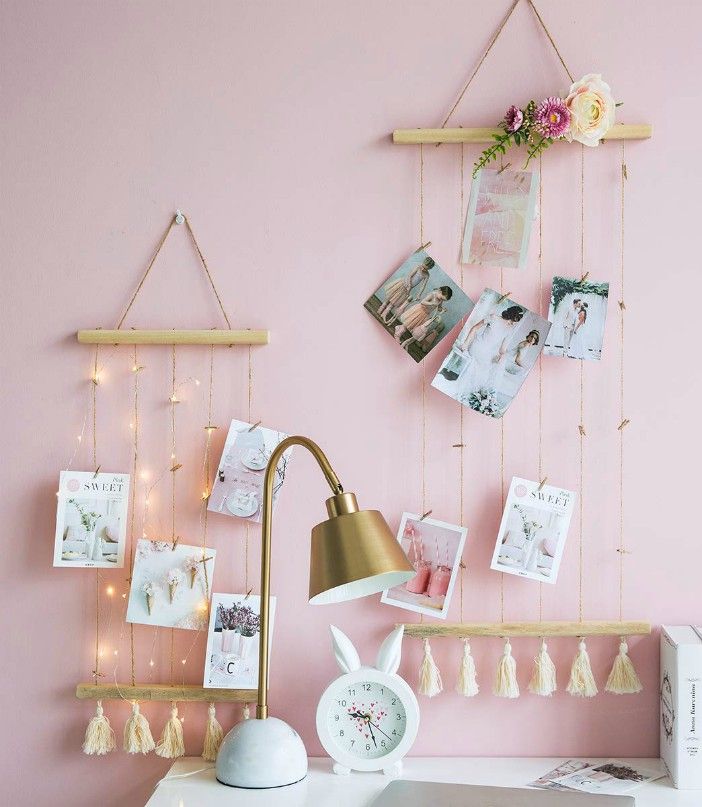 Macramé photo organizer with wood clips ($13.99). Display your photos with this bohemian wall décor. Find it here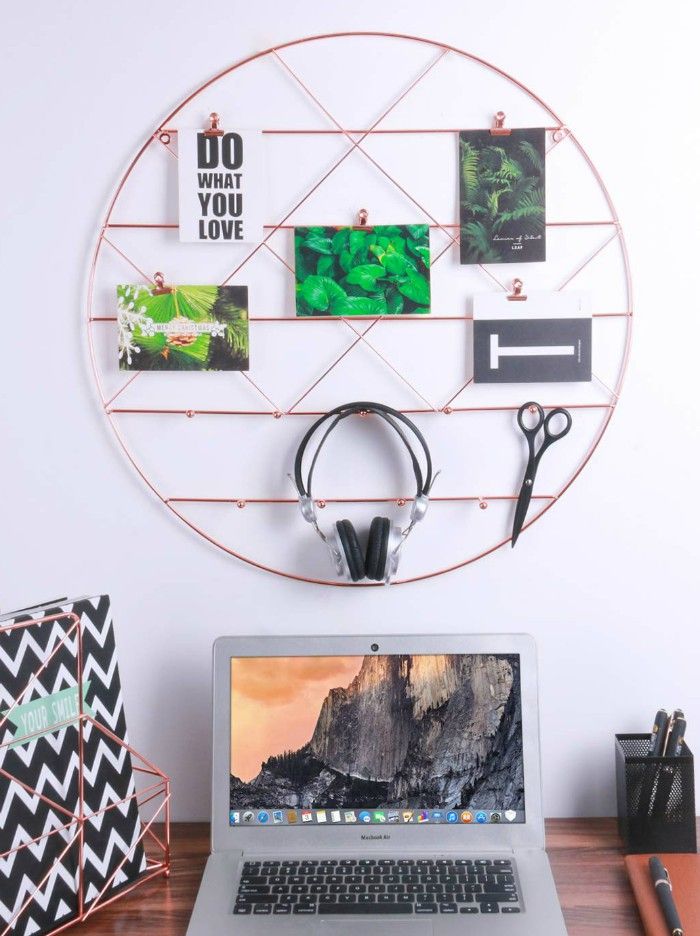 Round wall grid panel ($22.99). This modern grid panel features a stylish crossed wire design and is perfect for showcasing your photos, artwork and postcards. Find it here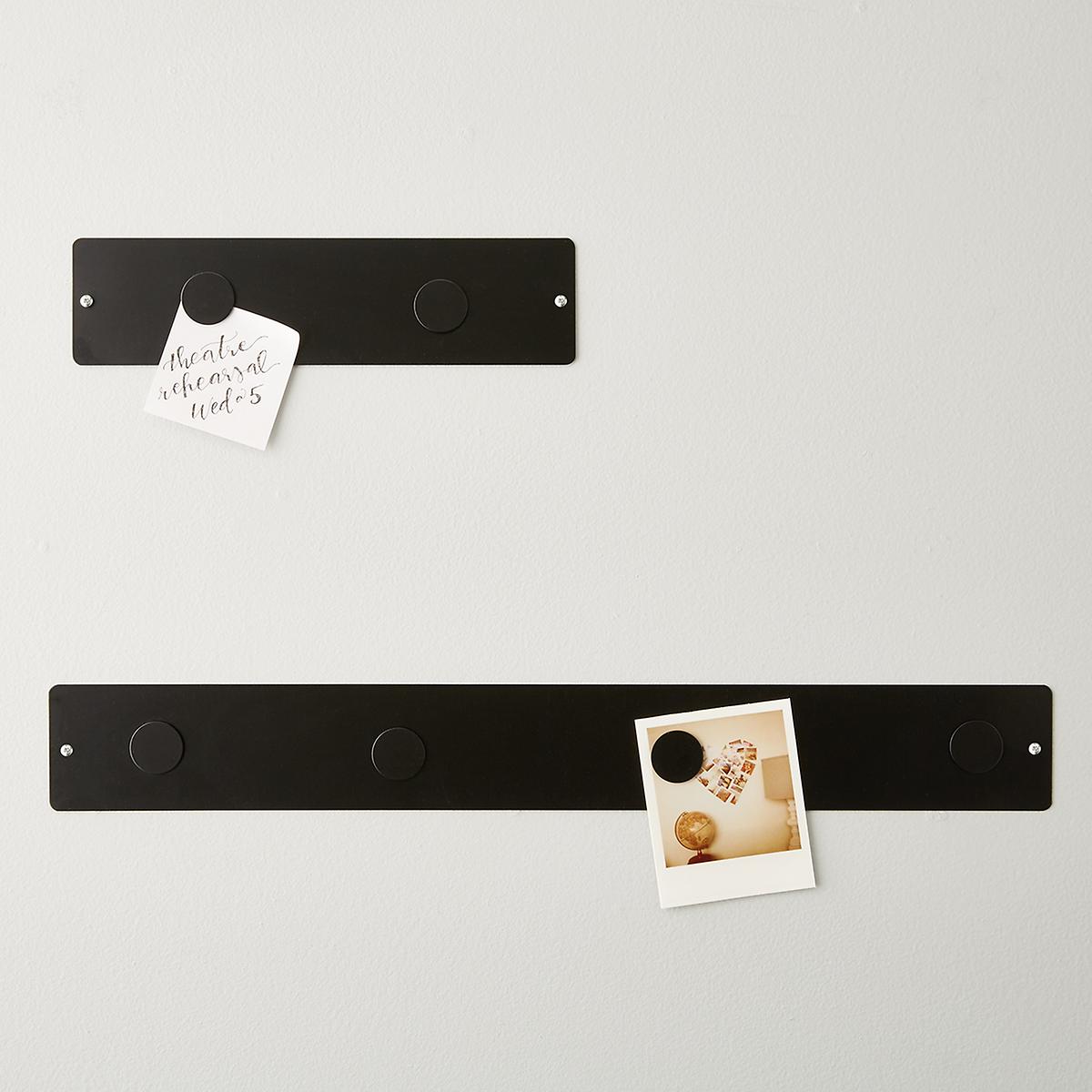 Black chunkie magnetic strip ($7.99 – $14.99). This strip is a practical and chic addition for displaying and posting photos, cards, coupons, tickets, reminders and receipts in your office, kid's room, dorm room or kitchen. Find it here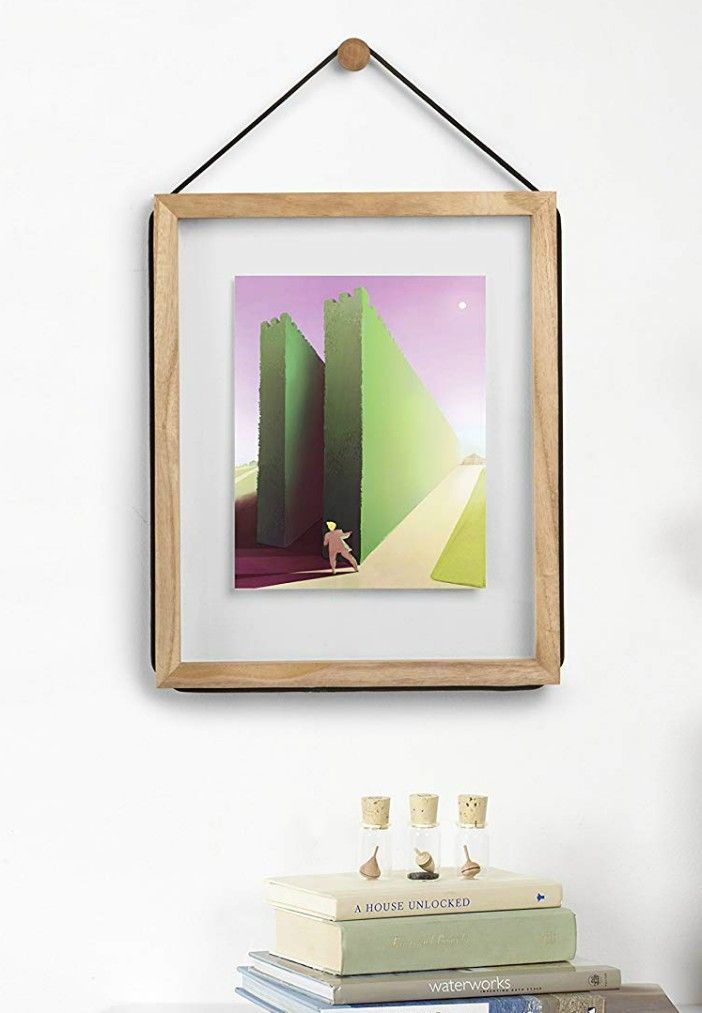 Corda photo display ($20.00). Inspired by exposed stitching details, this photo display features a cord that goes through the corner of the frame and is visible on the edges. Made of wood and adjustable cord, Corda displays horizontally or vertically easily by simply pulling the rope. Find it here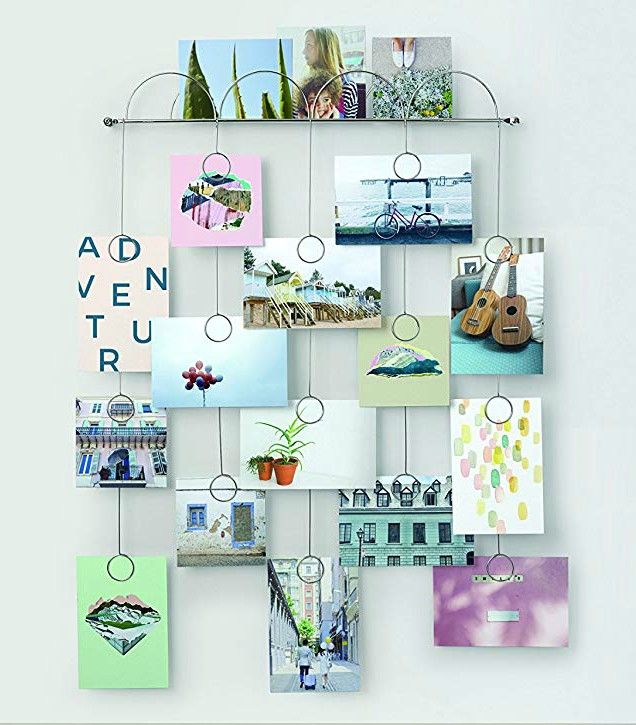 Trickle photo display ($19.99). A unique solution to wall decor that turns your favorite photos into a work of art. Includes 5 vertical rows of wire and space for 20 photos. Find it here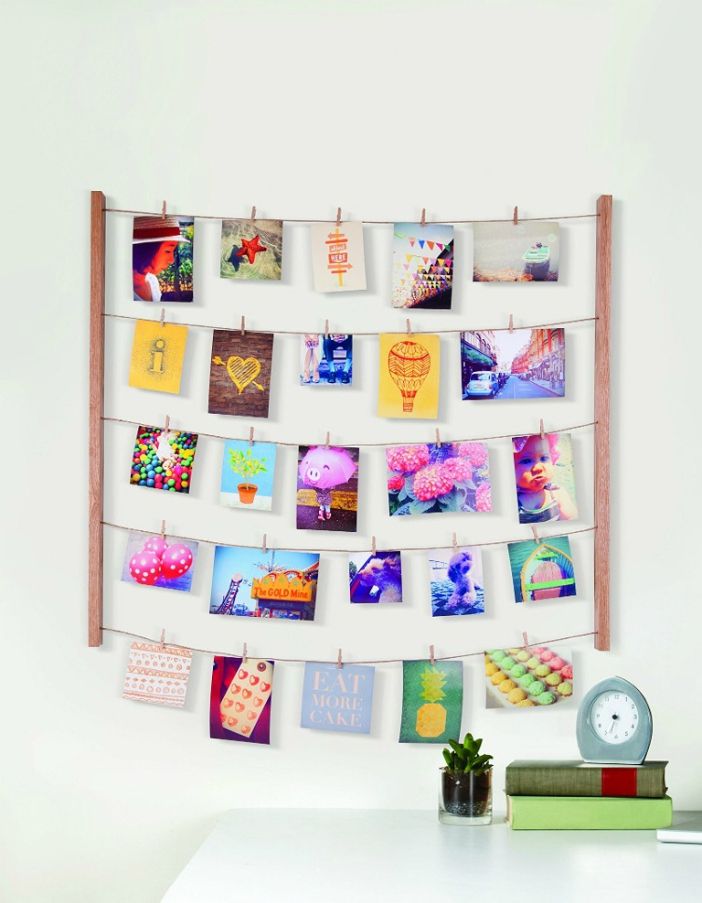 Hangit photo display ($19.99). Hangit's unique picture hangers design gives you the freedom to create a photo collage using pictures (and other mementos) of all sizes including 4×4, 4×6, 5×7 and even 8×10 inches and can be mounted vertically or horizontally. Find it here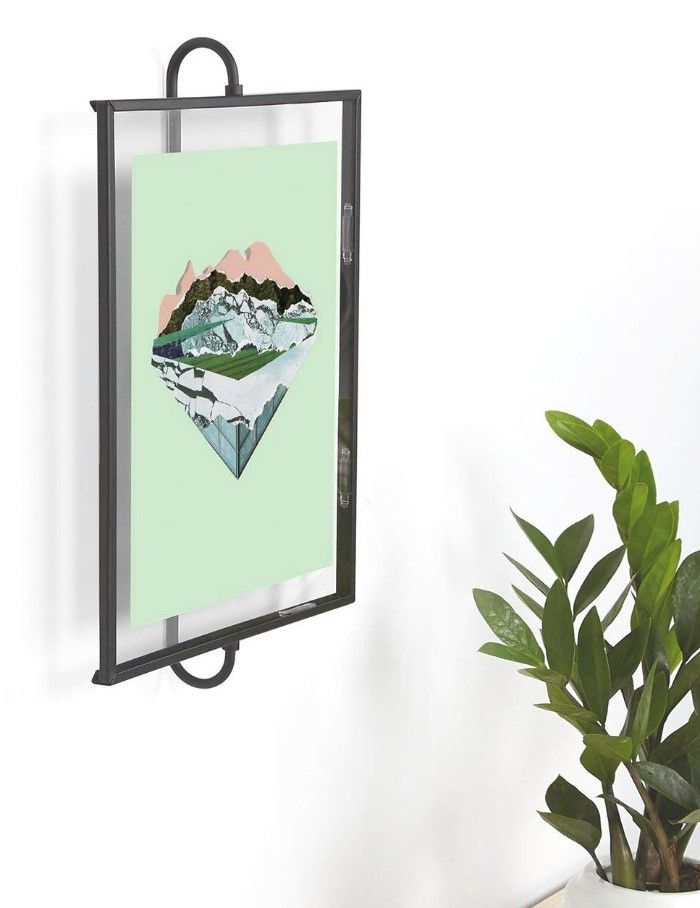 Phantom wall picture frame ($19.99). Phantom is a unique photo frame that floats one 8 x 10 photo between two panes of glass and uses wire to make the floating frame hover away from the wall, adding an eye-catching and unexpected flair to both your walls and your photos. Find it here
Please note, some links on this page are affiliate links. If you make a purchase through an affiliate link, I may receive a commission at no additional cost to you.