I have seen a lot of lovely tiny houses but I have to say that this one is my favourite design! It was designed and built by architect graduates/ apprentice carpenters Andrew Carter and Lara Nobel with the help of builder Greg Thornton. Together they have founded the Australian The Tiny House Company.
Andrew and Lara's 18 m2/194 ft2 home is called PORTAL and boasts a modular demountable deck system, a custom-designed retractable bed and custom cabinetry between a grid of 'portal' frames.
The retractable bed lowers down over the couch at the push of a button for easy access.
The wall adjacent to the bed contains deep, floor-to-ceiling storage, as well as storage under the sofa seats.
The kitchen runs half the length of the house.
Continuous sightlines through the length and width of the house help to provide a spacious feel. Doors and windows are aligned to lead the eye through the house and out to the surrounding garden and provide very effective cross-ventilation and stack ventilation (through the high louvers).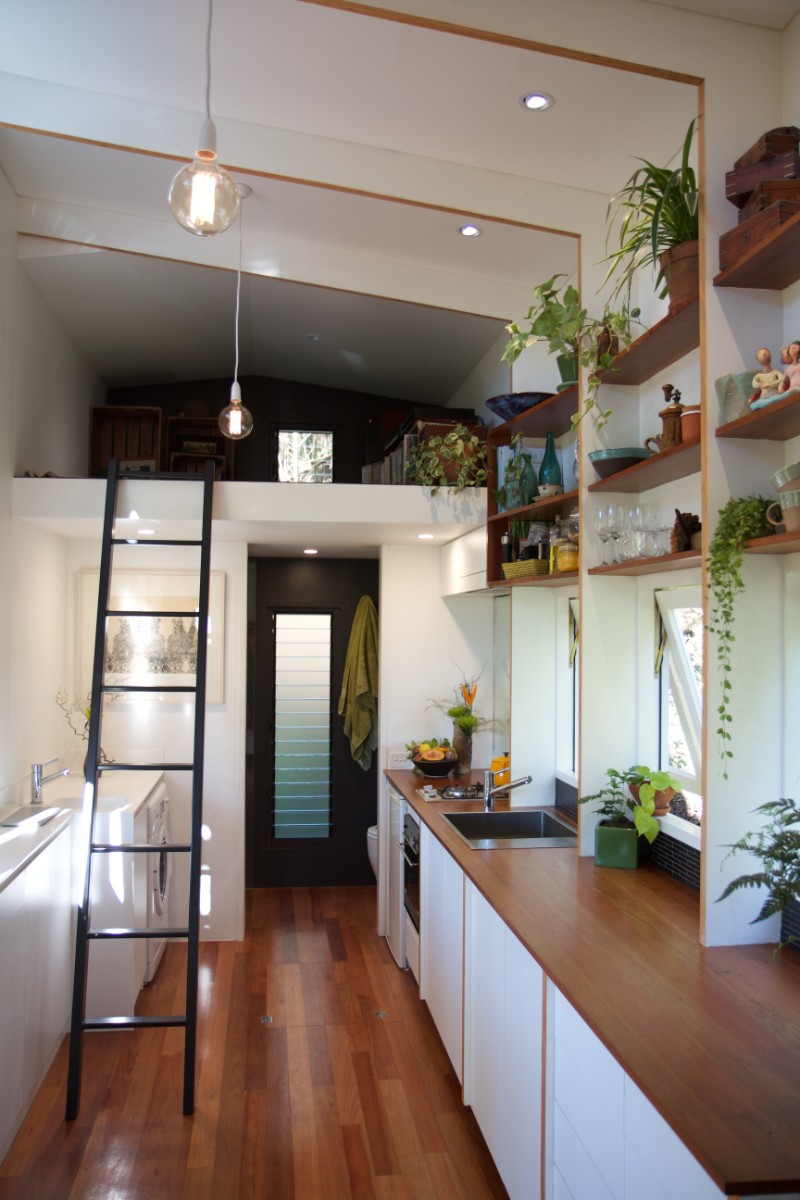 Recycled Australian hardwood was used for the benchtop, shelves, doors, windows, and deck.
The loft space can be used as a bedroom or to house bulky items.
The composting toilet (only partly visible in the photo) diverts liquid waste and turns solid waste into compost. It is approved for use in all states, operates odor-free, and can save 35,000 L of water per year.
The bathroom has a 2.1 m ceiling. Greywater and blackwater are treated on-board by a series of filters and grease traps. The end product is certified for direct release into the landscape.
The laundry nook is placed opposite the kitchen.
The modular deck can be assembled in two hours, almost doubling the floor area.
The founders of The Tiny House Company: Greg Thornton, Lara Nobel, and Andrew Carter.
Take the video tour and see the retractable bed in action.