Are you dreaming of building or buying your very own tiny house or just wonder what the whole tiny living movement is about? Then try out micro living by booking a tiny house for your next vacation. Read on to learn more about some of the best must-visit tiny houses in the world.
Wooden Dream House – Paliouri, Halkidiki, Greece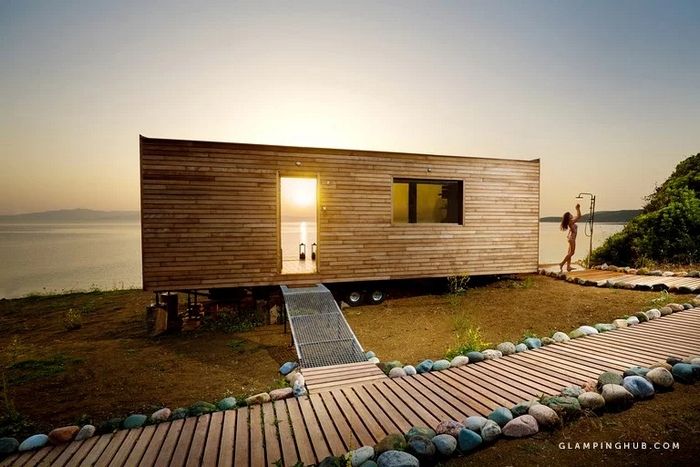 Have you ever dreamed of staying on your own slice of paradise with not another soul in sight? Now you can. This wooden dream house in Paliouri, Halkidiki, Kassandra, Central Macedonia in Greece is set on a private beach.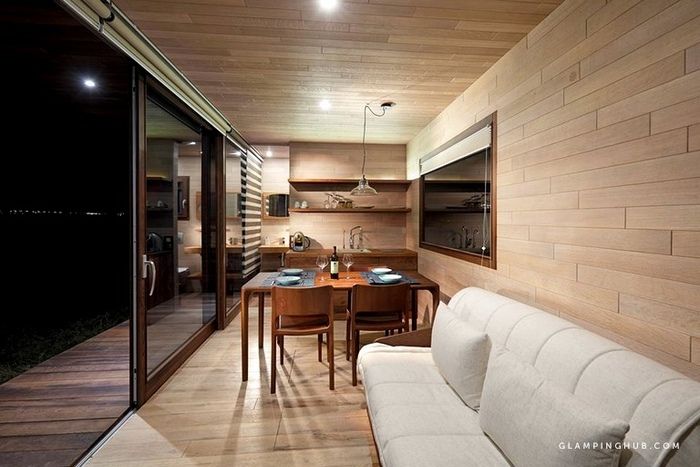 It's 365 square feet, comes with state-of-the-art amenities, and provides all the natural beauty you need to rest and recharge. Enjoy a fully-equipped bathroom, a spacious living room, and a bedroom with a double bed as well as a sofa bed.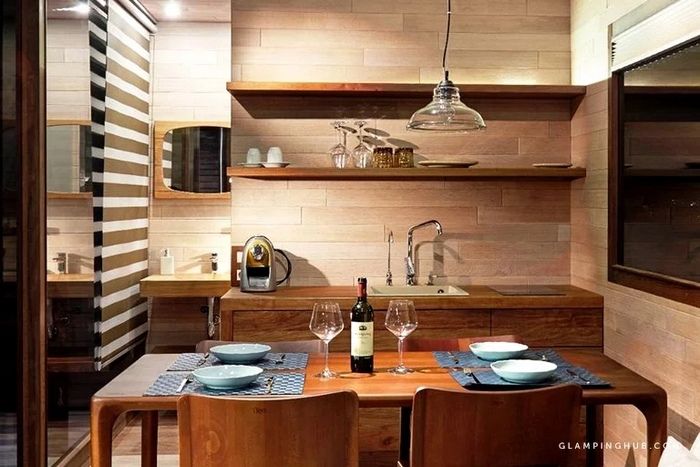 The kitchen opens out to a spacious balcony, while the end to end sliding doors promotes a beautiful indoor-outdoor flow. Learn more here
Tiny House – Woodridge, New York, United States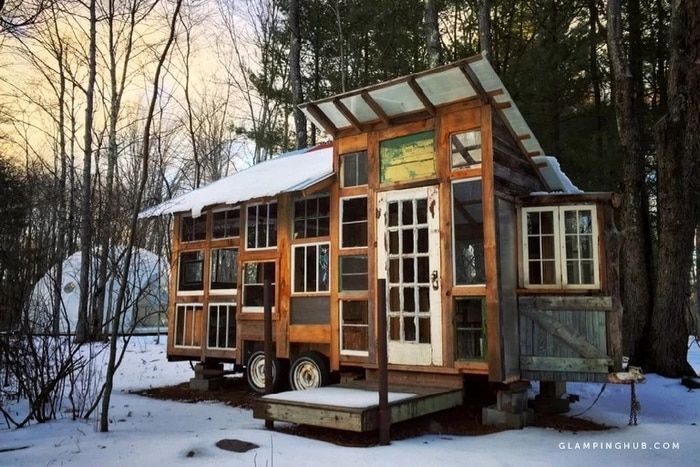 Whether you're looking for a new experience, or you were attracted to this small home for its sheer beauty, then you're bound to be impressed. This tiny home in the Catskill Mountains of Upstate New York is an excellent way to get back to nature.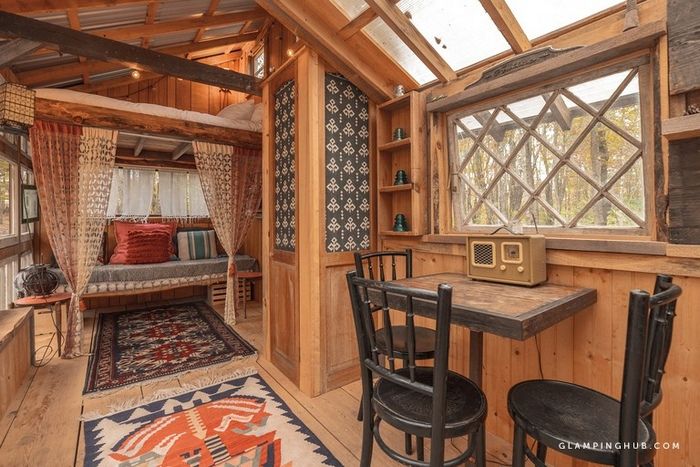 It forms part of a 12-acre farm with sheep, chicken, alpacas, and goats, and caters to three people. It has a day bed, sleeping loft, desk, table for two, and an open-plan living area.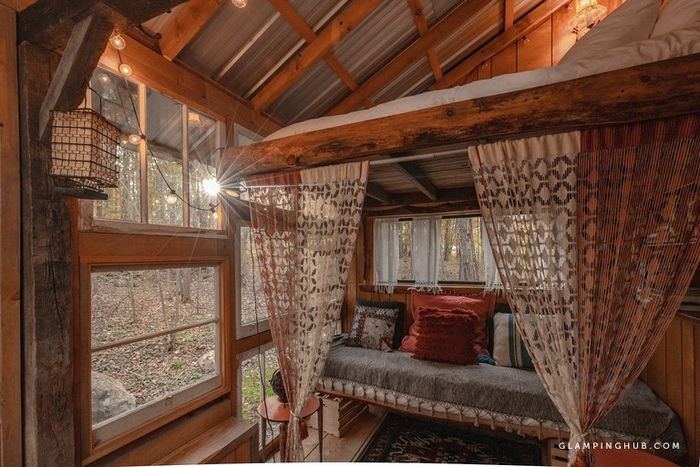 The tiny home is located on a private Woodridge farm along Silver Lake. It's proximate to local markets, Bethel Woods, Sam's Point, and the Neversink Unique Area. Learn more here
Tiny House Sauerland – Nordrhein-Westfalen, Germany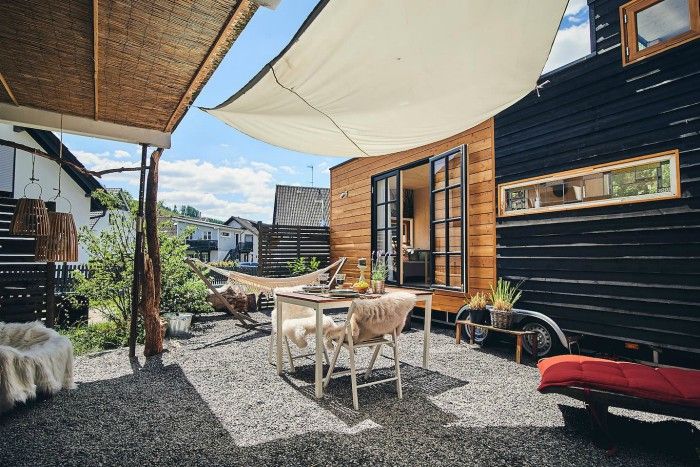 On your next adventure to Germany, why not consider booking Tiny House Sauerland in Nordrhein-Westfalen? This tiny house can cater to up to three people and is located in a beautiful and natural setting.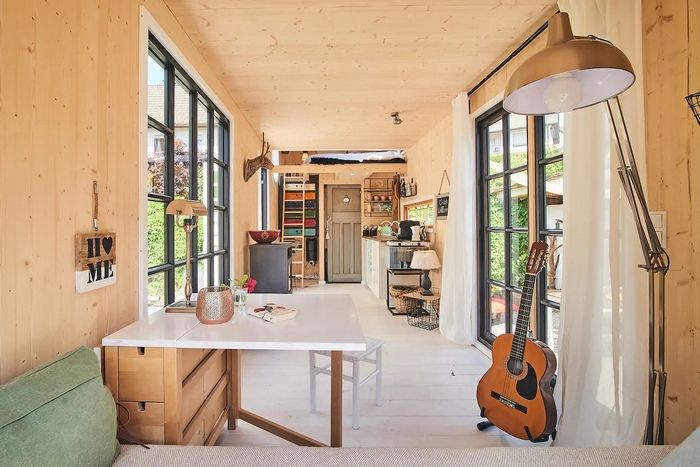 Explore Sauerland, Biggesee, and nature surrounding Repetal. Explore the area by bike, on foot, or even on horseback. Once you've finished a day of exploring, you can then retreat to the comfort and warmth of the Tiny House Sauerland with beautiful décor, comfortable beds, and everything you need for a luxurious night's stay out in nature.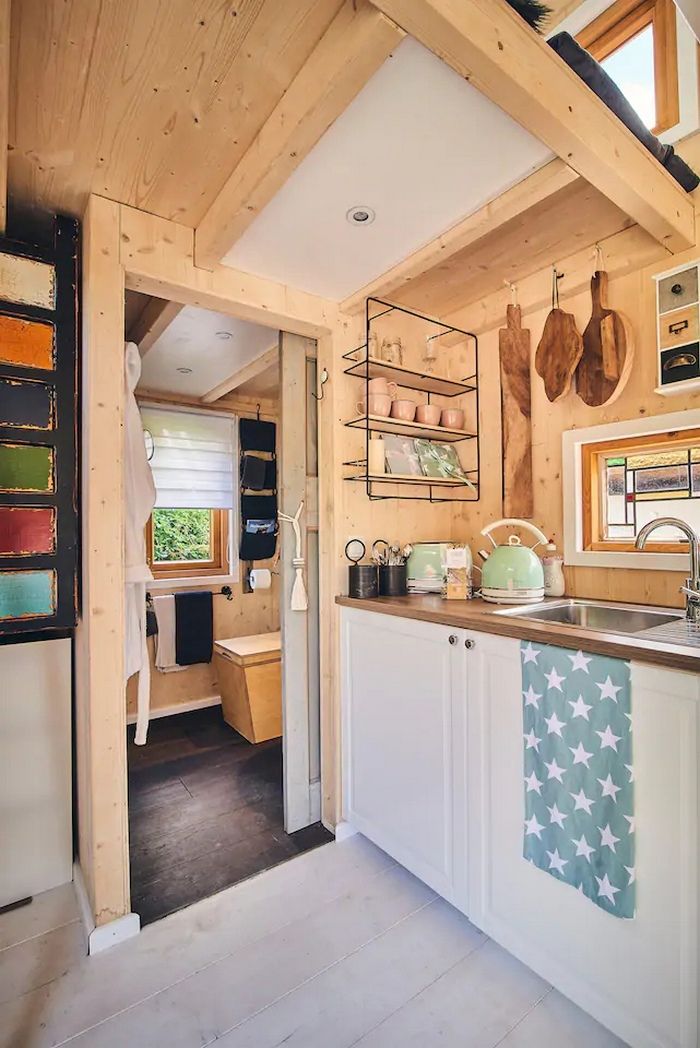 This tiny home boasts exceptional indoor-outdoor flow and is an entertainer's paradise. Learn more here
Tiny House by Off-Grid Inn – Fall Creek, Wisconsin, United States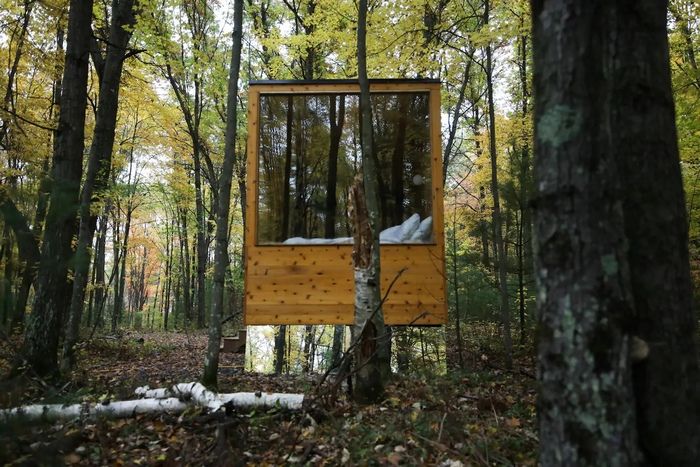 Wisconsin wanderers can revel in the unique opportunity to stay in this off-the-grid tiny home in Fall Creek. Whether you're traveling with a group of friends, by yourself, or as a couple, you will be pleasantly surprised by what's on offer in this quaint little house.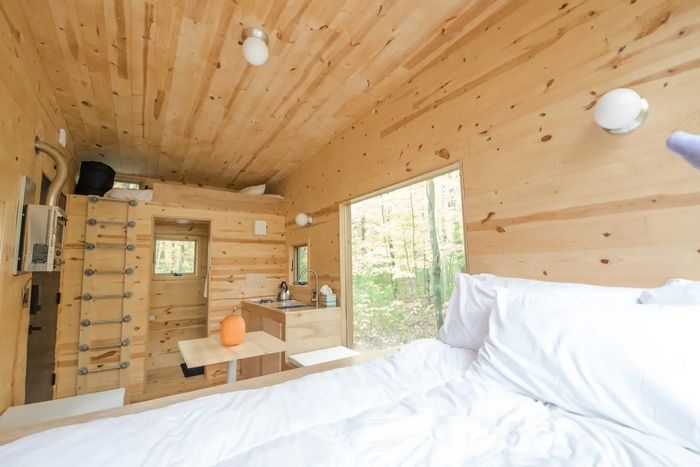 It has a queen bed, lofted single bed, and a bench with padding that could form a bed if necessary. It can fit two adults comfortably, and maybe one quite uncomfortably, according to the owners.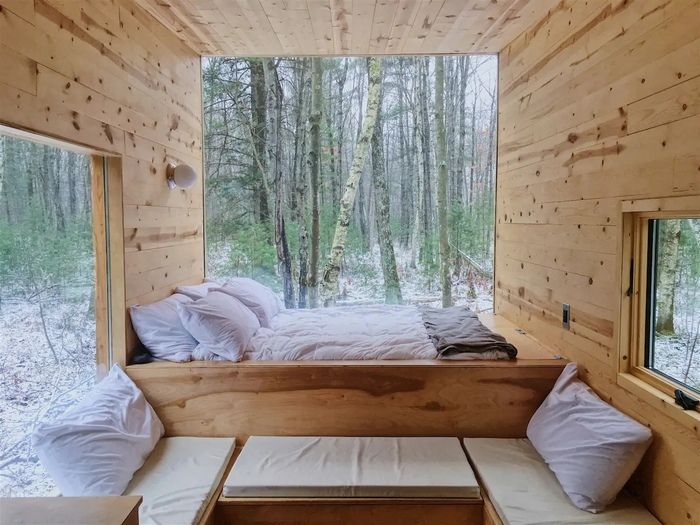 It's a stunning little tiny home that's well-located for hikes, exploring and other fun activities. It also boasts a bathroom with a unique showering and toileting option. The electric toilet allows you to flush it a maximum of seven times during a two-day stay, while the shower is more for quick washes with misted hot water. This is turned off in the winter. Learn more here
Tiny Homestead – Austin, Texas, United States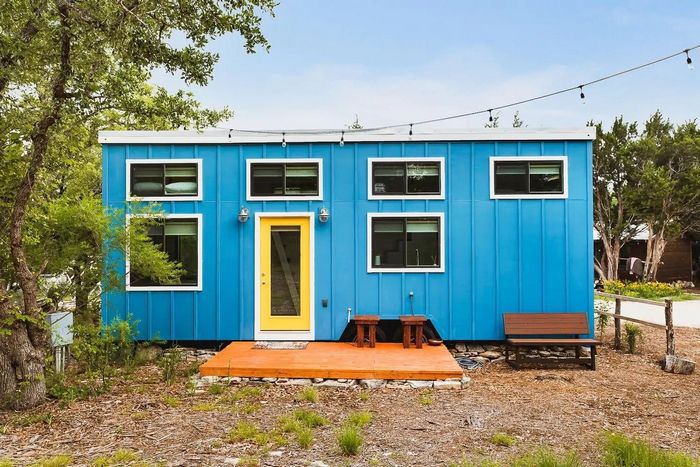 Get back to nature by staying in this little homestead in Austin, Texas, United States. It spans 300 square feet, boasts contemporary conveniences, but is also nestled amongst nature.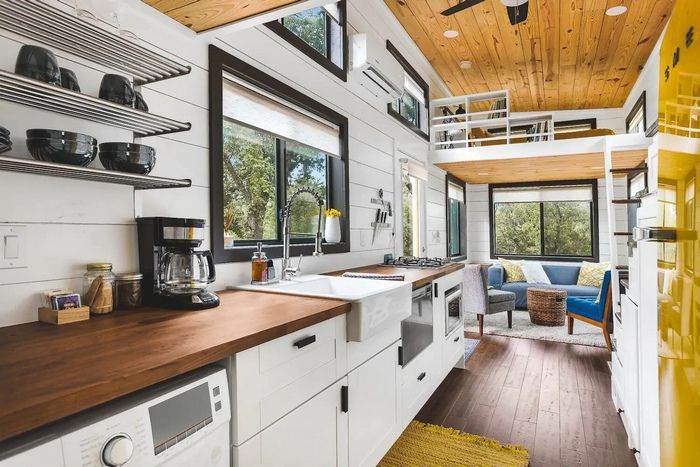 When you're not relaxing in the comfortable tiny house, you can be out exploring 15 acres of Creekside trails, Hamilton Pool, Reimers Ranch, or Pedernales Falls.
While this tiny house doesn't have a toilet, it does boast a composting toilet nearby and a portable restroom outside. You do, however, have full cooking amenities and a beautiful natural setting in which to relax, recharge, and explore. Learn more here
Stunning Bruny Island Tiny House – Tasmania, Australia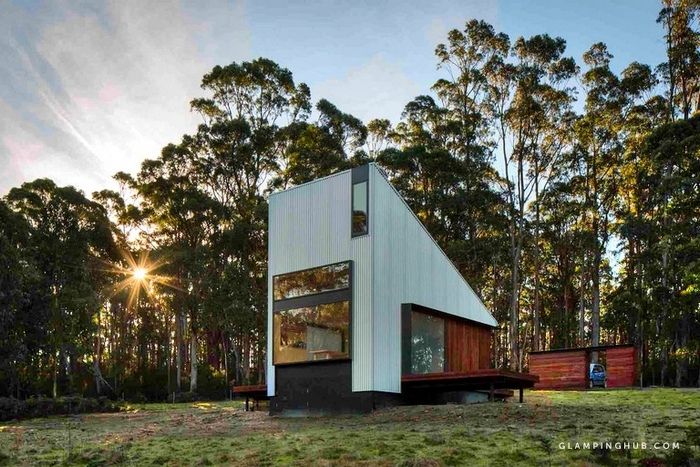 If you're all about the minimalist lifestyle and love nothing more than getting off the grid, then this Alonnah, Tasmania tiny home could be the answer. It's perfect for two people, boasts off-the-grid living, and is all about sustainability and greenery.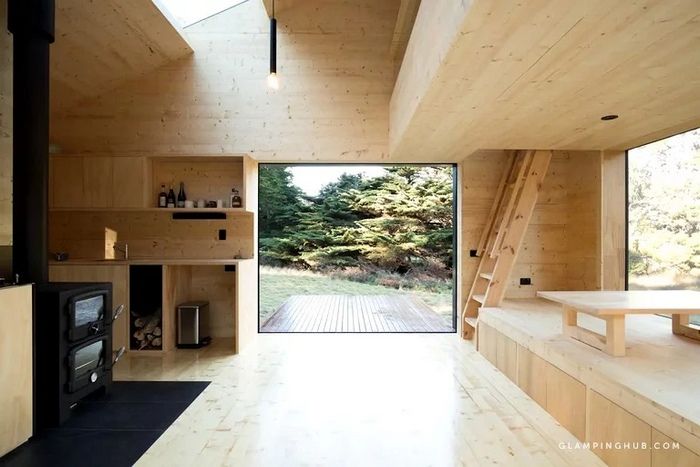 It's nestled amid 99 acres of conservation forest, local wildlife, and is one of the most secluded accommodation options on Bruny Island. It well and truly fits into its environment too.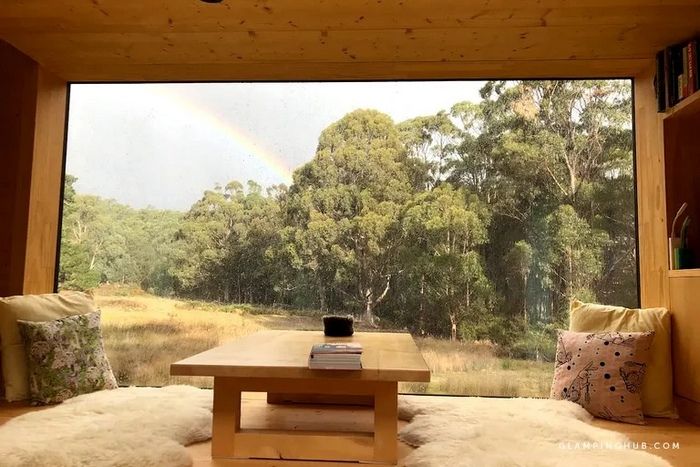 The living area floor boasts Baltic pine, while the wood-fired stove is warming and ambient. Couples can also enjoy the queen bed in the loft and a full bathroom with a sink, toilet, shower, linen, and towels.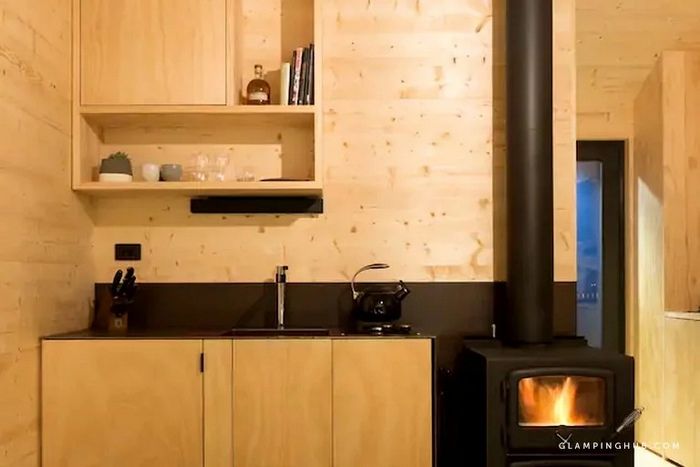 Those who stay in this Bruny Island tiny home will also have access to a washer and dryer, free parking, a small kitchen, and an outdoor sunken bathtub. Learn more here
Quirky Tiny House – New York, United States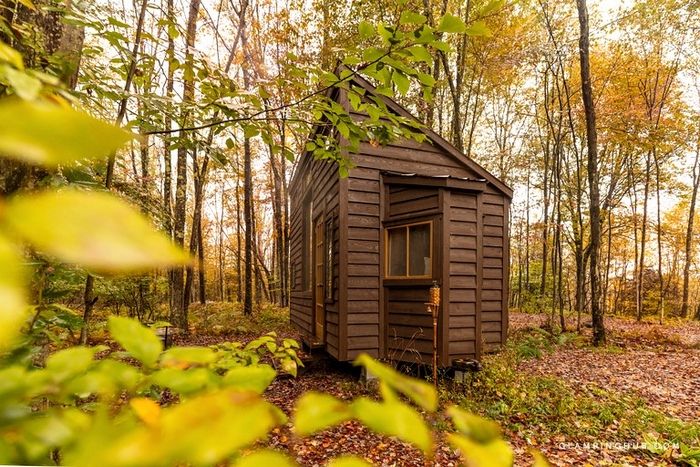 If you need a break away from the hustle and bustle of city life, then this tiny house in Sullivan County, New York, United States, is where to go to get it. Located on a farm in the Catskill Mountains, it borders Krieger Park and is a short walk from Silver Lake and Woodridge. Those who don't mind a half-hour drive can also access Bethel Woods from the tiny home.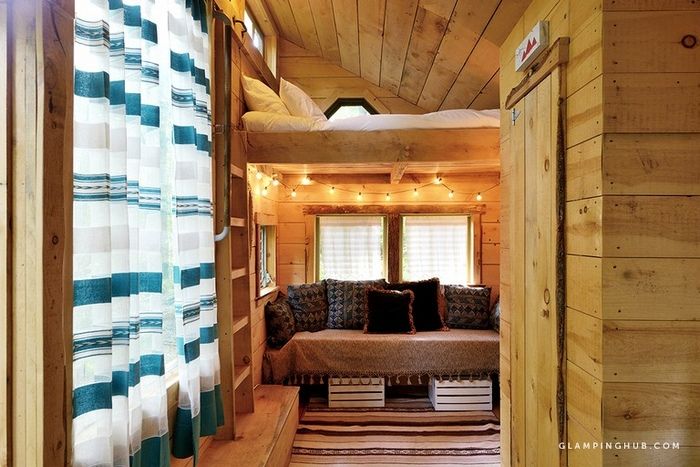 But while the location is pleasant enough, the tiny home is something unique too. It accommodates three people with a sleeping loft and day bed and comes with all towels, linen, soap, shampoo, and toilet paper you need. Those who stay in this tiny home can also access shared kitchen and bathroom facilities during their stay.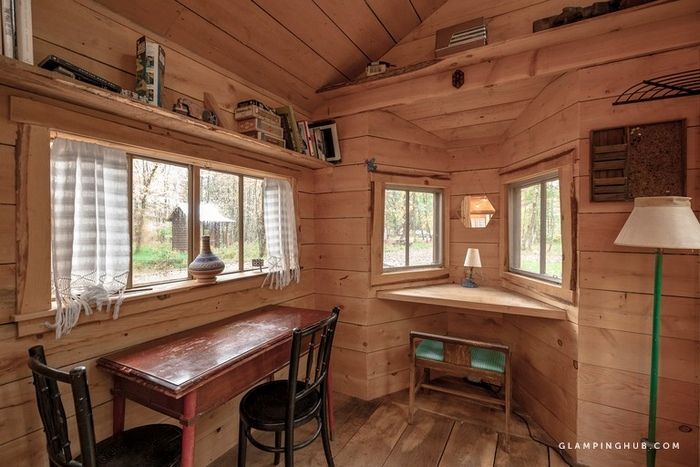 The desk and chair allow you to get a little work done on your visit, while the wood setting will ensure you'll be able to enjoy a pleasant walk or two in-between times. Learn more here
Off-Grid Designer Tiny House – Boulder, Colorado, USA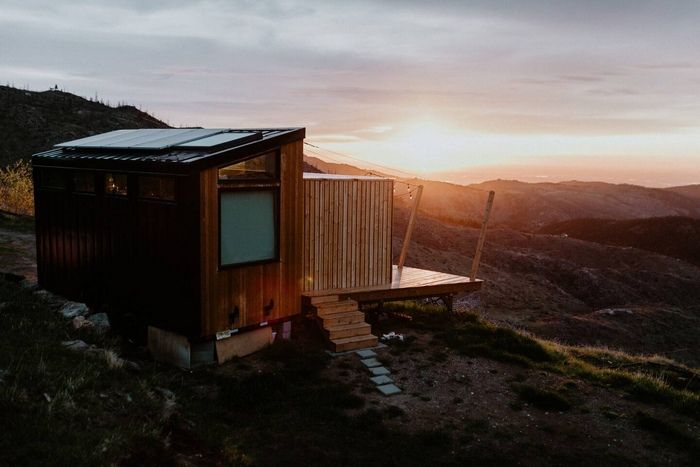 Being connected at every waking moment can make going off-the-grid even more desirable. There's no better place to escape to when you need to find yourself than this off-the-grid tiny house in Boulder, Colorado.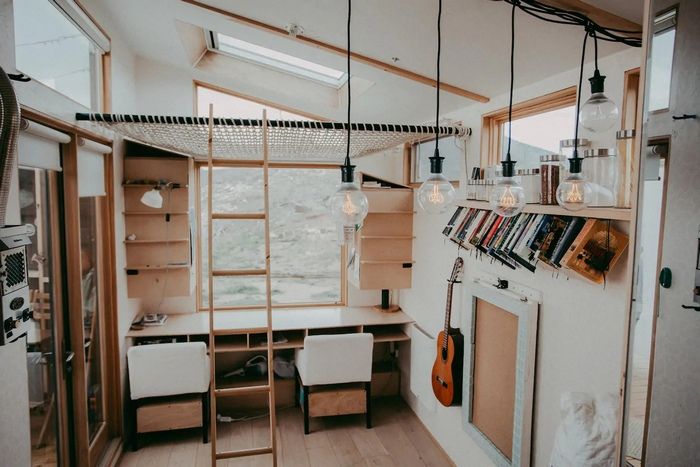 The 160 square-foot home is set upon 30 acres of a mountain top overlooking Boulder. It's entirely isolated, off the beaten track, and private. Go hiking down the mountain, explore the undeveloped mountain land, or simply relax on the deck or in the tiny house. The bathroom is simple yet functional, and the outlook is to die for.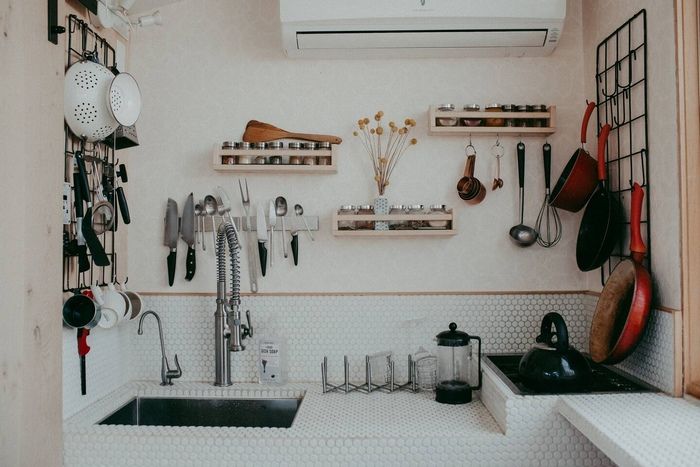 Not only is this tiny home the perfect place to recharge, but it's also within a desirable distance of fun things to do. Visit Rocky Mountain National Park, Indian Peaks Wilderness, or nearby popular trails. Learn more here
Fantastic Tiny House – New South Wales, Australia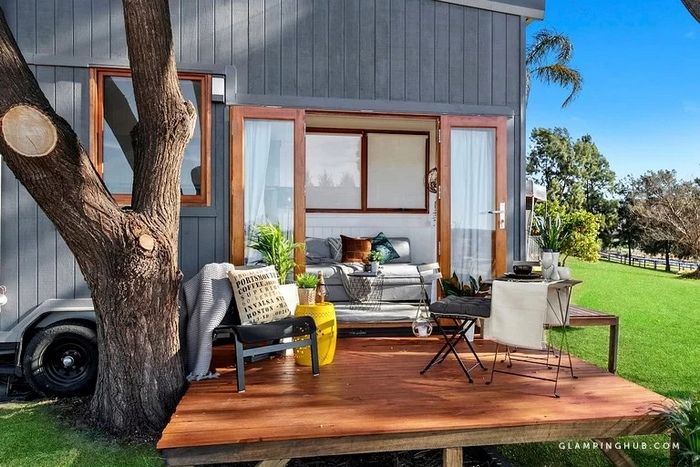 Within proximity to Blue Mountains National Park and on the cusp of Sydney, this Agnes Banks tiny house in New South Wales, Australia, is a desirable location for up to four guests. The attractive setting, serene surrounds, and proximity to tourist activities are just the beginning.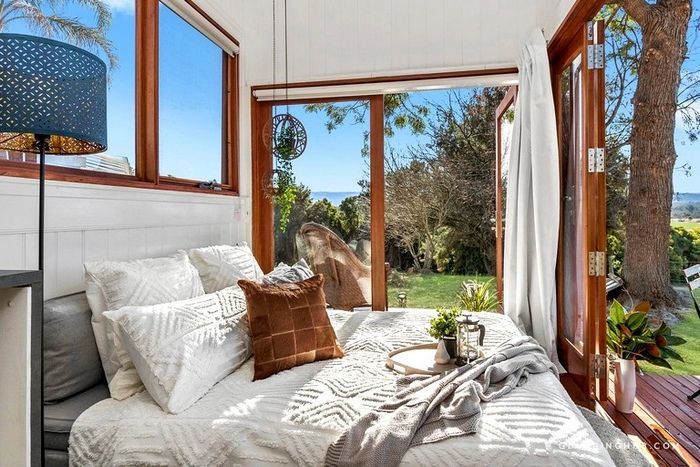 There is both a queen bed and sofa bed for guests, a full bathroom with a toilet, sink, and shower, and all linen and towels provided.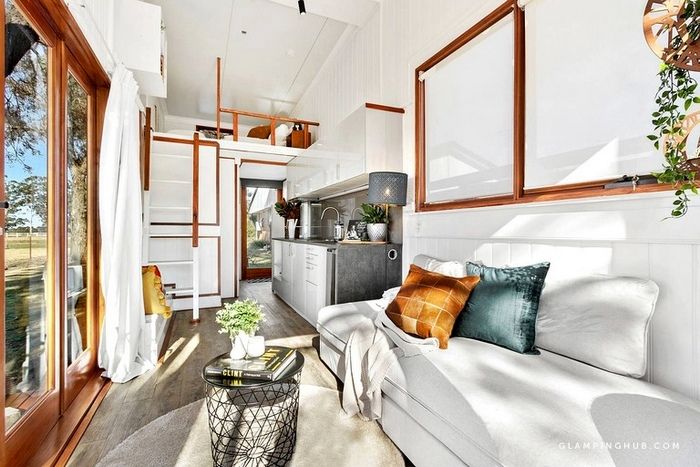 There is also a comfortable sitting area, TV and WiFI, and a kitchenette kitted out with a stove and fridge. Otherwise, you can cook up a storm on the barbecue or fire pit if the desire arises. Learn more here
Chic Tiny House – Raglan, North Island, New Zealand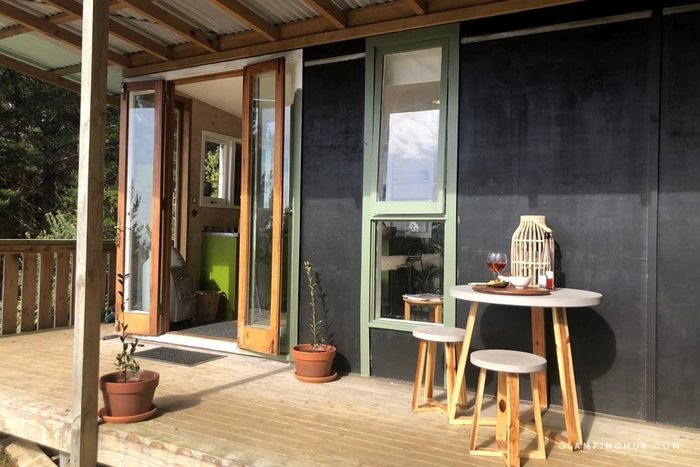 Immerse yourself in nature with this romantic tiny house in Raglan, North Island, New Zealand. Just 40 minutes from Hamilton and a short distance from Whale Bay and Manu Bay, it's the ideal destination to break away from city life and relax. Travel as a couple or individual, and enjoy the native bush, a pine forest, and a 35-acre property high above the treetops.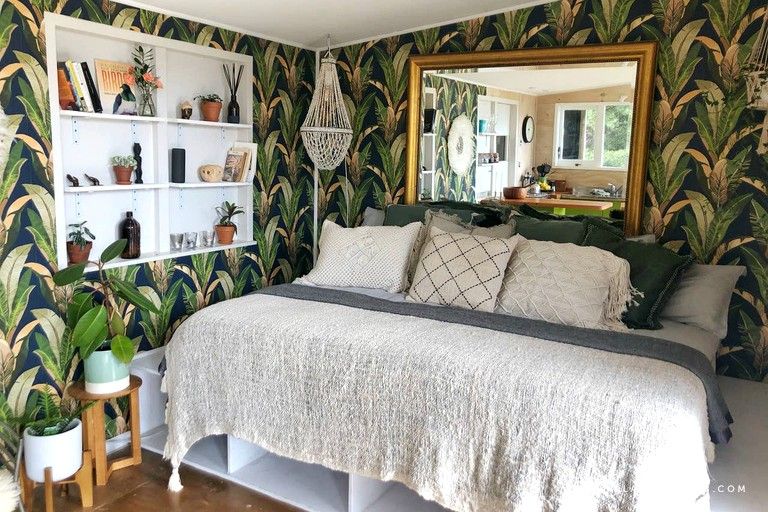 This beautifully-furnished tiny home boasts a plush bed with high-quality linen, a fully-equipped kitchen, and a full bathroom with a shower and toilet. Solar-powered LED lights, tea and coffee facilities, and a Bluetooth speaker complete the package.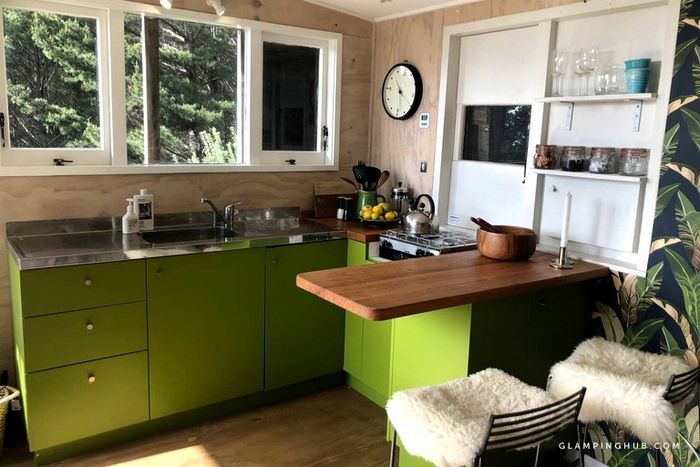 Explore the forest, hire bikes from the hosts, or relax in your private outdoor entertainment area with spectacular views, a barbecue, and seating. Learn more here
Modern Tiny House – Waco, Texas, United States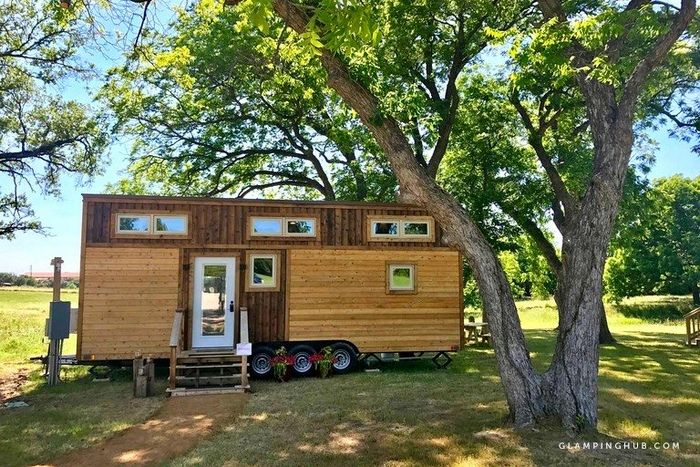 If camping has never really appealed due to all those sleepless nights in tents, then why not try glamping in this beautiful and contemporary tiny house in Waco, Texas? Instead of battling to get a full night's sleep in a breezy tent, you can book this delightfully spacious tiny house nestled in a natural setting.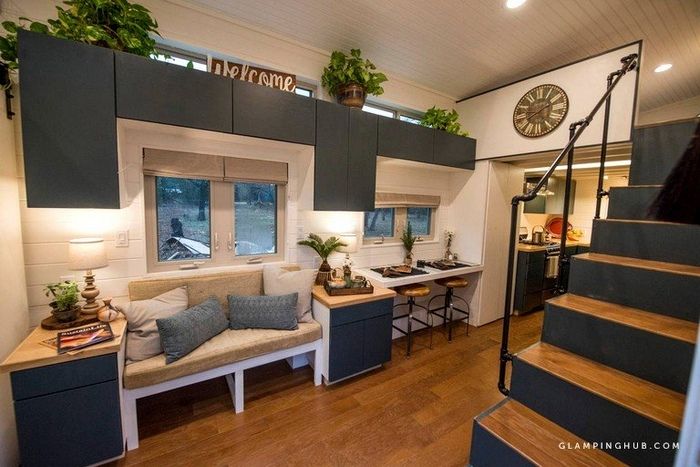 Two children and two adults will adore the offerings of this tiny home. There's a queen-sized bed, two single sleeping areas, and modern LED lighting throughout. The oak flooring adds an airiness to the house, while clever use of the space makes it appear larger than it is.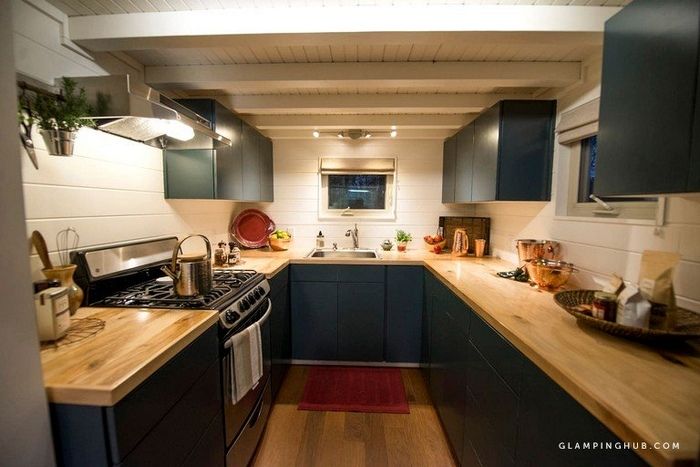 There's a convenient kitchen with storage and a full propane range and oven and dining spaces for a family meal. Even the bathroom is something special, with privacy, a shower, a waterless toilet, sink, towels, and toiletries. There's no need to rough it in this tiny house. Learn more here
Fantastic Tiny House – New South Wales, Australia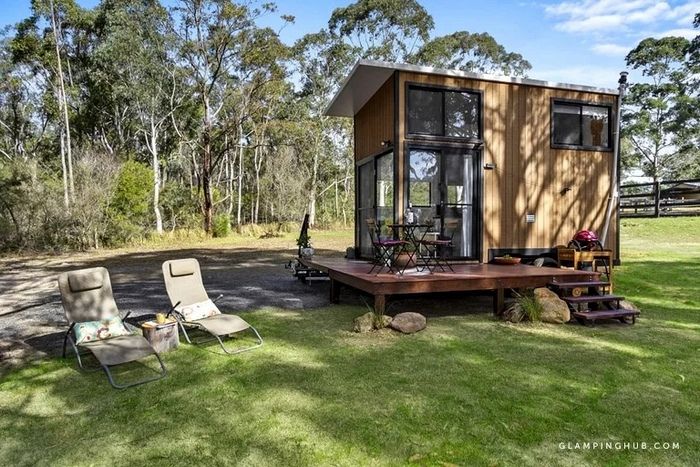 Near the beautiful Wollongong and national parks, this tiny house in Kangaroo Valley, New South Wales, Australia, is going to pique your curiosity. If it isn't the rolling countryside and beautiful natural attractions that lure you in for a closer look, then it will surely be the unique charm of this tiny home itself.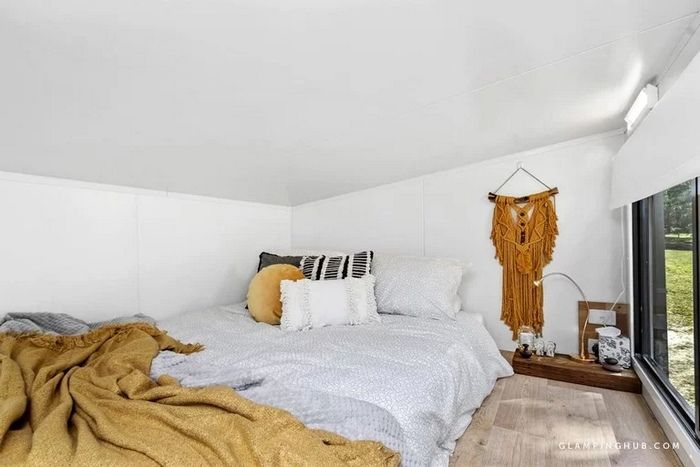 This tiny home has a sofa bed, queen bed, full bathroom, and all towels and linen supplied. It caters for up to three people at a time.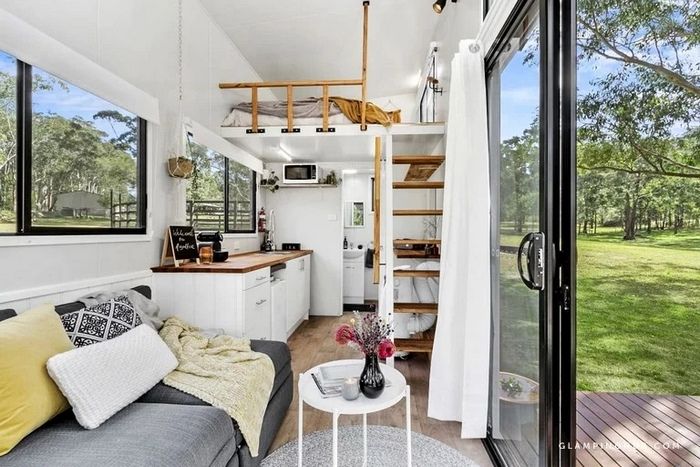 The living area is bright and spacious, while the comfy sofa is ideal for relaxing after a long day of walking. You can also prepare a delicious meal in the kitchen which has a fridge, coffee maker, stove, and microwave. Otherwise, you can take advantage of the beautiful weather by cooking outside on the grill. Learn more here
Extraordinary Tiny House – Wyoming, United States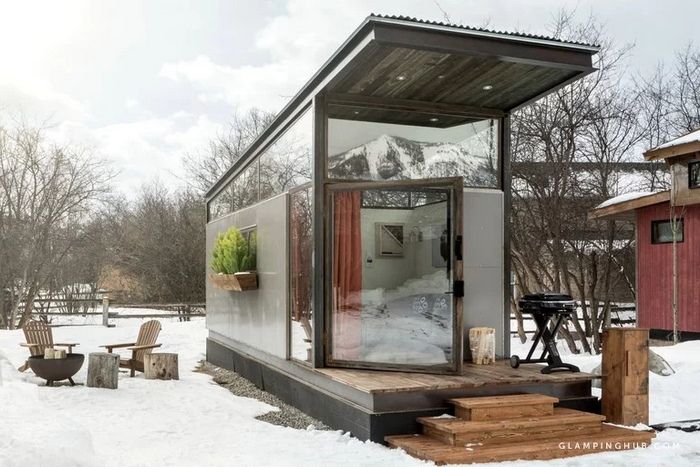 Get back to nature in Wilson, Wyoming, by booking a couple's getaway in this exceptional tiny home near Jackson Hole. Nestled amid trees in a peaceful location in Teton County, there's everything to love about this accommodation. From the proximity to Yellowstone National Park, the firepit for nighttime marshmallow toasting, to the fully-equipped tiny home, what more could you need?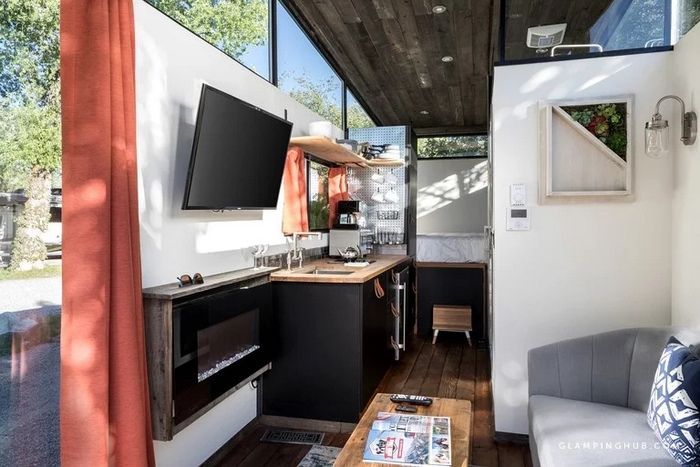 Guests who book this tiny home will be treated to a cozy queen bed, luxury linen, a full bathroom with a shower, and character like no other. Wood-paneled flooring, contemporary decor, and view-encouraging windows all complete the package. Even the kitchen is something special, offering everything you need to cook up a storm. Learn more here
Luxury Tiny House – Southern Utah, United States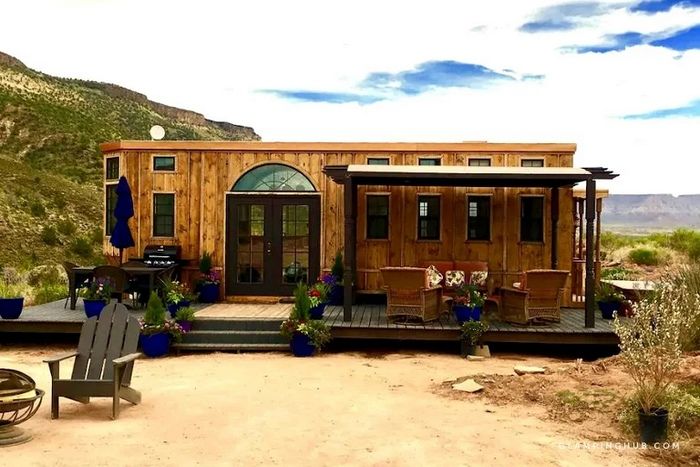 Fancy a double date weekend away? It's time for a trip to Southern Utah to stay in this tiny luxury house near La Verkin Creek. Not only is it within a short distance of Zion National Park and the La Verkin Creek Trail, but it's a comfortable and luxury tiny house that caters for two couples.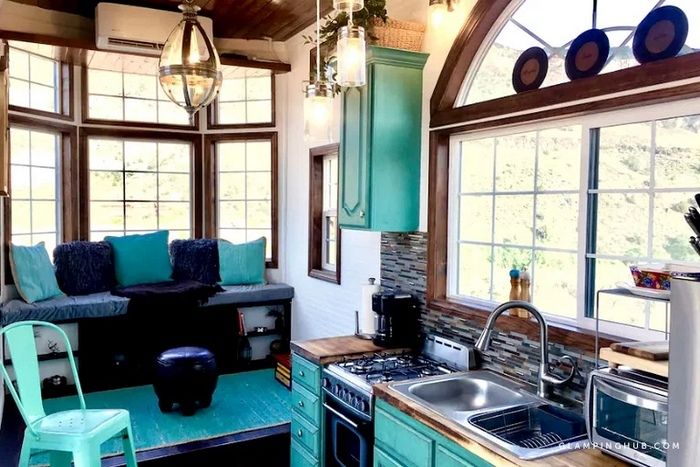 The fully-equipped kitchen boasts modern appliances for cooking up a storm, but you can also get back to nature with a fire pit or grill outside.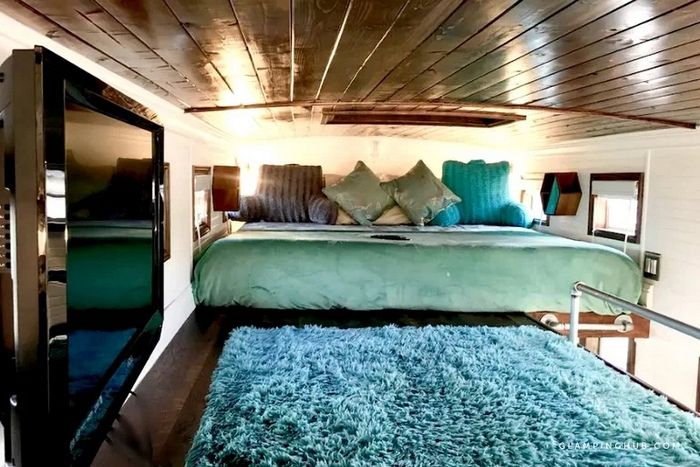 There's a sleeping loft with a king and queen bed, all linen and towels provided, and a full bathroom with a bath, toilet, and shower. Glampers can even enjoy air conditioning in summer and a washer/dryer. Learn more here
Romantic Glamping Getaway – North Island, New Zealand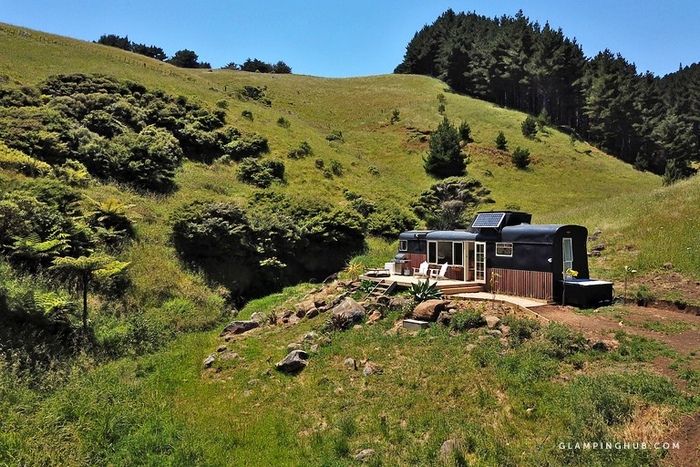 In Raglan in the North Island of New Zealand is your very own opportunity for off-the-grid living. This tiny house is a private escape in a 35-acre field with expansive coastal and ocean views. Have an outdoor bath on the deck, toast marshmallows in the firepit, or bring your gumboots and explore the property.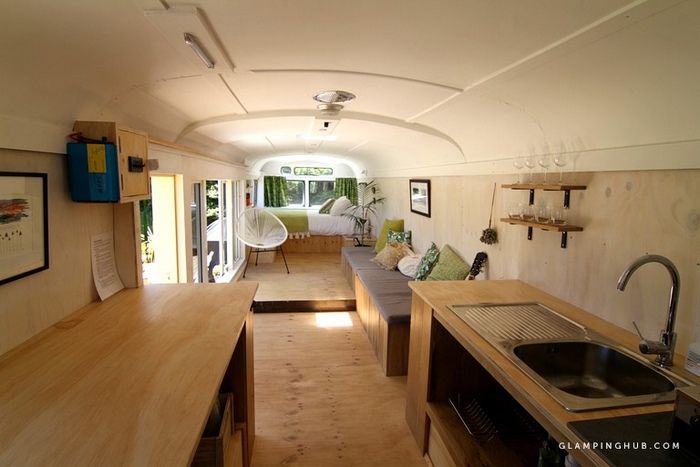 The setting is magnificent, but so too is the abode. Make use of the fully-equipped kitchen with a gas cooker and sink, or let out your inner romantic in the intimate dining area.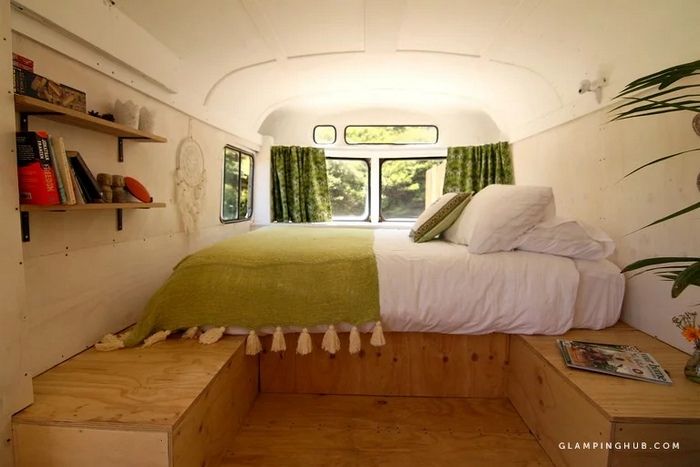 The couch, bi-fold windows, and spacious interior for up to three guests will all appeal. This tiny home is a mere 4km from Whale Bay and 12km from Raglan. Learn more here
Lakeside Tiny House – Orlando, Florida, United States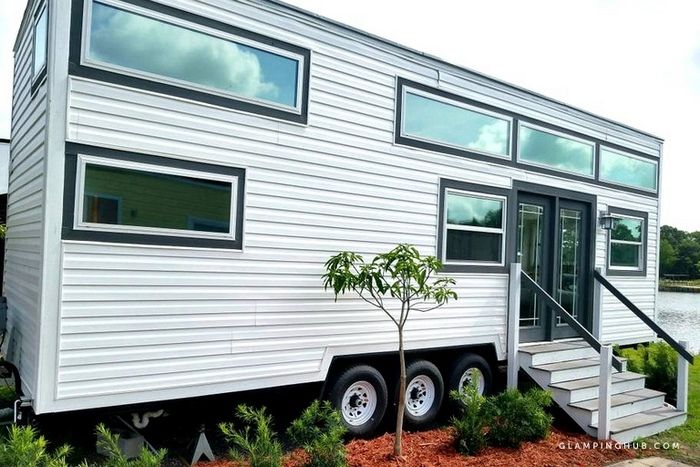 If roughing it is not your idea of a good time, then this elegant lakeside tiny house in Orlando, Florida, might be more to your liking. Ready to cater for up to five guests and offer all the creature comforts of home, there's no better time to book than today.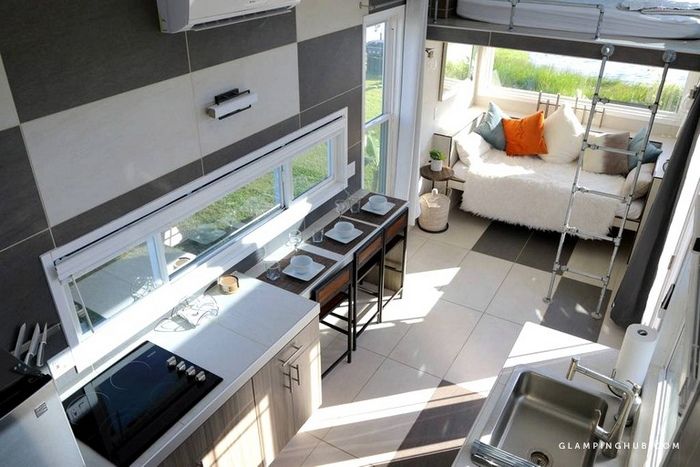 The tiny contemporary home is as luxurious as they come, with two sleeping lofts, a bathroom, and all towels and linen supplied. There's a TV, living area, and fully-equipped kitchen for your use as well.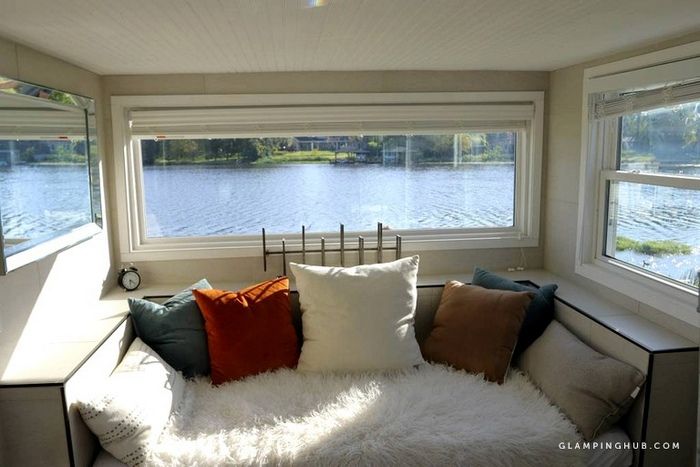 This tiny home is situated on the edge of Lake Fairview and boasts everything you need for a restful and relaxing stay. Make use of the green park for picnics, the fishing and boating docks, and the paddleboard, fishing poles, and tandem kayak. You can even light up the barbeque, log into the Wifi, or turn on the heating and cooling unit for comfort. Leearn more here
The S'more Tiny House – Portland, Oregon, United States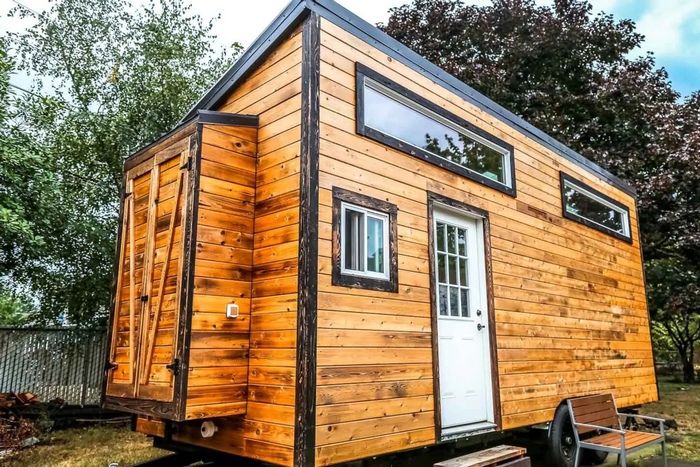 Whether you're looking for an adventure or you want to release your inner child, this tiny house in Portland, Oregon, United States, could be for you. This tiny house appeared on the TV show Living Big in a Tiny House and was described as a kid's dream fort crossed with a tiny house on wheels.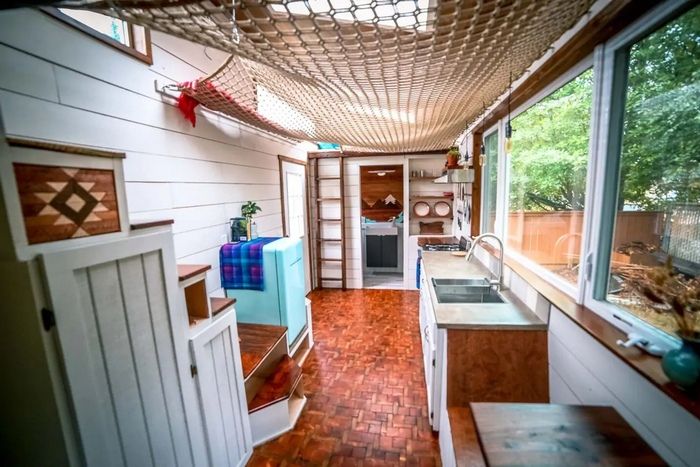 There's a reading nook that becomes the dining area, a breakfast table, and plenty of comfortable areas to hang out and relax on your vacation.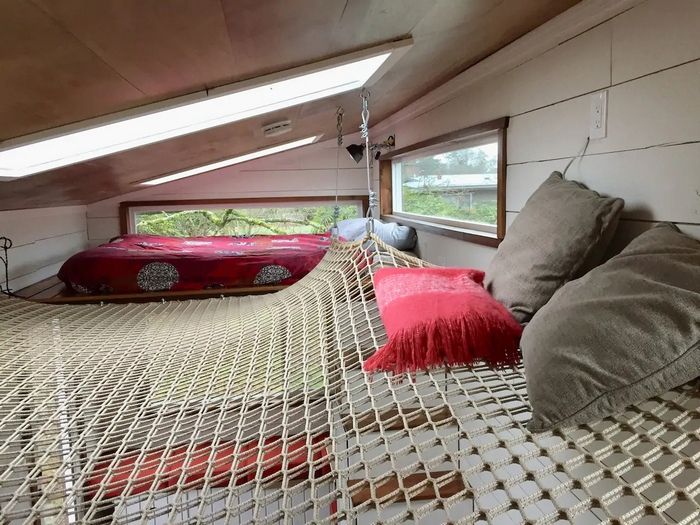 It also boasts two sleeping lofts, a giant hammock for relaxing, and an abundance of usable space. When you book this tiny house, you receive a small parking space and backyard access. Learn more here
The Tiny House on Little Road – Georgia, United States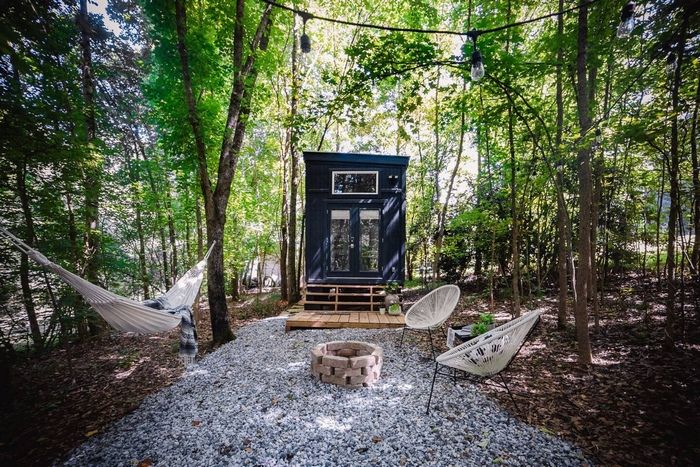 Escape the hustle and bustle of city life, and get back to nature by booking this tiny house in Canton, Georgia, United States. Located in a woodland oasis in North Georgia, this beautiful home is the epitome of natural living. It's within a short distance of biking trails, hiking paths, rivers, parks, and lakes, and it's well-appointed in horse farm country on the outskirts of Alpharetta and Woodstock.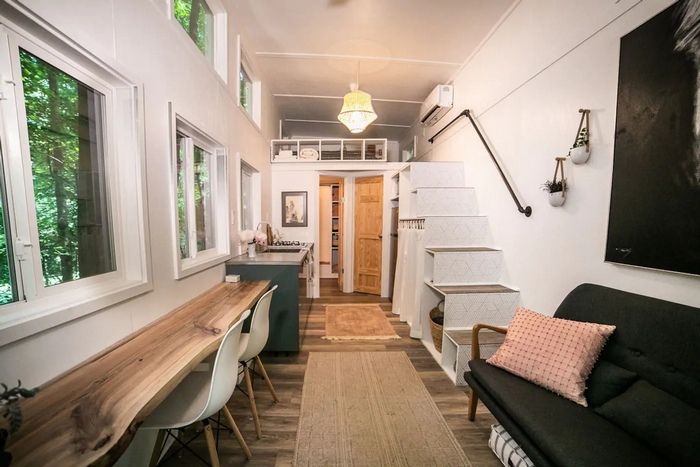 It's secluded, private, has its own parking area, and features all the creature comforts of home. Enjoy a kitchen with a two-burner range, microwave, toaster oven, coffee maker, and fridge.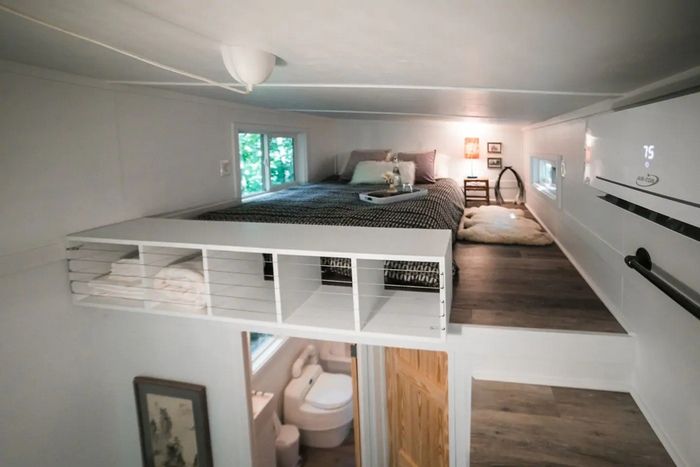 There are also french doors, a hammock, fire pit, and canopy. A modern composting toilet is the icing on the cake. Learn more here