The sleeper chair is a fantastic piece of furniture that offers maximum functionality in a minimum amount of space. It goes from seating to sleeping in a matter of seconds; making it the perfect solution for overnight guests. Some models even convert to comfortable chaise lounges.
Miranda sleeper chair ($980.00). The Miranda sleeper chair will make a stylish and versatile addition to any contemporary design space. This sleeper chair is upholstered in plush polyester fabric, and it effortlessly opens up into a lengthy and supportive bed. Find it here
Mustard convertible Chair ($199.99). You can accommodate extra overnight guests with ease when you add this space-saving chair to any unused corner of any room. The chair easily converts to a chaise lounge or bedand its spacious pillow back comes with a toss pillow for extra cushion. Find it here
Blue convertible chair ($439.99). The perfect solve for modern spaces this convertible chair is a spot to cuddle up and watch a movie one moment, and a bed for your out-of-town guest to rest the next. Oh yeah, and it functions as a chaise, too, if you want to stretch out while you read. Find it here
Red sleeper chair ($139.99). This light-weight chair is perfect for the kids' room, living room or even a dorm. The chair easily transforms into a bed and features a high quality foam mattress. Find it here
Oat convertible armchair ($419.99). This chair bed featuring ribbed edges and biscuit tufting will fit perfectly in any living space and easily converts between a chair, chaise lounge, and bed. Find it here
Dark grey convertible chair ($989.99). Minimalistic design, the diamond-shaped stitched detailing, wooden spindle style legs, and square arm style blend harmoniously to create this stylish chair that features a convertible fold-out bed option. Find it here
Peacock blue futon chair ($213.99). Create a cozy spot in any room with this convertible futon chair that easily converts into a chaise lounge or bed. Find it here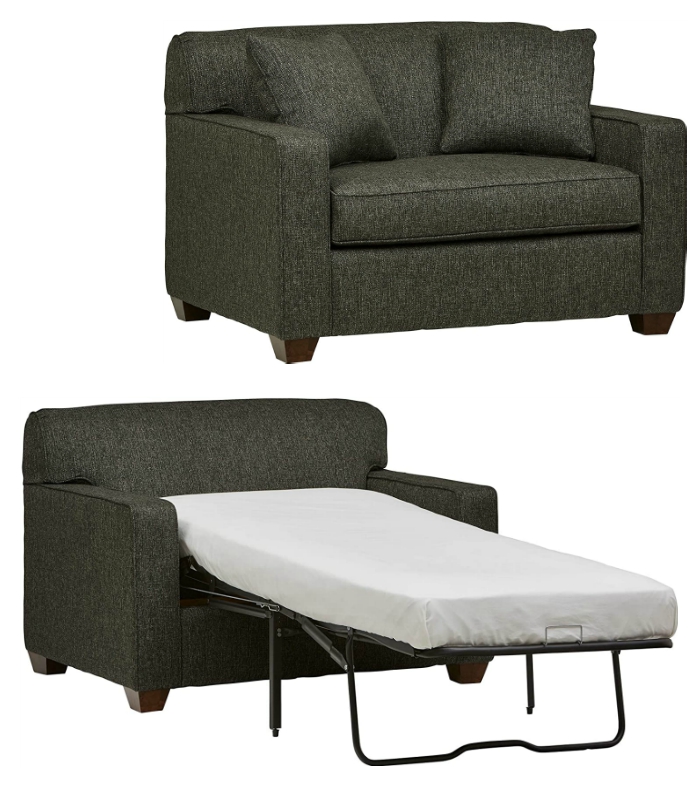 Charcoal sleeper chair ($713.99). A classic look updated for modern tastes and a pull-out bed make this sleeper chair a perfect blend of style and functionality. Find it here
Red futon chair and ottoman ($475.00). Innovative convertible sleeper chair with matching ottoman. With its 3-tiered multifunctional design, it creates the perfect layout for your space with the ability to customize it quickly and easily. Lounge in its chair form and use the accompanying ottoman to put your feet up. Or, stack the ottoman inside the chair to play cards or use it as a spacious barstool. Even better, fold it out completely and get some sleep on the twin-size mattress. Find it here
VALLENTUNA olive-green sleeper module with backrests ($595.00). This seating module from IKEA can be used freestanding or together with other modules to create a sofa combination in any size. The module transforms into a bed and allows you to accommodate guests both day and night. Find it here
Please note, some links on this page are affiliate links. If you make a purchase through an affiliate link, I may receive a commission at no additional cost to you.