Special effects designers Gregoire Thoby and partner Fabrice Delaure wanted to work less, earn less, and live more and they were prepared to give up their apartment in California and most of their belongings to do it.
The pair were no strangers to the nomadic lifestyle, having lived in an off-grid RV in Spain and France before moving to the United States, but they were yet to take the plunge and live on the road full-time.
But that all changed in a short space of time. Gregoire and Fabrice found a 2009 short school bus for $5,000, purchased it, and started getting ready for life on the road in July 2020. They removed all the seats from the 6.7-meter bus and spent around $9,000 turning it into a house on wheels.
Renovations included a fully-equipped kitchen, a bathroom with a composting toilet and a 'real' shower, a dining table, desk, elevator queen bed, sofas that turn into guest beds, storage space, a solar system, and more.
It took over a year to get their short bus named Kiki road-ready, but it wasn't long until they were packing up everything they owned and exploring the United States, Canada, and South America.
PinGregoire Thoby and Fabrice Delaure purchased a 2009 short school bus for $5,000 named Kiki that they transformed into a house on wheels for $9,000. Their renovations included a dusty desert tan color scheme.
PinKiki, the short school bus, is 6.7 meters long and has solar panels on the roof to provide Gregoire and Fabrice with power as they travel off the grid.
PinGregoire and Fabrice decided to opt for a Scandinavian theme in their school bus, which made the entire interior light, bright, and spacious.
PinWorking on the road is easy thanks to a detachable table and a rotating passenger seat in the entryway.
PinAny home cook would be impressed with the complete kitchen in this bus. It boasts beautiful white cabinets, overhead shelves for plenty of storage, and lovely wooden countertops. All doors and drawers have magnets to keep them closed while traveling. The kitchen also has a warm white and black Kelim rug that connects the kitchen to the dining area.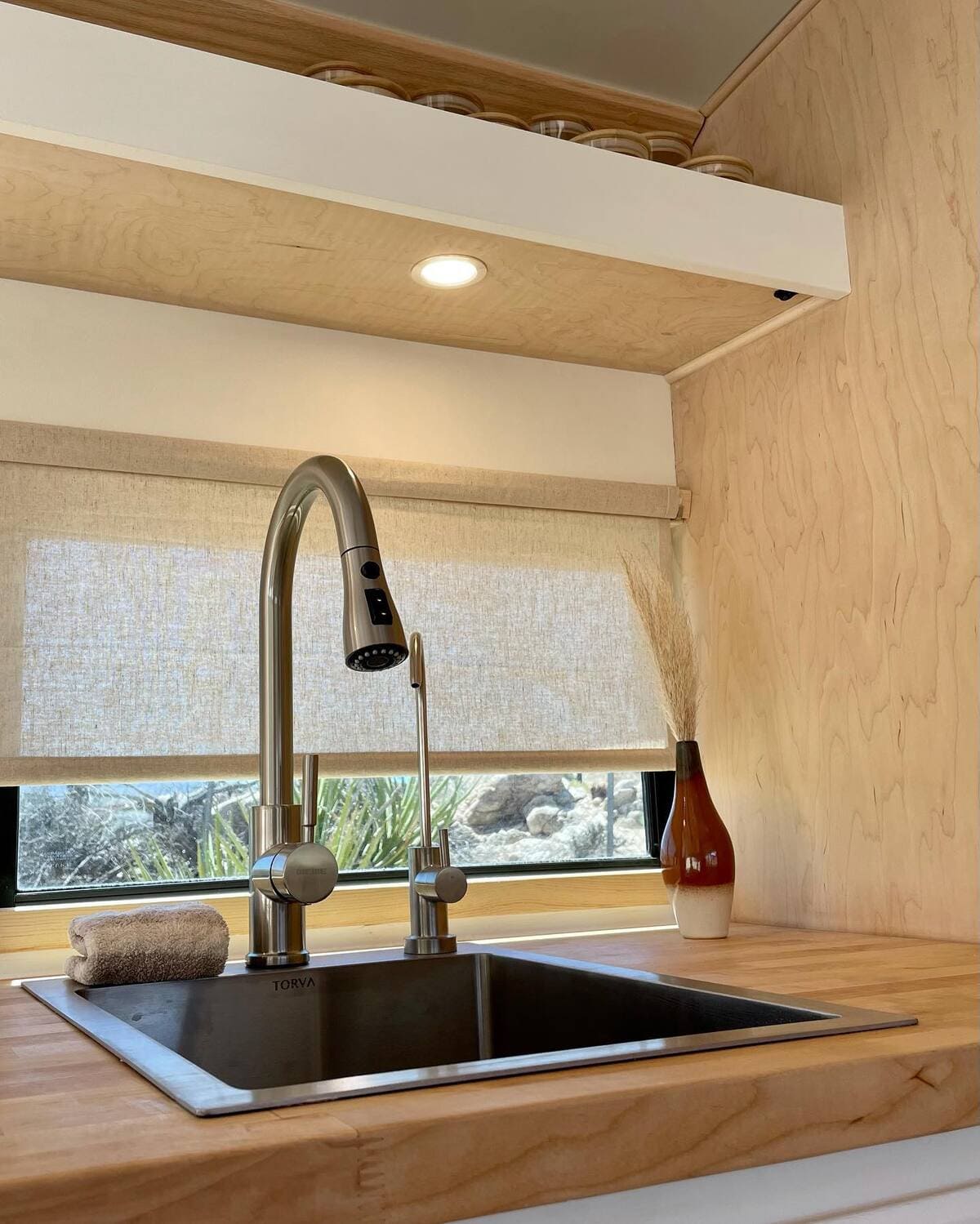 PinCooking up a storm in Kiki is no problem during the day or night, thanks to well-positioned built-in spotlights in the overhead cabinets.
PinOrganization is essential in any small home, but even more so in a house on wheels. There's a set place for everything in Gregoire and Fabrice's home to keep it secure, including cups, plates, bowls, and cutlery.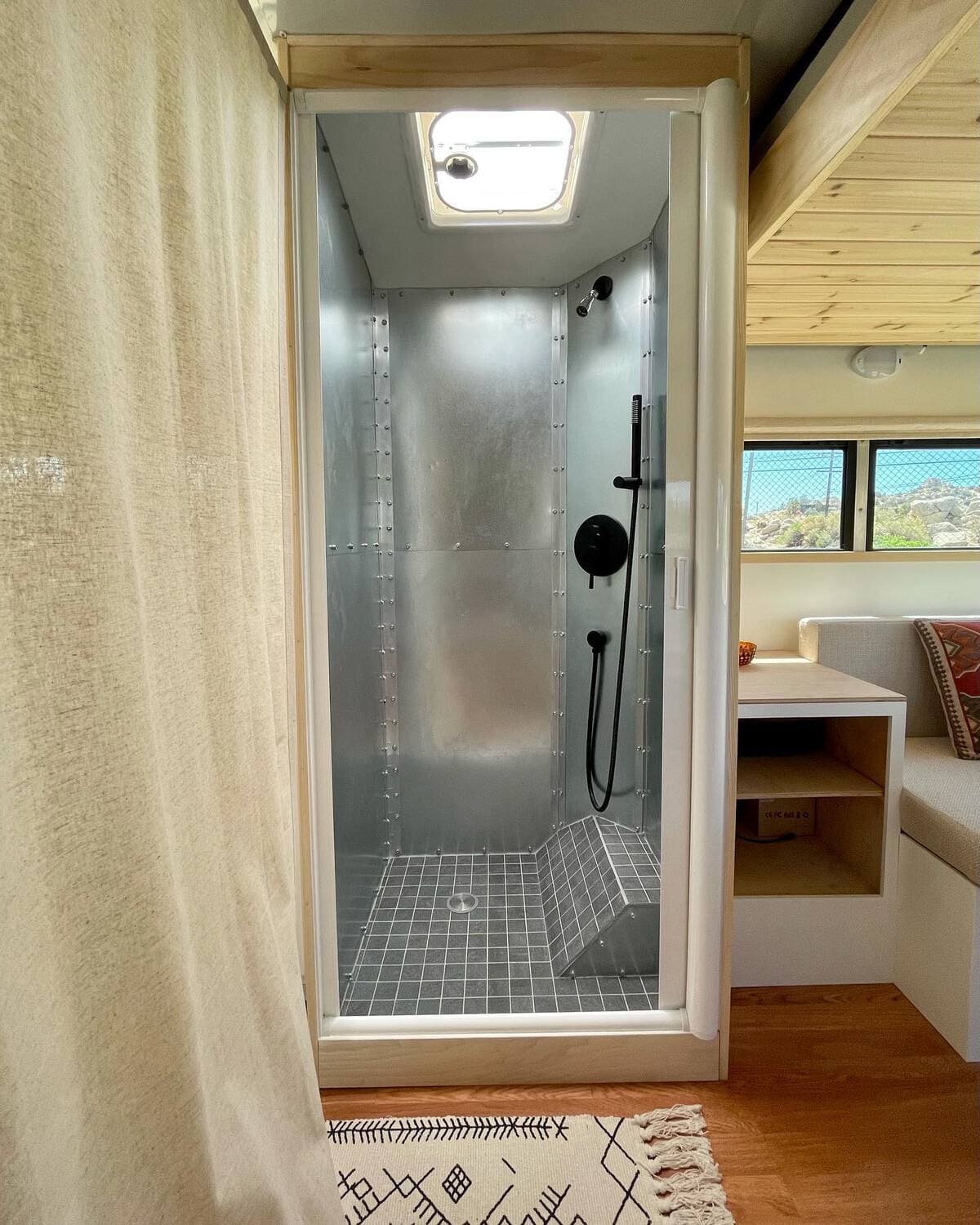 PinThe shower was one of the most crucial considerations during Kiki's remodel. Fabrice and Gregoire chose a shower cabin that would withstand the bumpy highways of America. It's positioned between the kitchen, living, and sleeping area.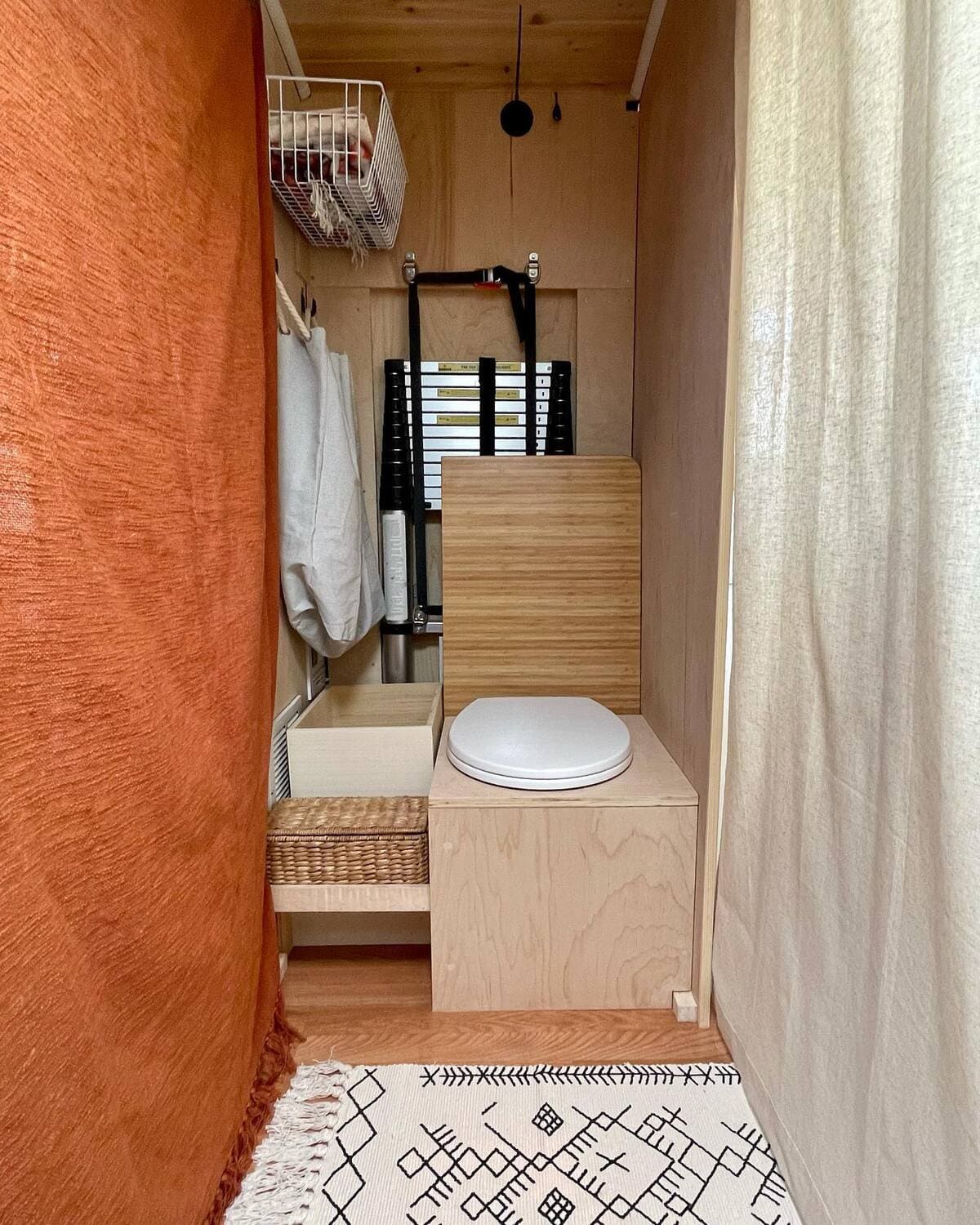 PinTucked away in a corner is a composting toilet. Both the bath and this toilet can be closed off from the rest of the bus with curtains. This area features predominantly natural materials.
PinVersatile space is crucial in a limited floorplan, so the dining area doubles as a bedroom. This area also has plenty of windows to allow for natural light at all times of the day, not to mention spectacular views.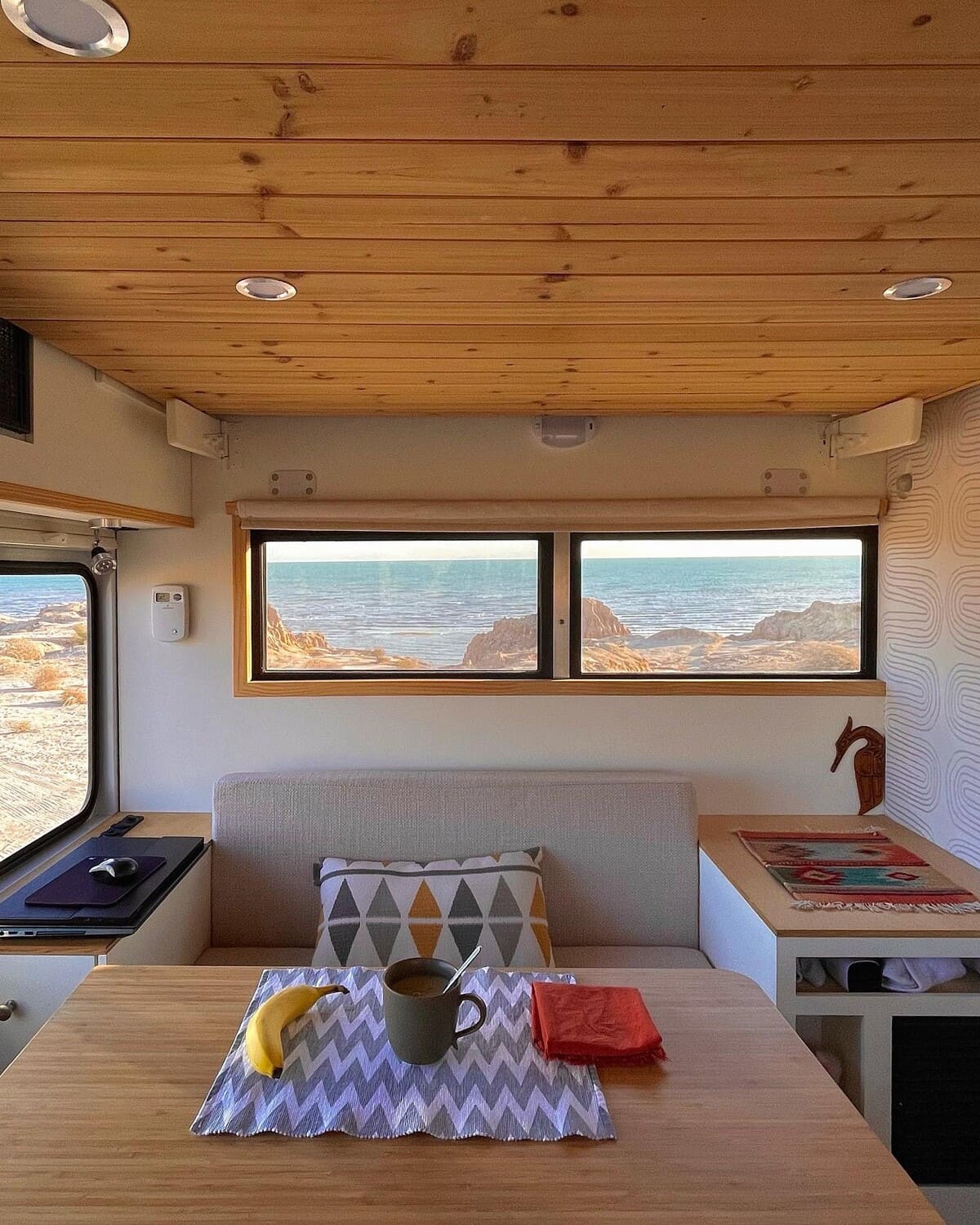 PinStorage space certainly isn't lacking in Kiki. The neutrally upholstered couches have built-in storage and adjacent storage units.
PinBeautiful black and white wallpaper cuts through the heaviness of the wood, adding freshness and modernity to the entire bus. These walls also cleverly separate the living area from the bathroom and toilet.
PinThe dining table is conveniently detachable in the dining space, and the seemingly ordinary wood ceiling over this area is a cleverly disguised elevator bed.
PinThe two comfortable sofas in the dining space convert into a large guest bed, with the area enhanced by the natural light and air coming in from the rear door and windows.
PinOnce night falls, Fabrice and Gregoir lower their elevator bed from the ceiling.
PinIf the couple has guests staying overnight, they can lower their elevator bed halfway, allowing up to two people to sleep below them on the converted sofas.
PinOnce the elevator bed has been dropped halfway, the guest bed becomes a cozy nook with a lowered ceiling.
You can follow Gregoire and Fabrice's journey on Instagram @gregthoby