When choosing a desk for a small space it can be tempting to go for the smallest model you can find, but that's not necessarily a good idea. Be realistic about how large a work area you need and choose accordingly. To maximize space you might look for a desk that has built-in storage or a bookcase with an integrated desk. I have curated 15 desks that all work great in small quarters, so take a look.
Leaning desk with ladder shelves. Give your office or living room a stylish and functional work space with this sleek desk featuring built-in shelves. CHECK PRICE
Utopia alley wall cabinet with fold-down desk. This wall cabinet sports a built-in desk that easily folds down into a convenient workspace. CHECK PRICE
Wall-mounted standing desk. A slim cabinet with a channel to plug in & charge all your devices. It doubles as a wall-mounted standing desk: just flip its door down to create a handy work surface. Sort mail, make notes or do some computing, then close it up to conceal its contents. CHECK PRICE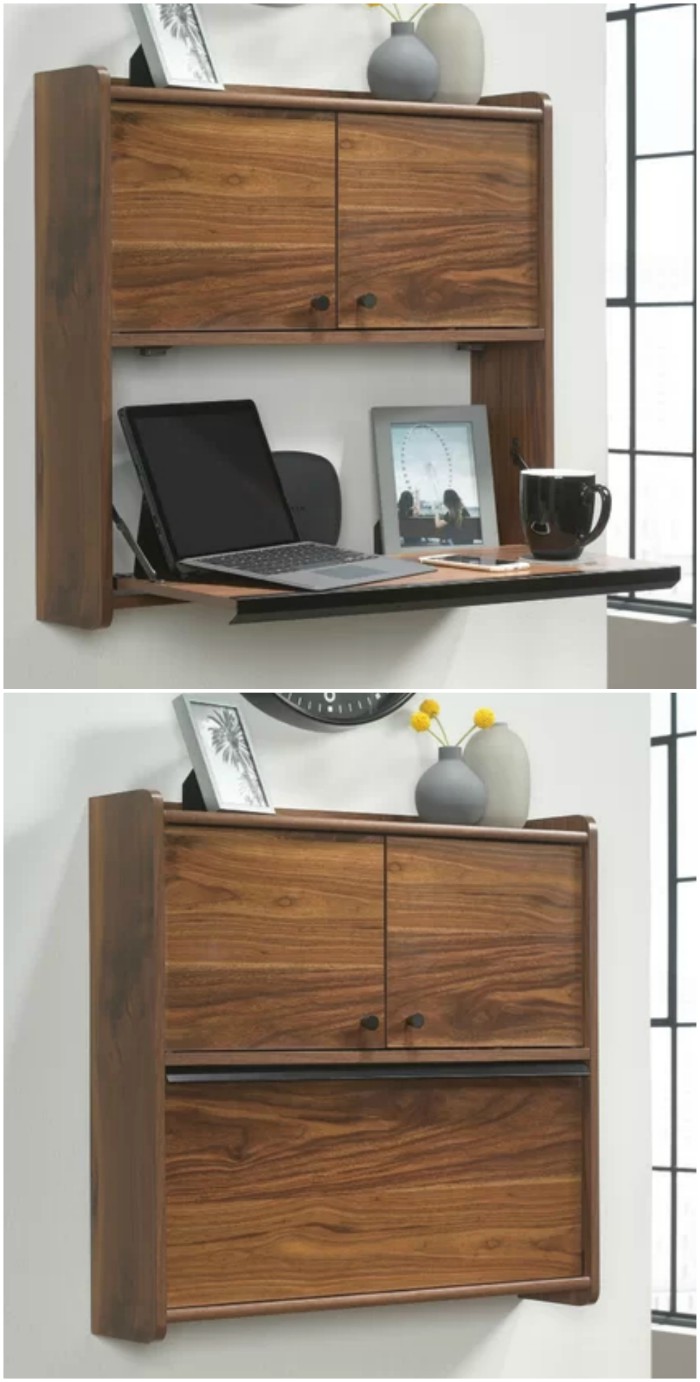 Sauder floating desk. This one-of-a-kind wall desk features a space-saving hanging design that offers versatile placement throughout any room in your home. It's large lower door flips down to create a spacious work surface that can accommodate your laptop, stacks of notepads, your favorite coffee mug and a little home décor too. The two top doors swing open to reveal a handy storage area that includes a spot to stow away your folders and envelopes along with a tack board to post important notes and reminders. This wall desk also includes cord management pass-thrus so you can keep all your wires neat and out of the way. CHECK PRICE
Hideaway floating desk. This floating desk mounts easily at standing height or traditional sitting height to create a multi-use worktop or display shelf. Clever use of mechanics provides an extendable desk surface that rotates outwardly revealing items hidden inside the desk. CHECK PRICE
Haotian ladder bookcase with built-in desk. Combine shelving and desk with this ladder bookcase. It features a desktop that can be folded up to be used as a memo board. CHECK PRICE
Bark grey & white secretary desk. A drop-down door serves as a work surface when open and hides away your laptop, tablet, cables and accessories when closed. CHECK PRICE
Oslo desk with hutch. The tapered wooden legs of this desk support a stable work surface that won't wobble or move when in use, and the five cubbyholes and four drawers provide extra storage. It's ideal for studying, bill paying, online browsing, and crafting. CHECK PRICE
Marlowe flip compartment desk. This desk is an absolute must-have with its bevy of discrete storage capabilities. Each tabletop panel can be lifted to reveal inner storage, making this the perfect home office piece. The brightly colored painted finished is accented by natural finish wood feet for a fun look. CHECK PRICE
Extendable computer desk. This space-saving table features a secondary pull-out desk as well as two built-in drawers. CHECK PRICE
Walnut secretary desk. Add storage that can double as a workspace with this secretary desk. The top shelf remains open even with the front closed so you still have easy access to office supplies and small books. Open the front of the Desk to reveal an interior shelf to store stationery, extra paper, and notebooks. Use the front as a writing surface when lowered and close the desk when not in use to save space making this the perfect addition to your dorm room or small apartment. CHECK PRICE
Selter gold and glass corner desk. No cutting corners here, this small space-friendly desk has everything in order. Rich, soft gold metal and glass define goes anywhere contemporary style, and simple silhouette puts the multi in multifunction. Utilize this convenient option as a corner desk in the home office, vanity in the bedroom, or single-serve dining table in a studio kitchen. CHECK PRICE
Washington writing desk with side shelf and chair. This classic desk has a built-in four-tier shelf and boasts a classic mahogany wood finish. CHECK PRICE
Loren desk with hutch. The clever two-in-one design saves space in crowded homes while giving your room a desk and a storage cupboard in one slim package. Switching between the two designs is as simple as opening the cupboard doors and pulling down the lift-top. When studying or work is complete, return the desk to its original compact form. The desk's built-in outlets and USB ports let you easily charge your smartphone and other electronics while you work. CHECK PRICE
Faux marble desk with storage. Add some mid-century style to your space with this small but charming desk. The two open cubbies allow you to store notebooks, writing utensils, and papers off of the desktop but still within reach to keep your workspace clutter-free. CHECK PRICE
Updated March 2020
Please note, some links on this page are affiliate links. If you make a purchase through an affiliate link, I may receive a commission at no additional cost to you.