In our fast-paced world, where cozy apartments and compact homes are the norm, finding a desk that fits both your style and your limited space can be a real challenge. Whether you're working from home, studying, or just need a designated spot for your creative endeavors, we've got you covered! In this article, we're going to explore 25 stunning desks that are perfect for small spaces. From sleek and minimalist designs to clever multifunctional solutions, we'll show you how to transform your limited square footage into a stylish and practical workspace.
Some small-space dwellers only have space for a compact desk, so this corner desk is bound to suit many people's needs. It's of a conservative size, has a convenient soft-close drawer for office supplies, and the pine is painted in a gorgeous mint green shade to suit classic and modern homes. It also boasts a lower shelf tucked away in the back for pens, stationery, cords, and any other clutter you want to keep out of sight.
CHECK PRICE
This USB folding wall desk with modern lines, FSC-certified wood, and convenient tech features is all about maximizing your available space. Not only does it install on the wall and take up no floor space, but it's a generous-sized desk for all your study essentials. It has a center cord cutout for cord management, three storage spaces, an adapter, and two USB ports. It also boasts ample space, with the desk portion jutting out 16 inches from the wall. All keyhole mounting hardware is included, and it's easy for one or two people to install. It is a perfect solution for studio apartments and dorm rooms.
CHECK PRICE
This Brantley floating desk from Wayfair is a show stopper. If it's not the two-tone white and oak finish that grabs your attention, it will surely be the space-saving design that allows you to install it on your wall like a cabinet and then use it as a desk. This rectangular desk has a hinged face with a leather handle and an open upper ledge shelf. You can use the fold-down face for your computer work and store your plants and knick-knacks on the top.
CHECK PRICE
Whether you're living in a dorm room or a home with a small floor plan, this gorgeous Johana extendable writing desk with steel legs might grab your eye. Its modern design, quality materials, and versatile design make it ideal for small homes.
Use it as a small desk or extend it to double your space. This natural and white desk also boasts two open storage compartments with a lock and key for security. With conservative 63 x 21.6 x 30-inch dimensions, it's perfect for modest sized home offices.
CHECK PRICE
This mid-century modular storage wall desk is sure to steal the spotlight in any home. With a gorgeous acorn finish, sustainably sourced materials, and stunning 1950s styling, what's not to love? This desk and cabinet combination also boasts two sliding doors, interior storage space, and all hanging hardware included. Whether you need somewhere to study, work, or apply makeup, this wall desk from West Elm meets the mark.
CHECK PRICE
This white high-gloss L-shaped desk pulls double duty by transforming into a shelf when you're not working. It seamlessly transitions from a spacious desk, accommodating your desktop or laptop, chair, and accessories, to a sleek, compact unit when folded away.
With its innovative 360-degree rotating design, you can place this writing table in various settings, whether it's your living room, office, or dorm room, and benefit from its space-saving capabilities. It boasts S-shaped shelves for convenient storage, a generous 55 x 48 x 30-inch workspace, a sturdy stainless-steel frame for durability, and a striking modern design that complements any contemporary setting.
CHECK PRICE
Make the most of those unused corners with this chic mid-century wall-mounted office desk. It's got a stunning walnut and white finish, a roomy 47 inches of workspace, and can handle up to a whopping 331 pounds.
The retro-modern silhouette also makes this desk stand out for all the right reasons, as well as the glossy front drawers, chrome metal hardware, and seamless design.
CHECK PRICE
You might think you're destined to sit on the sofa when you lack space for a traditional home office desk. This 23-inch Riley desk is a game-changer. Not only does it have a striking industrial-style design with an oak finish and sandy black metal tube legs, but it's compact to suit small spaces. As long as you have wall space, you can say goodbye to your need for a proper desk.
Described as the ultimate space-saving addition, this desk attaches to the wall and folds down to become a fully functioning desk with a single open shelf. Its small profile makes it ideal for dorm rooms, apartments, and offices alike. When it's not in use, the stool and desk can fold flat to reveal a convenient memo board.
CHECK PRICE
Functional furniture for work and study can be more than just practical. This Nathan James Parker small writing desk proves it can also be beautiful.
With a gorgeous natural brown frame, natural rattan accents, and gold hardware, it's the epitome of function meets style. This writing desk also offers an abundance of storage space to ensure a clutter-free workspace, including an open cubby, a single drawer, and a cable management hole.
Finally, its conservative dimensions mean you can tuck it away in any part of your home with a desk chair. It doesn't get much more practical than that.
CHECK PRICE
When a small floor plan means you can't spread out, why not go up? This Kirby corner tower desk is all about giving you as much space as a traditional desk, but with a taller frame you can tuck away into a corner of a small room.
The warm brown tabletop with black metal framing is just 47.5 by 31.7 inches, standing at 65.75 inches high. It has two shelves for your office essentials, floor space for your desk chair, and a robust tabletop with a 50-pound weight capacity.
With plenty of space for a laptop, pencils, books, and even plants, this tower desk can be a firm favorite in any small home.
CHECK PRICE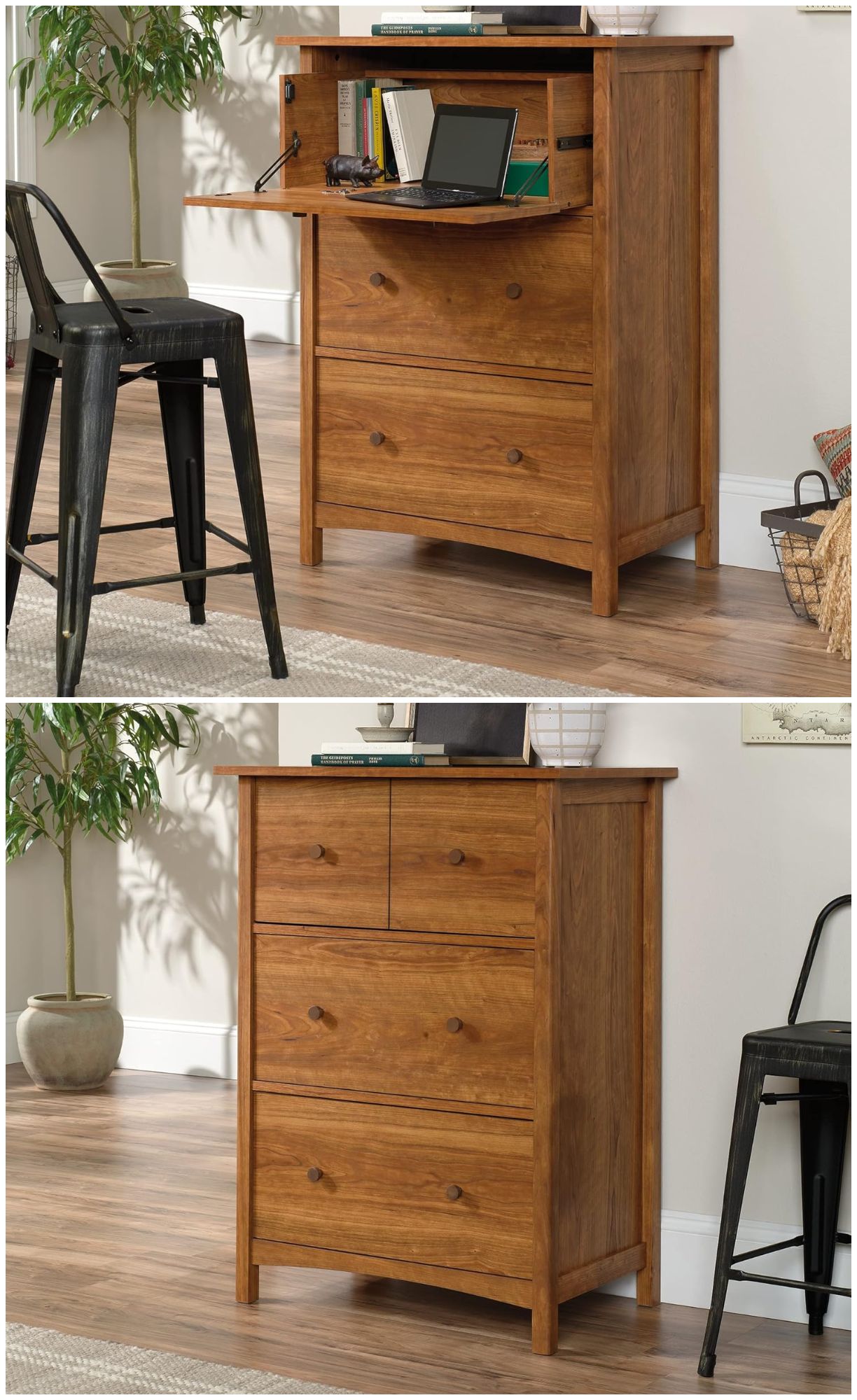 At first glance, this Sauder Union secretary desk in a vibrant Prairie Cherry finish just looks like a three-drawer chest for your bedroom. But there's more to this piece of furniture than meets the eye.
It's a unique secretary desk for a bedroom, living room, or office. Rather than featuring three drawers for clothing, it has a flip-down panel to function as a writing desk or even a makeup vanity. You can use the remaining drawers for office storage and even run cords through the included cord management system. While functional as a standard dresser, there are undoubtedly endless uses for this versatile secretary desk.
CHECK PRICE
Whether you have a spare wall in your living room or an entire home office to work with, this rustic ladder desk with an abundance of storage will likely suit your needs perfectly. It boasts wood grain shelves, a sleek metal frame, and different color options like vintage grey oak, reclaimed oak, and light hickory. You can use this unique desk as a writing desk with books or studying with plenty of space for a laptop. Its beautiful combination of colors means it will also suit both classic and contemporary homes.
CHECK PRICE
If you have very little free space, but don't like the idea of a folding desk, consider the value of a wall-mounted desk from Amazon instead. This sleek, white desk with storage cubbies suits young and old in bedrooms, studios, living rooms, offices, and more. It has enough room for books and stationery and easily installs on your wall. You're also bound to be impressed with the generous desk space for a laptop, lamp, and even art supplies. Best of all, its footprint is minimal since it makes use of unused wall space.
CHECK PRICE
One of the best desks to install in your home is the floating variety that can serve several purposes. This LAX wall-mounted desk can function as a table for your home decor or can be a beautiful work or study space. It features gorgeous walnut coloring, storage nooks for paperwork, and a generous amount of desk space. When you're on the hunt for small space desks, this functional desk ticks all the boxes while still having plenty of room for your office essentials.
CHECK PRICE
When you're on the hunt for an elegant desk that suits the classic styling of your home, consider purchasing this secretary desk from Amos. It bucks the trend with its two X-shaped legs and has a gorgeous neutral color scheme. This desk also comes with a small drawer for writing utensils, with extra storage space on top for home décor and an office plant. Even though there isn't a lot of space for computer work, this desk is more than suitable for writing, drawing, and even art projects.
CHECK PRICE
Kate and Laurel really pulled one out of the bag when they created this simple yet elegant wall-mounted wooden desk. It comes with two metal anchors, a 38 x 14-inch work surface, and a 20-pound weight limit for peace of mind. This desk would suit any home or office and look the part in a tiny house or dorm room.
CHECK PRICE
If you don't have space for a big, sturdy, solid desk in your home or office, you may be more interested in this fold-out desk. Once it's installed on your wall, it looks like a thin cabinet in a modern grey color scheme. However, you can have a fully functioning desk with storage nooks for pens, paper, and general office supplies with one pull. As thin and compact as this desk is, it's robust and sound for work or play. You're also bound to appreciate the convenience of being able to fold it back up when it's no longer needed.
CHECK PRICE
If you're on the hunt for a work desk with a difference, this laptop desk could tick that box. It's basic in its design with no keyboard tray or storage, but it's of the perfect design for a laptop. You can set it in front of the couch or even put it beside your bed. It's also made to stand out with gorgeous mid-century styling, a vibrant blue finish, and a metal framework to help it last the distance. This desk's workbench also has plenty of space for all your work accessories. When you no longer need it, you can lift it up and store it out of the way.
CHECK PRICE
Most sturdy desks are far too large for the average small home or office. However, that's not true of all desks. Add this industrial storage mini desk to your workspace, and you'll be surprised by its quality. The gorgeous solid mango wood with rich grain helps this mini desk tie in with both contemporary and classic home styling. It also pairs beautifully with the blackened steel frame. It's small-space friendly at just 30 inches and has hidden storage to keep your home looking clutter-free. Two drawers fit flush against the frame for a gorgeous, sleek finish to complete the look.
CHECK PRICE
Whether you're writing a letter, doing arts and crafts, or browsing the internet, you need a desk that can help with those tasks, and this two-shelf leaning desk can. It's a frame-style desk with wooden materials featuring lovely black legs that stands out from the crowd. Rather than supporting itself on four legs like most traditional desks, this one leans against your wall. It has plenty of shelves for house plants and knick-knacks and even boasts a cubby for paperwork. It also suits any house style seamlessly.
CHECK PRICE
It's never easy finding a desk for your home that can blend in the rest of your furniture, but this Ferm Living Sector desk will try its best. It's available in natural oak or black stained ash color schemes and has polished or blackened brass brackets to add extra elegance and charm. There are also plenty of subtle features, such as a short border for notes and an astonishing amount of workspace to compensate for the lack of storage. Installed in your home or office, you'll likely be impressed by how practical, functional, and aesthetically pleasing this desk is.
CHECK PRICE
This mid-century mini secretary desk is inspired by furniture of the 1950s and it's going to be a breath of fresh air in any home. This desk has everything you could want or need, from the solid eucalyptus wood that gives it its strength to the stunning acorn finish to suit any classic or contemporary home. It also boasts four tapered legs to tie in with the retro theme and a flip-down wall for storage. You can close this up to hide any clutter out of sight. The icing on the cake is the use of metal hardware with an antique bronze finish. Whether you were fond of the 50s styling or not, you can't help but love how cute this small secretary desk looks compared to larger secretary desks.
CHECK PRICE
Rotating Reversible Desk
Whether you need a standing desk, a sitting desk, or both, you'll get what you're looking for when you purchase this L-shaped free-rotating standing desk. Sit, stand, move around; the choice is yours. This rustic brown desk with pipe metal legs has many different elements to suit your preferences. The 360-degree rotating design allows you to store it in a corner or extend it to turn it into a dual workstation for two people. This desk also has a two-tier storage shelf, two open shelves, and a generous amount of space for folders, paperwork, and general office supplies.
CHECK PRICE
This IKEA gateleg table is a real gem for small homes. It does double duty as a desk and a dining table, expanding to seat up to four folks comfortably. The cool Scandinavian style is an eye-catcher, and when you peek closer, you'll spot some nifty storage solutions like three deep drawers.
CHECK PRICE
Having an office setup is entirely possible in your home, even if you don't actually have a dedicated office. All you might need is this floating shelf with drawers, and you can be working, studying, or getting creative with arts and crafts to your heart's content. This high-quality wood desk features two sliding drawers, a generous workbench, and a floating design with easy installation instructions. It also has plenty of space for a laptop, a small printer, and any other work supplies you might need to use.
CHECK PRICE
Please note, some links on this page are affiliate links. If you make a purchase through an affiliate link, I may receive a commission at no additional cost to you.