The Italian communication research center, Fabrica, designed the interior of a new co-living space called Space Scholarship that will house seven students with limited funds in Bangkok. AP Public Company Limited, a leading property developer in Thailand, funded the initiative. The aim is to enable communication and human relations, allowing the students to benefit from a shared personal life and to grow with a sense of community.
The challenge for Fabrica was to design a suitable space for students–male and female–coming from different provinces, backgrounds, religions, and cultures, who never met before. How do you create a space that encourages sharing but where you also can have privacy?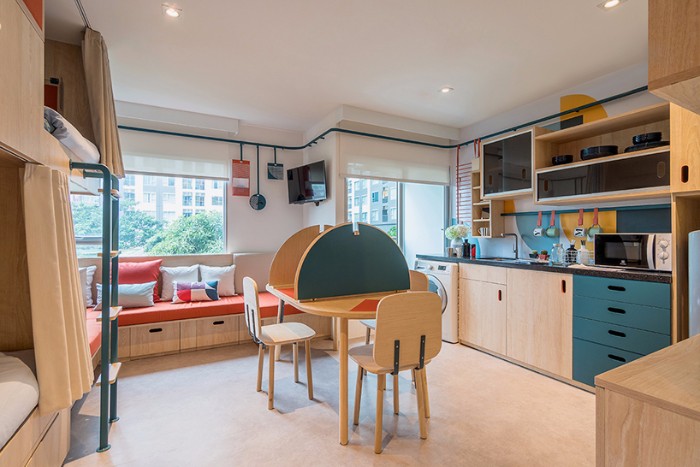 The interiors of the apartments are designed to have a dual purpose: they can be open or closed, depending if the students want to eat together or unfold the divider to study in privacy. The efficient use of space, hidden storage and practical nature of the furniture help the students have an organized apartment.
Flexibility and functionality are also relevant in the design. Some individual elements are movable and adaptable, so the students can change the configuration to fulfill their personal needs. By utilizing both multi-purpose and modular properties, parts fit neatly into each other without a loss of space. For example, the main table in the girls' flat transforms into a workstation, giving privacy, storage and space for the students to concentrate and work.