Who would have thought that a simple Netflix documentary could be responsible for someone changing the entire way they live their life? That was the reality for Swedish-born Ida Johansson. Since the beginning of 2020, Ida Johansson has lived in a 236-square-foot tiny home in the south of Norway with her cat Teo. After watching The Minimalist on Netflix, she started wondering whether she would be better off purchasing a tiny home rather than an apartment in a concrete jungle.
Ida said she had been living in an apartment with car parking outside her window. Even though her apartment was three times larger than her tiny home, she often felt like her surroundings made the apartment seem smaller. She also worried about her cat's safety in those surroundings. After watching the documentary, she decided to build a tiny house in the south of Norway with her friends' help. However, she eventually decided to enlist the services of tiny house company Norske Mikrohus. Within four months, her little house on a triple-axel trailer, measuring 7.5m x 2.5m, was born, and all for 930,000 NOK (USD 109,990).
Ida hasn't looked back. She has always wanted to live close to nature, and tiny house living has provided that very opportunity. If she ever wants to change her location, she can do so at a moment's notice. Ida also believes her tiny home is more affordable than apartment life in Norway and far more environmentally-friendly.
PinSwedish-born Ida Johansson's tiny home spans 7.5m x 2.5m on a triple-axel trailer, offering 236 square feet of space. After it was built, she connected with someone she had danced salsa with before, who was happy to have her take up residence in her tiny home on his farm.
PinIda's tiny home interior takes on a farmhouse style with a light colour palette and subtle wood hues throughout. The heart of the home also benefits from a farmstyle kitchen with a large fridge and dishwasher.
PinIda spent a lot of time choosing each feature of her tiny home. She liked adding details that made it appear old. The white colour scheme partnered with wood also offers the illusion of space and cleanliness.
PinThe nearly all-white kitchen is fresh and vibrant. Ida also purchased two shelves from secondhand shops in Tønsberg, which she painted white to match the rest of the kitchen.
PinIda makes sure every part of her tiny home is organised – right down the use of her kitchen drawers. Everything is easy to find, and there's no clutter in sight.
PinA unique Scandinavian style is present throughout the home with the use of white, wood, and bursts of colour.
PinThe layout of the house is simple yet functional. The bedroom is a loft above the main living area, accessible by stairs featuring storage. Ida says her cat Teo loves the tiny home as he can sit in all the windows and watch what's going on outside. He also loves running up and down the stairs.
PinTeo's needs are well taken care of in the tiny home, with a built-in cat toilet in the staircase. The fridge and wardrobe are also built into the stairs.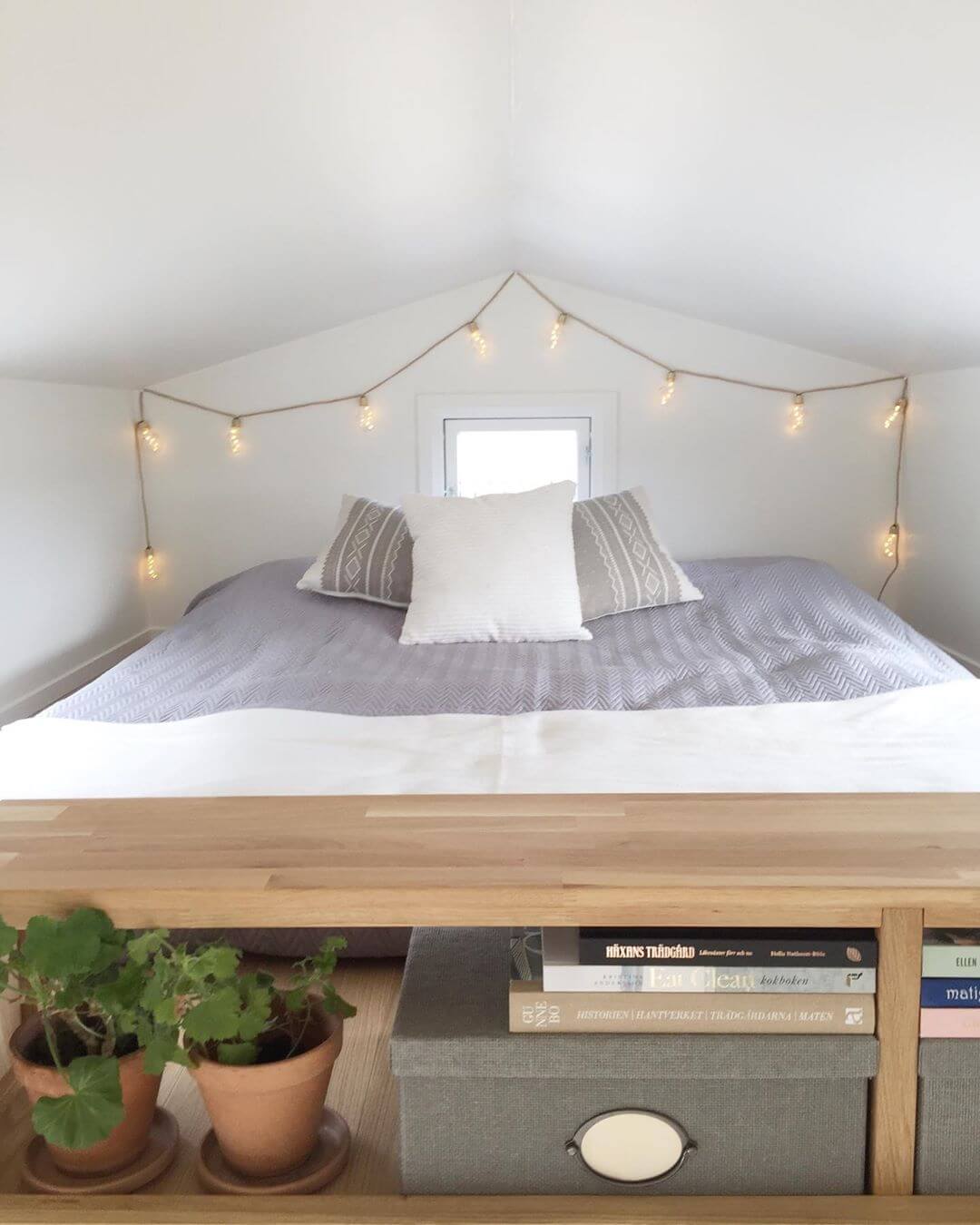 PinThe loft-style bedroom is light, bright, and surprisingly spacious. A window lets in plenty of light, and the white walls partnered with a wood bed end for storage offer the illusion of space. A 190-centimetre bed fits perfectly in the room.
PinAt the end of the stairs is a beautiful fold-down dining table. It also serves the purpose of a work desk and collapses down when not in use. Well-positioned lighting sits above it.
PinThe lovely curtains add to the Scandinavian theme of this house, which Ida had sewn herself.
PinOut of all furniture in the home, Ida's favourite is the multifunctional sofa. It has drawers underneath for storage.
PinAlthough, there's more to this sofa than meets the eye. When it's not being used for seating, it can be folded down to become a bed for two people.
PinWhile it's a beautiful sofa for its looks, its functionality is also exceptional. It has storage in the sides and USB chargers, as well.
PinThe bathroom is every bit as stylish as those you would see in apartments and larger homes.
PinPlenty of natural light is present in the bathroom, courtesy of the large window. The shower also has a curtain for privacy.
PinIda's tiny home doesn't have a water closet. She decided to invest in a Cinderella combustion toilet. The seat is always comfortably warm, and she only has to empty it every fortnight. Everything turns to ash, so there is no smell. The emptying process is also simple as you just have to pull out a small drawer at the bottom and empty it into the garden compost.
You can follow Ida's tiny house life on Instagram and Youtube