When you have a small home, no storage, and no idea, everyday living can be frustrating. It's easy for the average home to appear cluttered, disorganized, and untidy. But that can all change.
You might think your options are limited, especially regarding small entryways, but you have more storage solutions at your disposal than you might think. Prepare to be inspired!
Use Over-The-Door-Organizer for Storage
PinIn an ideal world, you'd be able to purchase an abundance of mudroom furniture to keep your entrance as organized as possible. However, filling the smaller space with furniture isn't always practical. In that case, consider purchasing an over-the-door organizer for your home entrance. Over-the-door organizers provide an installation-free form of storage that can take care of everything from jackets and hats to shoes and purses. They are suitable for nearly all door types and take mere seconds to install.
You can also purchase many different styles and designs to suit your door style and storage needs. You'll be surprised at how convenient and effective these organizers can be. Pictured: Elfa entryway door rack from Containerstore
Opt for a Coat Stand That Does Double Duty as a Stool
PinIf you don't have obstacles in your home's entrance, like stairs or doors, there's every reason to believe a coat stand and stool-in-one can be the perfect addition to your home's entrance. Not only does it function as a modern, sleek, and practical coat stand for outerwear, bags, and hats, but it can also be a stool or table.
You can sit on it to put your shoes on, store shoes and small items underneath, or use it as a table for home décor, car keys, and other small items you reach for when entering and exiting your home. Any furniture that does double-duty in a small space can be well worth investigating. Pictured: Umbra Pillar stool and coatrack
Don't Forget the Corners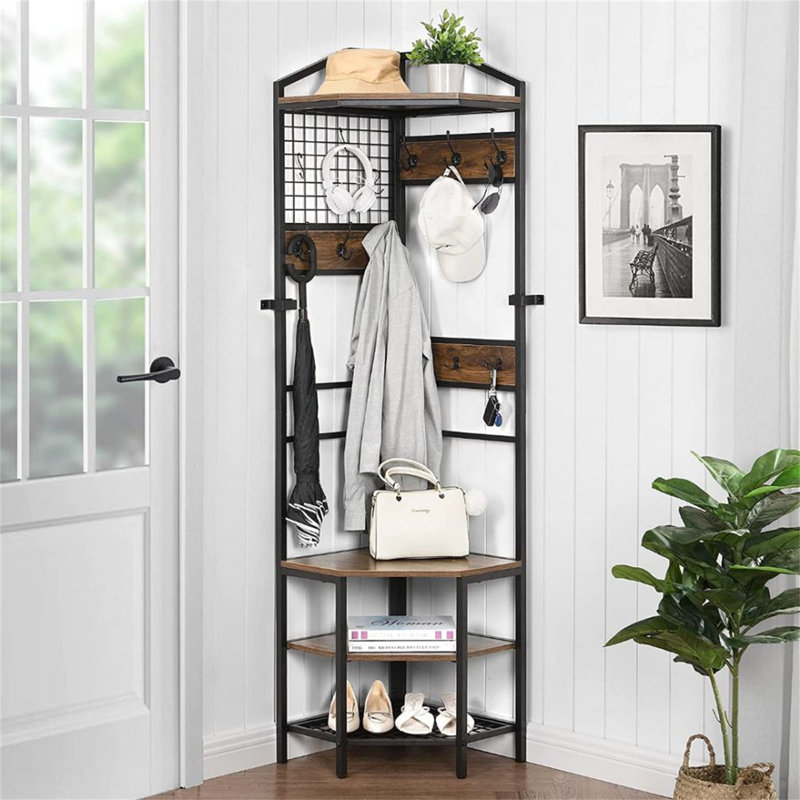 PinScan your eyes around the room you're in and take note of all four corners. Have you used them to their full potential? If you have a small entrance and want to ensure guests aren't shocked by all the clutter and mess when they walk through the front door, consider purchasing a form of corner storage. These units can take up previously wasted space and provide storage for coats, hats, shoes, car keys, bags, and more. You can even use them to show off your most prized home decor. Pictured: 17 Stories corner hall tree from Wayfair
Use Shallow Shoe Cabinets for More Than Just Shoes
PinSmall entryways can quickly become cluttered, disorganized spaces – especially when they typically house everything you need to leave your home at a moment's notice.
Rather than scatter your shoes, coats, scarves, and bags on every nearby surface, invest in shallow shoe cabinets. While they are perfect for footwear, you can also use them for scarves, umbrellas, bags, and even car keys. You can install them on your free wall space and leave your front door clean, tidy, and free of obstacles. Shoe cabinets can also be much more affordable than specially-made entryway furniture, which is bound to be appreciated. Pictured: Trones shoe cabinets from IKEA'
Use Rails and S-Hooks for Flexible Entryway Storage
PinSometimes, storage solutions take up more space than the items you need to store. This can be problematic in tiny homes with limited storage options. However, with a little bit of creativity, ingenuity, and some rails and S-hooks, you can solve this problem in earnest.
By purchasing S-hooks and rails, you can create a form of storage for jackets, shoes, bags, and other outdoor essentials on your walls. You can install these rails and hooks near your home's entrance and enjoy having all your floor space free for rugs and runner carpets leading into the rest of your home.
Most rails also come in a range of different lengths, which means you don't have to miss out on this genius storage solution if you have limited wall space. Photo: Ikeahackers
A Freestanding Pegboard Screen Creates Separation as Well as Storage in an Open Layout
PinIt's hard to make a great first impression in an open-plan home without storage, especially one with a small footprint. As challenging as it can be, it's not impossible if you invest in room dividers.
Pegboard screens, in particular, can be an excellent way to create division in any space while also providing a form of storage. For example, if you place a pegboard screen in your entryway, you can create a dedicated entrance space that doesn't detract from the beauty of the rest of your home. You can then insert pegs into the peg holes and enjoy having somewhere to hang your bags, scarves, jackets, and small accessories. Pictured: Kreisdesign/pegboard room divider screen
Hang Baskets From Coat Hooks for Easy-Reach Storage
PinThere's no denying that wall hooks are convenient for coats and hats at the entrance to your home, but what about those smaller, easy-to-lose items? Invest in hanging baskets, and storage issues with these can be a problem of the past.
You can use your pre-existing or new wall hooks and hang baskets from them to provide a home for those smaller items like gloves, dog leashes, car keys, and wallets. Suddenly, a wall hook for a single item is now practical for holding dozens of items. Coat rack baskets are also affordable to buy and hold a significant amount of weight for their size. Pictured: Pinnig coat rack from IKEA
Eliminate Clutter With an Entryway Organizer
PinSmall items you use daily, like car keys, mail, and wallets, can easily be lost in a cluttered, crowded home entrance. It's a frustrating problem, but not one you have to put up with if you purchased an entryway organizer. These magnificent products have this problem in mind and solve it immediately.
They come with hooks, shelves, slots, and everything you need to take care of those easy-to-lose yet essential items. The hardest parts will be deciding which one to choose and knowing where to put it! Pictured: Figuregrain/Hardwood Entryway Organizer
Create a Bespoke Solution for an Awkward Corner
PinEveryone has different home interiors to work with, and a solution for one person is a problem for another. A DIY shelf and bench can be amazing storage solutions if your entryway's dimensions don't allow for conventional hallway furniture. Photo: Stadshem
Choose Floating Furniture
PinIf you have a conservative floor plan and want to maximize the available space in your entryway, it makes sense to adopt storage techniques that offer that 'big space feel.' Floating furniture well and truly tick that box.
When you mount furniture to the wall and keep it off the ground, you create an illusion of space that traditional freestanding furniture can't achieve. You can also make use of the space underneath for shoes and baskets for accessories. Add a few floating shelves to complete the look, and you'll have a beautiful foyer to be proud of. Photo: IKEA/Eket cabinet
Use a Magnetic Knife Rack as a Key Holder
PinWho said that magnetic knife racks had to be for knives? If you have magnetic items you need to keep safe and within easy reach, they can be suitable for almost anything. Which is why it makes sense to install them at your home's entrance.
Rather than using a small table with bowls for keys and other essentials, you can attach your keys to the magnetic strip on a wall. It takes up minimal space yet ensures your keys are within easy reach at a moment's notice. Magnetic knife racks are also affordable to buy and easy to install. It's a recipe for success! Pictured: HULTARP magnetic knife rack from IKEA
Create the Illusion of More Space With a Mirror
PinA common design idea people use throughout their homes involves the use of mirrors. They are an excellent trick to maximize natural light, but they can also be suitable for creating the illusion of space. As a result, they are more than perfect for the average small home foyer.
Install a mirror on a spare wall in your home's entrance and immediately notice the difference. The mirror will reflect light to brighten the space, and its reflection of opposite walls will undoubtedly make the area appear much larger than it is.
Moreover, you can purchase mirrors with storage to clear up clutter and make your entrance appear brighter and bigger simultaneously. Pictured: Jermaul mirror from Wayfair
Combine Function and Décor With Multi-Colored Coat Dots
PinIf you have a bare wall in your entryway but lack the inspiration to do anything fun with it, we've got a solution for you – an accent wall that also functions as storage space.
You can purchase beautiful dot coat hooks that look like a work of art on your wall but are also excellent forms of storage for hats, coats, dog leashes, and other essentials you need before heading to work or school. While you might still choose to add a console table or a small side table for hard-to-hang items, you'll undoubtedly be impressed with the functionality and style of this stunning entryway décor. The best part is that you can purchase dot coat hooks in a range of colors and sizes to suit white walls, colored walls, and any home style. Pictured: Muuto Dots coat hooks
Look to the Ceiling for Storage
PinCeiling space is often wasted, which is generally not a problem in large homes with abundant storage. However, when you have a small house with no storage, it can make sense to utilize as much of this potential storage space as possible.
Consider installing wall shelves under the ceiling and above door frames at your entrance. You can then use the space for items you don't often use, such as seasonal items. Pictured: BERGSHULT / KROKSHULT wall shelf from IKEA
A Shoe Bench With an Integrated Coat Stand Offers Many Functions in a Small Footprint
PinIt can sometimes seem like everyone's solution to a crowded entryway is a few wall hooks for coats and hats, but they aren't always enough. You might not have a free wall for hooks, or you don't want to damage your wallpaper or walls with permanent holes.
In that case, consider purchasing a shoe bench with an integrated coat stand. The shoe bench itself can provide many functions, such as extra seating, storage space for shoes, and somewhere to sit while you're putting your shoes on or waiting for a ride with a family member. Shoe stands integrated with coat stands are even more practical, with plenty of space for hats, scarves, jackets, bags, and more. It's the perfect addition to any foyer or small home entrance. Pictured: Bamworld shoe bench from Amazon
Get More Mileage Out of Your Wall With Coat Hooks in Two Layers
PinMany homeowners install coat hooks on the walls of their small foyers to keep their coats and hats as neat and tidy as possible. However, there never seems to be enough space to cater to every member of the family.
That might change if you double up on your storage solutions. Purchase enough hooks to create two hanging rows, and you'll be surprised at how much extra room you have. By installing some wall hooks lower to the ground, you can also ensure children have access to their coats without having to ask an adult to retrieve them for them.
You might then decide to pair your wall hooks with a storage bench to take care of shoes and small accessories. You'll be on your way to a clutter-free entrance in no time. Photo: IKEA
If Your Entryway Is Too Small for a Bench, Go for a Wall-Mounted Folding Seat
PinPutting on your shoes when you're in a hurry can be dangerous. All it takes is for you to become unbalanced, and you can end up in a heap on the floor! If you don't have enough space for a stool or bench to sit on, why not opt for a wall-mounted folding seat? They can take up as much space as wall sconces or wall décor, yet they can quickly transform into a practical and comfortable seat.
All you need is a solid wall and some installation tools, and you have a modern and functional seat that ticks all the boxes for both small and large homes alike. Pictured: KASLANDI wall-mounted seat
Store Shoes Flat Against the Wall
PinHow many times have you found yourself tripping over piles of shoes at your front door? You could have the most beautiful entryway décor, but it does nothing to detract from the mess underfoot.
Take care of this problem with wall-mounted shoe racks. Such racks come in a range of sizes, styles, and designs to suit all preferences and home types. Once they are installed on the wall, they can house all manner of footwear like sandals, jandals, sneakers, and boots.
While storing shoes flat against the wall on wall-mounted shoe racks might mean you can't fill your entrance foyer with artwork, it's a small price to pay for not having a trip hazard blocking your front entrance. Pictured: Wall-mounted shoe rack from Etsy
Choose a Vertical Coat Rack if Floor Space Is at a Premium
PinTraditional coat racks are freestanding and bulky but valuable. They stand pride of place at your home's entrance and provide easy access to coats and hats you need to brave the outside elements.
But when floor space is limited, and you're tired of knocking over your coat rack in a tiny room, why not install a vertical coat rack on your wall? Many are designed to be both wall decor and storage space, and they free up your precious floor space for shoe storage, rugs, and entryway tables. Pictured: Mygift coat rack from Amazon
Go Compact With an All-In-One Hall Tree Solution
PinIf you have a bare wall in your home's entrance and lack the creativity to know what to do with it, we've got the solution for you: an all-in-one hall tree solution. Rather than buy multiple storage solutions to clutter up your foyer, purchase one item that can take care of all your storage needs.
Many all-in-one tree halls are designed to function as a coat rack, umbrella rack, and a place to put your shoes and bags. Many also come with a seat so you can put your shoes on in comfort and a mirror to maximize space and natural light.
All-in-one tree hall trees can also be excellent storage solutions for people renting their homes who don't have permission to make permanent changes, such as wall hooks and floating furniture. Pictured: Bonzy Home hall tree from Amazon
Please note, some links on this page are affiliate links. If you make a purchase through an affiliate link, I may receive a commission at no additional cost to you.