Keeping your kitchen organized can seem like an uphill battle, especially when you have more kitchen appliances than space and a lack of cupboard and pantry organization products. However, that can all change. These ideas will have you on your way to a clean, tidy, and well-organized kitchen in no time.
Joseph Joseph Cabinet Spice Organizer
PinSpice racks can be cumbersome and take up a lot of space, especially if you typically use a lot of them. Keep them out of sight, out of the way, but within easy reach, courtesy of this Joseph Joseph spice organizer for cabinets.
It's designed to make use of wasted space beneath shelving and is easy to install with strong 3M VHB tape. Once you've installed it, it can hold up to seven standard spice jars measuring 2 x 2 x 4.75 inches each. Whenever you need to access them, you can pull the tab and reveal the spices within.
Promising review:
"Where have these been all my life? I bought these to remove a spice carousel from cluttering up my kitchen surfaces. And boy, I'm glad I did. They look absolutely fab and work amazingly well. I now have 2 full of spice jars. My jars are on the larger side, and I was worried they wouldn't fit, but they do. Super happy. Would highly recommend them."
CHECK PRICE
Utrusta Pull-Out Rack for Cleaning Supplies
PinCleaning supplies don't have to be piled high in a disorganized mess, even if that can seem like it's the only option. The pull-out rack from IKEA has adjustable wire shelves for cleaning supplies of different shapes and sizes and even has plenty of space for a vacuum cleaner. However, you can also install it in your pantry for everyday household goods and appliances like a food processor, bread maker, and food like cookies and baking supplies.
Promising reviews:
"I bought this when I remodeled my kitchen, and very glad I did! Allows you to organize the cabinet to maximize the space."
"The pull-out makes the tall IKEA cabinet easy to access and keeps supplies organized. Pricey but worth having."
CHECK PRICE
Copco 2-Tier Turntable
PinWhether you need a spice rack, snack storage space, or an easy-to-access area for your bottles and cans, this Copco 2-tier turntable will shoot to the top of your wish list. It's a pantry lazy Suzan that can tuck away in the corner of your kitchen cupboard and provide easy access to everything you need.
The 3/8-inch rim ensures nothing falls off, and you can spin the turntable around to reach goods at the back. Its two-tier design also means you can utilize as much wasted space as possible, and its thick molded plastic allows for easy cleaning.
Promising review:
"So glad I bought this. It's sturdy enough to hold all the bottles I need to put on there, and it creates so much more room in my cabinet above the stove. Before, it was hard for me to see all the different bottles I had up there, so I now have three bottles of rice vinegar! Now, this lazy Susan makes it so easy to see what I have so I don't purchase duplicates of stuff."
CHECK PRICE
Nex Expandable Shelf Organizer
PinThe average kitchen has a lot of wasted vertical space, especially when you have small products you need to access often. An expandable shelf organizer helps you enjoy easy access to your kitchen goods while taking up less precious space.
As far as storage solutions go, this expandable shelf organizer stands out from the crowd. It boasts an 11.7-inch height, an expansion range from 12.7 to 23.9 inches, and features high-quality metal to last the distance.
Promising review:
"These are so handy I got a second set. One is slightly smaller than the other, so you CAN stack them if you wish. What I like is that they help use your vertical space on shelves, in closets, countertops, office… anywhere, and they are very unobtrusive. The design punched into the metal allows for airflow/drainage but is small enough that nothing set on it falls through. The possibilities are endless. They are not SUPER solid, but they aren't totally cheapy either. I'm not sure I'd put a ton of weight on them, but they can hold a good amount. If you are short on space, these are very handy!"
CHECK PRICE
Mdesign Under Shelf Basket
PinMost homeowners would agree that there is never enough cabinet space for everyday goods, but that won't be an issue if you opt for these under-shelf baskets. Make use of wasted space by installing this set of two open-wire bins underneath shelving. You can still use the shelves, but you now have extra space underneath!
You're bound to enjoy the convenient dimensions of these baskets, making them suitable for storing plastic wrap, water bottles, cutlery, and much more. The open-front design also makes it easy to access everything you need without taking them off the shelf, and their sleek black color scheme makes them ideal for any room in your house.
Promising review:
"They come ready to use. Simply remove from plastic and slide onto your shelving. They slid perfectly on my bottom pantry shelf. They are great for extra storage space. I will most likely be purchasing more of these."
CHECK PRICE
Smart Design 3-Tier Corner Shelf Rack
PinEvery cabinet has corners, but they are one of the most frustrating parts of any storage solution. Not only can you not see what's at the back, but you risk tipping over everything in front of it just to access what you need. Say goodbye to that problem with this 3-tier corner shelf rack from Smart Design.
Whether you're placing it on your kitchen counter or in the dark depths of your cupboard, you'll enjoy storing three times as many dishes in the same footprint, with easy access to everything. The heavy structure makes it suitable for plates, cups, and crockery, and the rust-resistant PE coating gives you peace of mind that it will last the distance.
This corner shelf rack also only takes up 9 x 9 x 8 inches of room, meaning it's a suitable storage solution for kitchens with limited space.
Promising review:
"I used to dread getting out larger plates with my smaller plates stacked on top and then again putting clean plates away. It's a breeze now since they're not sitting directly on top of each other with this organizer. Also, my cabinets look great!"
CHECK PRICE
Idesign Adhesive Plastic Container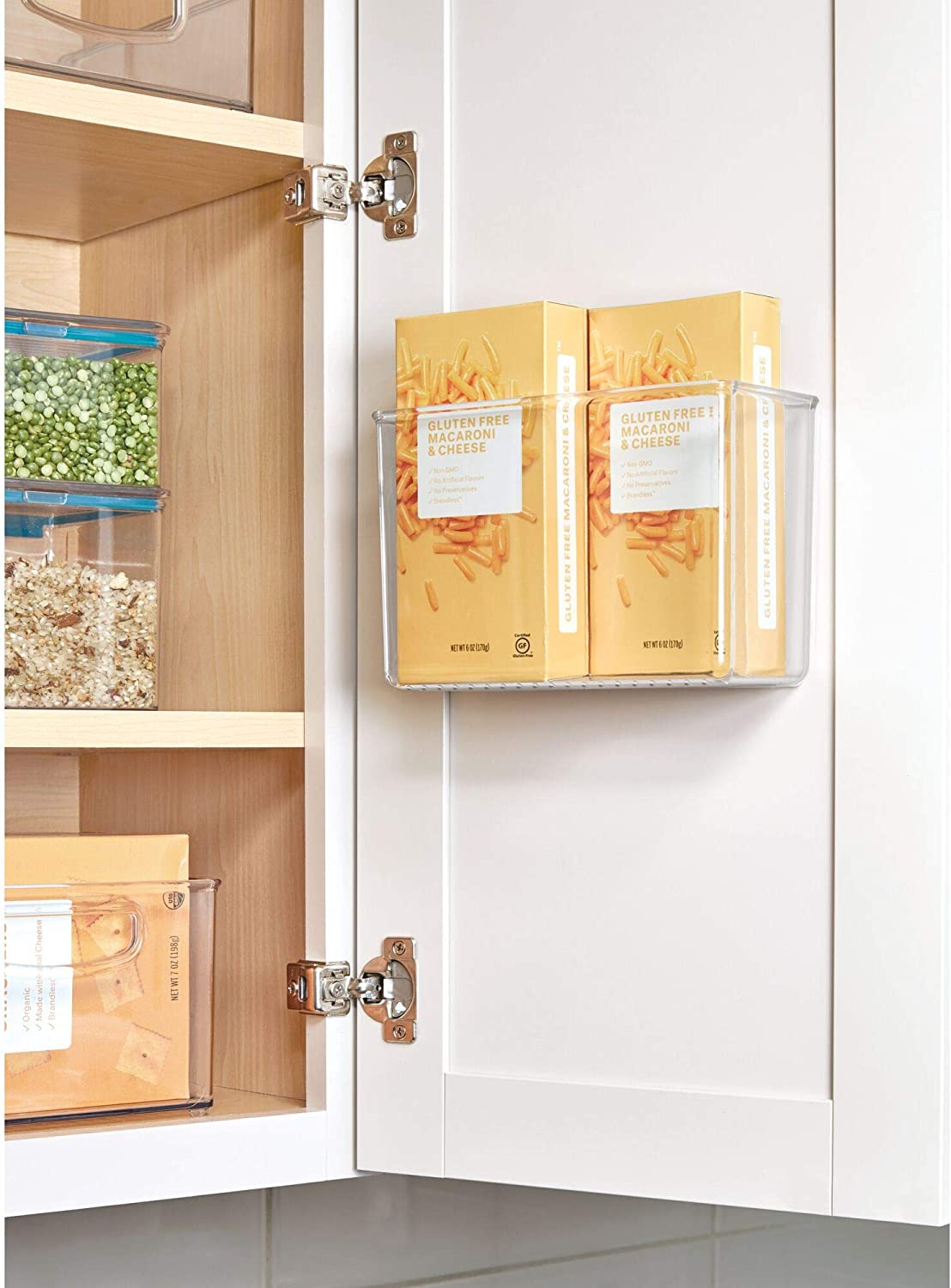 PinOpen the average kitchen cabinet, and you'll likely be met with food and other items piled precariously into every nook and cranny. There just never seems to be enough kitchen storage space! These peel-and-stick containers help solve that problem. They are available in four sizes, boast strong plastic, and hold up to 4.75 pounds each. This plastic container is designed to hold all manner of products you need to access at a moment's notice, such as spices, medications, toiletries, crafts, pantry goods, and more.
Not only is it multi-purpose for many parts of your home, but it's also designed to work with many surfaces. Apply it to mirrors, fiberglass, wood, glass, or even tiles and metal. Thanks to the AFFIXX adhesive backing, you can enjoy super strong adhesion on nearly any surface.
Promising review:
"I have tried several different products to store my cellophane, aluminum foil, parchment paper, wax paper, etc. Finally, I found something that holds all the products in one place without falling over or out of the organizer. The adhesive sticks very well to the inside of my cabinets, and it's a very attractive organizer. I recommend this product over any other organizer on the market."
"I purchased this to hold my dishwasher pods, and it is perfect! Peel and stick strips are nice and wide and adhere very well to the inside of my kitchen cabinet. Highly recommend!"
CHECK PRICE
Youcopia Roll-Out Under Sink Caddy
PinIt can sometimes seem like no matter how neatly you organize your cleaning products under the sink, they never look tidy. YouCopia's roll-out under-sink caddy solves that problem with ease.
This affordable plastic storage solution is designed to tuck away under your sink on wheels for easy access. It's eight inches wide to suit most gaps, has two adjustable dividers to suit your products, and even has a removable hanging basket for those smaller items like brushes and sponges.
The high-quality plastic is easy to clean, and the large, soft-grip wheels roll seamlessly in and out of cabinetry. Whether you need a convenient place for cleaning supplies or baskets for craft supplies, this caddy can easily hold up to 30 pounds of items of anything you need.
Promising reviews:
"It's perfect under my kitchen sink. Holds more than I expected. My under-sink cabinet is now much more useful, and I can find what I need faster and easier. I didn't think I needed a rolling organizer, but the rollers make it super easy to get the less-used items that I want to keep towards the back."
"This is one of the best kitchen organizers I have ever purchased. Under the sink cabinets can be very tricky to organize due to their large size. I love the convenience of being able to roll out this caddy so I can easily grab all the cleaning supplies I store inside it, even those that are placed in the back. I also love that you can rearrange the dividers so it fits your configuration of items exactly how you want. This is a must-buy if you ask me!"
CHECK PRICE
Spectrum Bloom Over-The-Cabinet Lid Organizer
PinLids can be frustrating to store; before you know it, you've lost them in the dark, dusty corners of your cabinets, never to be seen again. That's unlikely to be a problem with this over-the-cabinet lid organizer from Spectrum Bloom.
This lid organizer installs easily over a cabinet and uses previously wasted space on the inside of your cupboard door. The rubber feet minimize rattling when you're using the door, and there are rack sections for up to four lids in nearly any size. Homeowners are also bound to love the installation-free design of this lid organizer, with no tools or complex installation steps required.
Promising review:
"If you are someone who loves an organized kitchen like I do, I highly recommend this item. It is the best way to store lids to keep them in great condition and easily accessible at any time. I also love that it's not something you have to mount and can easily move to a different cabinet door. I use the bottom two rungs for a large wok lid and large pot lid and the top two rungs for smaller pot lids."
CHECK PRICE
Roomtec Pull-Out Cabinet Organizer for Base Cabinet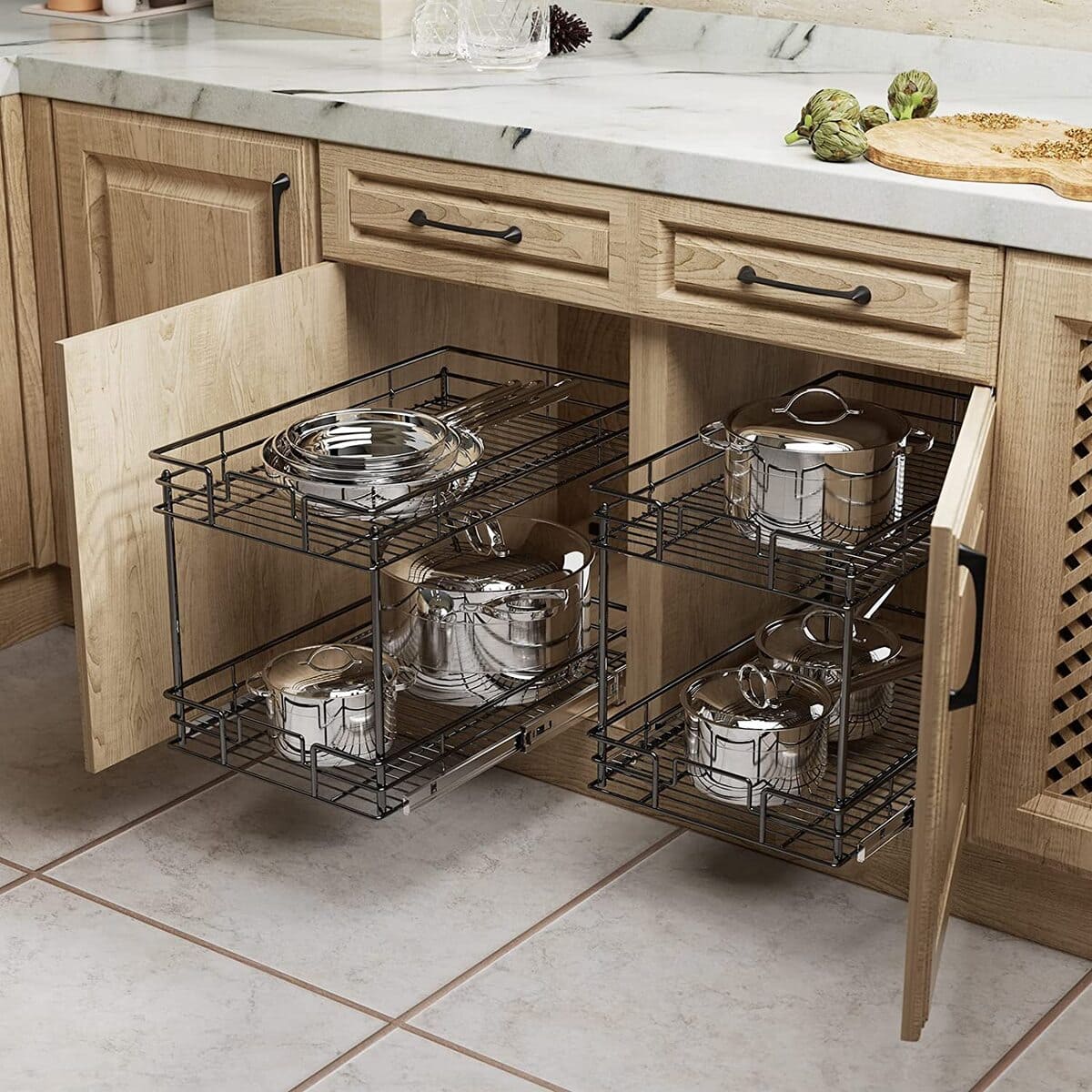 PinPots and pans cupboards can be chaotic, especially when you have each pot or pan stacked on top of each other like the Leaning Tower of Pisa. However, with this pull-out cabinet organizer designed for a base cabinet, you might be surprised by how well-organized your kitchen can be.
The organizer from comes in 11 sizes and boasts two tiers for all your pots and pans. It has runners, a template to install them in your cupboards easily, and a straightforward slide and mounting method with a full-extension ball-bearing system. Thanks to the heavy-gauge wire construction, you can even enjoy a generous weight capacity of up to 100 pounds.
Promising review:
"This product is made well and is great to expand space in a very narrow cabinet. It is easy enough to assemble and can hold heavy glass bottles without worry."
"This pull-out organizer is a space saver. For the numerous spices and curry powders that used to occupy two whole cupboards, this organizer could hold all in a narrow cupboard."
CHECK PRICE
Spectrum Diversified Organizer
PinThe average homeowner would stack plates, bakeware, cooling racks, pans, and lids up high, making it frustrating when you need to access something at the bottom of the pile. But there's a better way, and you'll be delighted when you put this Spectrum Diversified organizer to use.
It's designed to fit in an average-sized cabinet and provide neat and tidy storage for a range of thin, hard-to-store items like pans, chopping boards, and trays. It boasts sleek satin nickel, has seven vertical rungs to store six items, and can be tucked away in your cupboard or put out on display. Thanks to the sturdy steel construction, it's also easy to clean and designed to last the distance.
Promising review:
"I used two of these placed side by side to organize baking sheets, cutting boards, etc., in the bottom drawer of my 36-inch wide cabinet. One of my favorite home organization purchases. I would highly recommend it to anyone looking for a similar solution."
CHECK PRICE
Livod Cabinet Door Organizer With Double Towel Bars
PinSometimes, space can be so limited that you don't even have room for pull-out organizers or pull-out trash bins. In that case, a LIVOD cabinet door organizer with double towel bars can be ideal for your kitchen storage woes.
This multi-functional cabinet organizer installs easily over your cabinet door, with plenty of space for chopping boards, cookie sheets, bakeware pans, food wrap, and more. Thanks to the addition of two towel bars, you can also use it for dish towels.
This organizer has three height adjustments to suit whatever items you're storing and sticky pads on the hooks to stop it from moving around. Whether you need more space in your kitchen or bathroom, this cabinet door organizer can be a game-changer.
Promising review:
"It is sturdy and stays put. Large enough for all my cutting boards except the super large one, which wouldn't fit under my sink anyway. Plus, I needed someplace to hang dish towels, so this was a great purchase for me!"
CHECK PRICE
Rev-A-Shelf Pull-Out Kitchen Cabinet Organizer
PinThis pull-out kitchen cabinet organizer is perfect for that narrow cupboard you don't know what to do with. It comes with seven zinc hanging hooks, a ball-bearing slide system, all the hardware you need, and plenty of space for cleaning supplies like mops, brooms, brushes, and more.
Thanks to the sliding system, items tucked away in the back are easy to access, and you don't have to worry about cleaning supplies tumbling down on you as soon as you open your cupboard. Tuck this system away next to your fridge or in a long, narrow cabinet, and enjoy a much more organized kitchen.
Promising review:
"Exactly what we needed to reduce the clutter in the cabinet. Easy to install."
"Now my pots & pans don't get scratches on them from being stacked on each other. Also freed up two cabinets of pots and pans."
CHECK PRICE
3-Tier Bamboo Expanding Spice Shelf
PinIf you're tired of your spices, jars, cans, and tins being stacked messily inside your cabinetry with no sense of order, this 3-tier bamboo expanding spice shelf can be the solution you've been looking for. It's designed to provide easy access to all your pantry goods by making the items at the back taller than those at the front.
It expands from 12 to 23 inches wide to accommodate all your goods, features elegant-looking bamboo, and is suitable for nearly all kitchens.
Promising review:
"I searched far and wide looking for the perfect spice shelf and finally found it. It looks like it was made for my cabinet. It fits everything from a large salt container to the smallest spice jar. Definitely a must-have for the vertically challenged!"
"This product allowed us to organize what was formally a very disorganized space. For the first time, it allows us to see all spices without pulling out those toward the front first."
CHECK PRICE
Over-Kitchen-Cabinet Door Organizer
PinEven with all the pantry space in the world, it can sometimes seem like your cupboards and shelves are overflowing. Solve that issue with this over-kitchen-cabinet door organizer. Rather than crowding up your shelves and making everyday items hard to access, you can install this durable shelving unit over your cabinet door and store even more goods within easy reach.
Eight shelves on the organizer are more than suitable for spices, ingredients, snacks, cooking oil, and much more. The organizer also has three stoppers to prevent taller items from toppling out when you open your pantry door.
Promising review:
"Easy to install. I was very skeptical about drilling some holes, but I'm happy that I don't have to. I used the adhesive hooks instead, and it works perfectly well."
"This was better than I expected. I especially loved how you can make one long unit or two shorter units. Good quality, sturdy, and adjustable. I used half in the pantry, the other half in the bathroom closet."
CHECK PRICE
Slide-A-Shelf for Cabinet
PinIf you opt for this slide-a-shelf for cabinets, you'll no longer need to reach into the dark depths of your cupboard to access pots, pans, and other cookware. It's designed to be easy to install in cabinets or existing full shelves and has steel full-extension ball-bearing rails for the shelves to glide out of the cabinets seamlessly. Not only are they practical, but they're also beautiful. Customers can choose from four wood fronts to suit their cabinet finish, such as pre-finished birch, ready-to-finish oak, ready-to-finish maple, and ready-to-paint poplar.
While you can use them in the kitchen, they are suitable for various setups, such as in your kitchen, pantry, linen closet, garage, bathroom, and laundry room.
Promising review:
"These shelves are awesome! We have a small kitchen, and these slide-out shelves give my pantry so much more useable space. The high-quality construction of the shelves is impressive, and the speed and ease of installation were surprising (the installation template makes it a breeze to get installation correct)."
CHECK PRICE
Steinman Under-Sink Shelving Rack
PinStoring items under the sink can be frustrating, mainly because there are pipes to try and work around. This shelving rack is designed to work in harmony with pipes and garbage disposal units and provides you with three tiers of storage space. You can use it in kitchens, bathrooms, and laundries, and it even comes with removable shelves to cater to those taller items.
Promising review:
It's easy to put together and fits perfectly under my sink. The removable shelves allow room for the pipes and garbage disposal but still give me options to organize the space in ways I've never been able!
CHECK PRICE
Joseph Joseph Under Shelf Drawer
PinNot everyone has an abundance of cabinets and pull-out drawers for all their kitchen goods. Instead of undertaking a complete kitchen renovation, solve that problem with this Joseph Joseph under-shelf drawer.
It's designed as a drawer you can install with strong 3M VHB tape onto an existing shelf, providing you with far more drawer space than before. As it tucks away under a shelf, you also don't use up any extra practical space.
These under-shelf drawers are designed for kitchen shelves over 9.25 inches wide and provide you with 4 x 9.25 x 8.88 inches of storage space. Use them for spices, sachets, soups, K cups, or anything you'd like easy access to in your kitchen.
Promising review:
"I got two of the shelf drawers. I like that when you pull them out, they go on a downward slant so you can see what's in them better. I used one to put K cups in and the other to put my flavor sticks for water. I'm gonna purchase another one for gravy packs, etc. I recommend these."
CHECK PRICE
Winningham Grocery Bag Cabinet Door Organizer
PinWhile drawer organizers can be more than suitable for plastic bags, this grocery bag cabinet door organizer can be even better. Finally, give all your plastic bags a home, and access them easily whenever you need them.
This high-quality steel bag organizer is designed to sit over the top of your kitchen cabinet door with padded brackets to avoid damage. There's no need for tools or complicated installation steps, and it's ideal for any standard cabinet door in your home. It's also designed to hold up to 30 bags and takes up no usable space in your home.
Promising review:
"This is a great door organizer for all my plastic bags. It fits perfectly inside the door, and it has plenty of room."
CHECK PRICE
Roll-Out Cookware Organizer
PinTake control of your chaotic storage situation with this roll-out cookware organizer. It's designed to tuck away in a cupboard and provide clean and tidy storage space for your pans and their lids.
It holds up to 55 pounds of weight, boasts chrome-plated rust-resistant steel, and has adjustable built-in dividers with ball-bearing glides for seamless sliding even when completely full. This organizer is easy to install with all mounting hardware included and is designed to store nearly all pots and lids on the market.
Promising review:
"Amazing. It's easy to install, flexible in organization, sturdy, and well-designed. The frame encourages pans to stay in one spot, and the barriers are strong. We used to have to play Tetris placing our pots and pans in our small lower cabinet. Pulling out any pan was a mess and stressful. Now we just pull it out or place it back in its home. And I love being able to pull it out and find what I need. The gliders are smooth, even with heavy cast iron pans. Our kitchen is tiny. This has been a game changer."
CHECK PRICE
Please note, some links on this page are affiliate links. If you make a purchase through an affiliate link, I may receive a commission at no additional cost to you.