Australian inventor Larry Jay Tofler has created everSHOWER, a portable, private shower that can be set up just about everywhere and retain and recycle the water if required. The shower can be set up or packed away in around two minutes and the unique tapered design means plenty of room where you need it most – around arms and shoulders. With around 2 metres of height with the roof on, it still packs down small – to the size of a carry case about 50 x 50 x 15 cm and weighing around 10kg.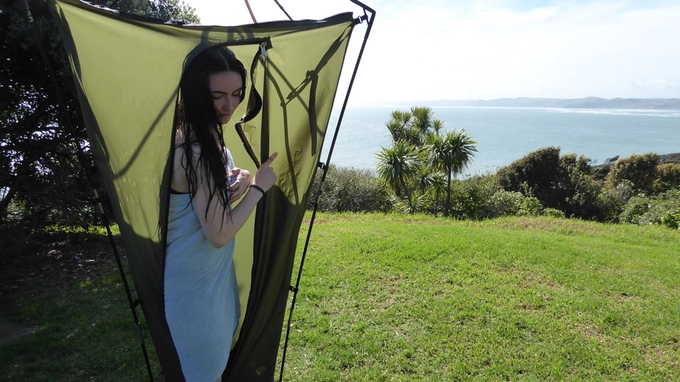 Water flow is powered by a very efficient 12 volt submersible electric pump. The high-volume pump is rated for many thousands of hours of showering and is very easy to replace if necessary.
With the pump in its cradle and the drain closed, everSHOWER will retain and reuse the water, essentially forever (or until you turn into a prune). Reused water is partly filtered and at any time during the shower, used water can be replaced with fresh and if there's plenty of water available everSHOWER can perform just like a regular shower. everSHOWER retains the steam and moisture and the tub can be easily drained wherever convenient when finished.
everSHOWER can collect its own rainwater. Just unzip the roof and its tapered walls become a very effective catchment.
In hot regions it may be preferable not to heat the water at all. But in colder areas, obviously, heated water is greatly appreciated and with the everSHOWER system there are several ways of doing so:
Stove: Water can simply be heated on a camp stove, then poured into the tub and recycled.
Solar: Use the free energy of the sun. Just pour a few litres into the tub, enclose it with the heat absorption cover and let the sun do its thing
everSHOWER has also been made compatible with several gas/propane water heaters such as Coleman's Hot Water On Demand or Companion Brand's Aqua Cube.
everSHOWER can be used in many situations. Inside a caravan, motor home or boat or inside a tiny apartment: Saving space normally taken up by a whole washroom which is only used for a short time each day. You can also use everSHOWER inside any existing shower recess to reduce water consumption by about 97%.
The everSHOWER is being launched on the crowdfunding website Kickstarter, where you can purchase the shower cabin for $299 AUD that's about $230 USD.