When space is limited, it sometimes feels like you have to make an awful number of sacrifices. In fact, you might even have to give up your dreams of having a dedicated workspace just to have somewhere to sleep at night!
The reality is that some clever people are living amongst us, and they've come up with incredibly advanced pieces of furniture like murphy beds with integrated desks to ensure tiny living is no barrier to having what you want and need.
Without further ado, let's explore some of the best murphy beds with integrated desks that combine your home office and bedroom into one neat piece of furniture.
Kali Duo Board Bunk Wall Bed With Desk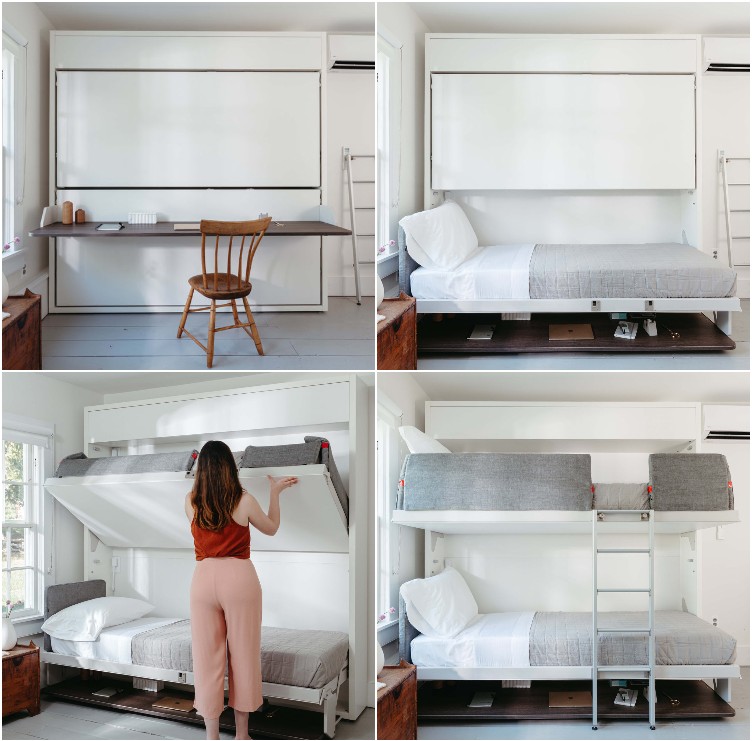 PinSome people are fortunate enough to have enough spare bedrooms to accommodate guests and have dedicated offices, but not everyone does. The Kalu Duo Board bunk wall bed with desk solves this problem entirely.
Described as an innovative bunk wall bed system, it boasts a striking seven-foot desk, twin XL bunk beds, a locking ladder, a padded upper safety barrier, a padded fold-down headboard for the bottom bunk, and a storage compartment along the top.
Whether you want your children to have more space and options in their bedroom or you need to accommodate a workstation and guests in one area, this bed system with easy-care matte lacquers and melamine finishes ticks all the boxes.
The wall beds also feature high-quality concealed pistons for seamless bed folding, a pivoting desk mechanism for consistent leveling, and a tilting upper bunk for seamless sheet and blanket changing. Best of all, this bed system takes up minimal space closed at 85 x 33.5 x 86.625 inches.
CHECK PRICE
Northampton Full-Size Murphy Bed Chest With Desk
PinDesigned to look like a practical, everyday dresser in a bedroom, this full-size murphy bed chest with a deck is the epitome of smart furniture. It might look like a sleek white dresser, but it's hiding a full-size bed underneath while also functioning as a convenient workspace when the bed is not in use.
It's crafted from solid hardwood for assurance of its durability, and the bed platform boasts charming legs that make it look like an ordinary bed. You also don't need to worry about mounting this murphy bed kit to the wall as you would with many other murphy bed platforms on the market.
This murphy bed also comes with a six-inch gel-infused memory foam mattress, which boasts five inches of support foam and a one-inch CoolSoft memory foam layer. But the best is yet to come. The tech-savvy members of your family will undoubtedly be thrilled to learn it has a built-in power source, an included six-foot cord, and two USB ports for effortless device charging.
Then there's the size. It takes up 74.75 x 55.125 x 43 inches of space when fully assembled as a bed. When folded down to a dresser-style desk, it's just 35.125 x 55.125 x 43 inches.
CHECK PRICE
Modern Birch Wall Bed With Desk
PinOne of the most frustrating features of the average murphy desk bed is removing everything off all surfaces when you transform it from a workspace to a bed. That's not the case with this wall bed. You can leave everything in place, as long as it's under 18 inches tall, and sleep on a comfortable bed on top of it.
This beautiful birch desk bed requires professional installation into three wall studs at the top for safety and security, and the bed folds parallel to the wall. When the bed is stored, its underside forms a backdrop for your workstation, and there's an abundance of permanent storage space for knick-knacks, junk, and home décor, above.
When you're finished with your work, and it's time to go to bed, you can place your hand on the desk and pull it down. The lifting mechanism takes over all the hard work and assists with lowering the bed gently and safely.
What people also adore about this murphy bed is its finish. Solid hardwood and furniture-grade wood have been used in its construction, and Wayfair offers six different finishes: sunset, chocolate, natural, maple, white, and cinnamon.
All that's left to do is choose a color you like and purchase a mattress separately. This murphy bed accommodates a standard full-sized mattress measuring 54 x 75 x 10 inches.
CHECK PRICE
Kali Ponte Board Wall Bed With Wardrobe and Desk
PinThe Kali Ponte Board wall bed with a wardrobe and desk is often described as a bedroom in a box, and it's not hard to see why. Not only is it a twin XL wall bed, but it's also a closet for effortless clothes storage and a seven-foot desk for work and study. Rather than purchasing multiple pieces of furniture to take up precious space in your home, you can buy just one wall bed and have it perform all tasks.
This murphy bed kit is designed as a genuine space saver and takes up just 85 x 44.375 x 86.625 inches of space when folded out to a bed. It's even smaller when folded up. Whether you have the bed open or closed, you'll always be able to access the wardrobe space courtesy of the slide-out doors, and the shelving behind the work desk is easily accessible when you fold down the bed and slide the desk away.
There are three mattress options to choose from to suit your unique needs, interior LED lighting for a touch of modern elegance and a padded headboard for safety. You can even decide whether you want hanging rods or shelving in the upper storage compartment.
The wall bed also has one more ace to play. It's designed to work harmoniously with the same company's modular closets, cabinets, and shelves, so you can have a complete system designed for small spaces.
All that's left to do is choose a finish out of an expansive range of options, and your new murphy bed system can be on its way to you for effortless installation in your home, dorm room, or one-room apartment.
CHECK PRICE
Compatto Revolving Wall Bed With Integrated Bookcase and Table
PinMany murphy beds on the market are designed to be entry-level pieces of furniture for small spaces, but there's nothing entry-level about this masterpiece. The Compatto revolving wall bed with an integrated bookcase and table is essentially every piece of bedroom furniture you need – all rolled into one convenient piece.
Out of all variety of styles, this murphy bed would have to be one of the most spectacular and is the epitome of Italian engineering and design at its finest. In its unfolded form, there is an abundance of storage shelves for all your bedroom knick-knacks, books, and other items. You can then fold down the table and pair it with up to four chairs to cater to your friends and family for dinner or use it on your own for work and study.
Once night falls and you're ready for bed, there'll be no need to hit the couch or settle for sofa beds. You can pull down the queen-sized bed and enjoy a luxurious night's sleep with a six-inch European mattress included as an optional extra.
In fact, this revolving wall bed comes with many optional extras, including a sliding table add-on, an optional mattress with medium-soft firmness or firm available by request, custom-built side shelving or cabinets, and four Nano folding chairs. You can also choose from various finishes.
CHECK PRICE
Rotating Wall Bed With Library and Desk
PinHaving a one-room apartment can seem like it closes many doors in the way of decorating, but that might not be the case when you invest in an LGM rotating wall bed with a library and desk. With a bed, full-height library, shelving, and pull-out nightstands, this wall bed is essentially a home center in one product.
The full-height library boasts 42 linear feet of shelving on one side of the queen-sized bed, which is more than enough for all your night-time reading materials and work documents. There's also an optional integrated LED reading light, charging ports for your devices, and a front panel to which you can mount a monitor or TV. Other optional extras include a fold-down, detachable, or free-standing table and one of three mattress options to suit your unique needs.
But the exciting features don't end there. You can choose from a range of matte lacquers, melamine finishes, veneers, fabrics, and leathers to suit your preferences, which means you're essentially receiving a custom piece of furniture.
The icing on the cake is that the entire LGM bed system comes with a lifetime warranty for hardware and mechanisms.
CHECK PRICE
Omari Cabinet Bed With Desk
PinThe gorgeous white Omari cabinet bed with desk is so well designed that you'll hardly believe it's a bed until it unfolds before your very eyes. This console bed with desk combines your home office and bedroom into one convenient product and only requires 31.5 x 66.6 x 29.5 inches of space.
It comes with a 3.5-inch foam mattress to save you from buying one separately and boasts beautiful wood with a matte white lacquer finish for that contemporary look. It's also hard not to be wowed by the two USB ports built into the top for easy device charging, as well as the 60-second opening time for your convenience.
Like many other murphy wall beds on the market, this one has a weight limit, but it's generous. It can support up to 600 pounds of weight. However, it's essential to know that the mattress is of a non-standard size at 53 x 76 inches, which places it between a full and queen size. Queen-sized sheets are recommended.
This simple murphy bed can be a standout addition to any small apartment, bedroom, or office space when you need a guest bed on the odd occasion.
CHECK PRICE
White Murphy Bed With Desk
PinWhether you're working from home, need an occasional bed or desk, or don't have enough space for an office and a bedroom, you can't go wrong with this gorgeous white murphy bed with a desk.
As far as functional pieces of furniture go, this murphy bed ranks highly. During the day, the table or desk has a generous top for dining, study, work, or play, and it can even comfortably seat up to four people on regular dining chairs.
There is also a convenient shelf above the headboard for night-time reading materials and devices, and these don't have to be removed when you fold up the bed.
This murphy bed, made entirely from recovered and recycled wood, also doesn't need to be attached to the wall, which is bound to be a relief if you lack DIY skills.
Whether the kids need a versatile bed for more space for play or you need your regular furniture to have more versatility and functions, this murphy bed can undoubtedly stand out from the crowd.
CHECK PRICE
Elara White Wall Bed With Desk
PinWhether you have a small apartment and need a bed that takes up less space than a conventional one, or you're looking for a new desk bed for a spare room to save space, this wall bed with desk can't help but grab your attention.
From the robust aluminum legs for peace of mind to the gorgeous knitted fabric sofa and headboard, there's plenty to love. This wall bed with desk is also available in twin, full, and queen sizes, which is bound to be convenient when you have limited space to work with.
Like most bed platforms and murphy beds, you will need screws, tools, and a helping hand with this DIY project, as it needs to be secured to the wall. However, once it's in place, it will become a safe and secure bed and workstation to suit your everyday needs.
The bed is easy to pull down with its high-quality hydraulic mechanism and folds up quickly when you want to use it as a desk. The hydraulic mechanism also comes with a lifetime warranty.
CHECK PRICE
Lumina Queen Wall Bed With Desk
PinQueen beds can take up an incredible amount of space in the average bedroom, but they are one of the best bed sizes to suit individuals and couples alike. As a result, you might feel that you need to sacrifice a workspace in your bedroom in favor of a larger bed. However, that won't be the case with this wall bed.
Not only does this wall unit suit contemporary and classic homes alike with its two-tone finish, but it's designed to function as a bed and workspace all in one. During the day, you can have the wall system anchored to your wall with the desk component folded down to accommodate your laptop and work equipment. By night, it can fold into a luxurious bed for up to two people.
Folding the bed up and down is a seamless task with the high-quality pistons and lifting mechanism, and you don't even have to worry about removing your bedding when you fold it up. However, you will need to remove the pillows.
The bed section also comes complete with a Euroslat mattress foundation, so all that's left to do is add your own standard Queen mattress. This wall bed with desk accommodates an 8-12-inch-thick mattress weighing 60 to 90 pounds and measuring no larger than 60 by 80 inches.
The entire murphy bed system supports 1,000 pounds of weight, including the mattress, and three people can help the initial installation process go smoothly.
CHECK PRICE
Please note, some links on this page are affiliate links. If you make a purchase through an affiliate link, I may receive a commission at no additional cost to you.